Disney's Mickey And Minnie Mouse Now Have Their Own Valentine's Coffee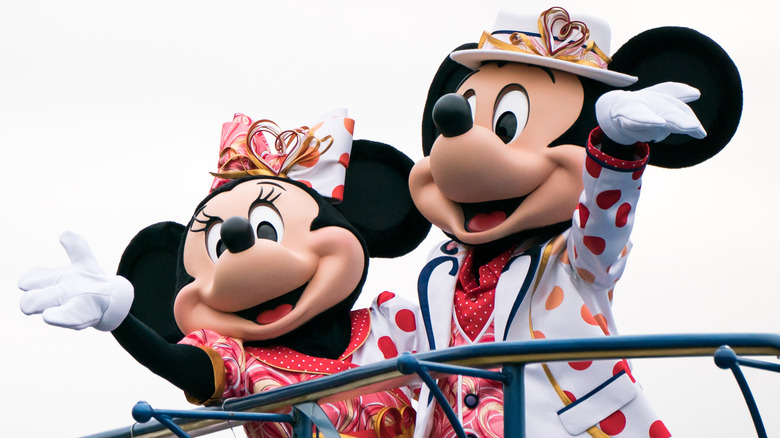 Tomohiro Ohsumi/Getty Images
Mickey and Minnie Mouse have long been the most recognizable symbols of Disney. After all, a visit to any of the franchise's theme parks wouldn't be complete without a photogenic embrace from this dynamic duo or a set of their ears propped upon your head. And that's not all. Mickey and Minnie, for many, are a symbol of romantic love. Seriously, what child hasn't received a Valentine bearing a love-smitten image of this wide-eyed pair?  
Yes, after nearly 100 years together (the couple first appeared in "Steamboat Willie" in 1928), the romance between this rodent pair seems to be going strong. Some people still wonder, however, if they have ever officially tied the knot. The Walt Disney Family Museum offers that Walt Disney, himself, answered this question in 1933 by saying, "In private life, Mickey is married to Minnie." How do they keep the fires burning? Perhaps, the fact that Russi Taylor and Wayne Allwine, voice actors for Minnie and Mickey, were actually married has strengthened their lasting bond (via Inside The Magic). Whatever the secret to their romantic success may be, there is no denying that one glimpse of this furry power couple with their beaming smiles and matching apparel is sure to warm the cockles of even the most cynical heart. 
And now Mickey and Minnie have a special Valentine's Day brew created in their honor — and for stressed-out shoppers, a Valentine's Day food gift that isn't candy. 
Mickey & Minnie Be Mine Brew tastes like coconut and chocolate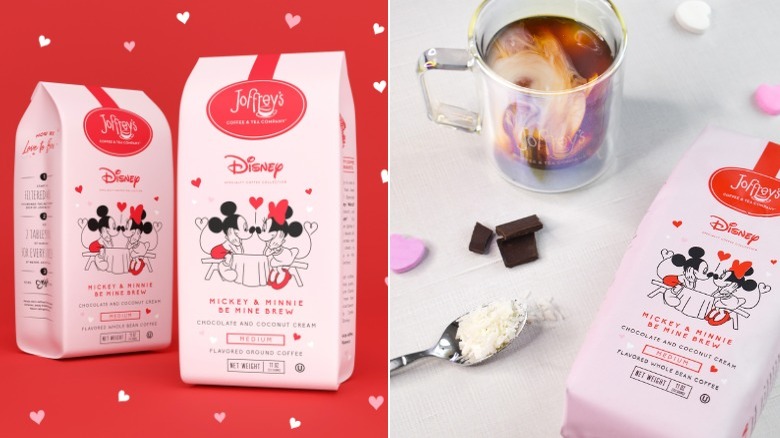 Joffrey's Coffee
Introducing Mickey & Minnie Be Mine Brew, a chocolate and coconut cream-flavored ground coffee that has been released for the Valentine's season. Brewed by Joffrey's Coffee and Tea Company, the company's website says this brew is "the perfect compliment to a romantic candlelit dinner." And, having been made the "Official Specialty Coffee" for Disneyland, Walt Disney World, and the Disney Vacation Club, no coffee purveyor knows Disney better than Joffrey's. Other Disney offerings by Joffrey's include the Hocus Pocus Sanderson Sisters Brew, The Walt Disney World 50th Anniversary Blend, the Disney Encanto Familia Madrigal Blend, and a bevy of Mickey & Minnie specialties. They have even offered a Disney coffee subscription. 
If you happen to be at Walt Disney World, you can also check out Joffrey's in-person seasonal offerings. Laughing Place shares that the Strawberry Dipped Mocha comes with "strawberry syrup" and is crowned with a drizzle of chocolate over whipped cream, while the Strawberry Dipped Mocha Game Changer contains both espresso and a "French Roast cold brew" with strawberry syrup plus "dark chocolate sauce." 
Whether you're a fan of Disney's most beloved rodents or you love the taste of coconut and chocolate with your coffee, this Valentine's offering may appeal to you. If it does, don't dally. It is only here for a short time.