Miles Teller Dances To Hold Music In Bud Light's New Super Bowl 2023 Ad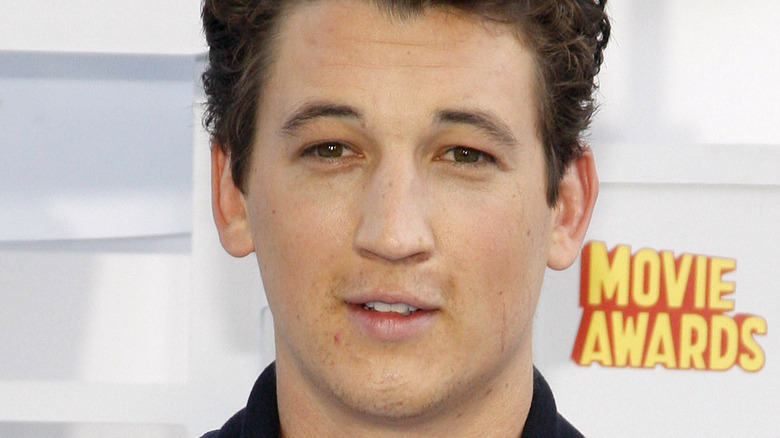 false/Shutterstock
The Super Bowl truly offers something for everyone. Football fans rejoice in the athletic portion of the event, of course. Foodies can revel in their favorite snacks, and music lovers look forward to the halftime show. But one element of the Super Bowl is universally loved by all of the above — the commercials. After all, the most memorable Super Bowl commercials occupy an average of 50 minutes of the entire affair, according to MToolbox.
This year, Bud Light is looking at Super Bowl LVII as an opportunity to reveal its new campaign, per a press release. The brand, which is the official beer sponsor of the NFL, wants to impact customers in a different way, ultimately conveying the message that Bud Light is, "Easy to drink, easy to enjoy."
The new campaign is doing this by returning to this mission, which was established 41 years ago. On top of this marketing revamp, Bud Light has debuted a new commercial starring a celebrity couple that spends the time they're portrayed on screen soaking up joy in a mundane moment.
Bud Light aims for easy enjoyment in Super Bowl commercial
Bud Light's new Super Bowl commercial, "Hold," features a joyful moment in the living room of Actor Miles Teller and his wife Keleigh, per a press release sent to Mashed. The beer company is harnessing the power of "easy enjoyment" with its new campaign, and the message comes across in this ad, which starts off as Keleigh gets placed on a long hold during a phone call. The music playing on her phone inspires Miles to fetch a couple of cold ones and start to dance along with the rhythm. Keleigh joins in, and the couple dances for the duration of the hold time. It's light-hearted, and Teller said it's "authentic" to their relationship.
This ad will air during the Super Bowl, which was viewed by 99.18 million people in 2022, according to Statista. The event usually lines up about 70 commercials every year, MToolbox explained. Last year, Bud Light advertised its line of seltzers during the Super Bowl, per Daily Commercial.
Bud Light isn't the only brand bringing a celeb on board this year. Budweiser brought in Kevin Bacon for a 6-degrees Super Bowl ad.