30% Said This Is The Most Memorable Super Bowl Food Commercial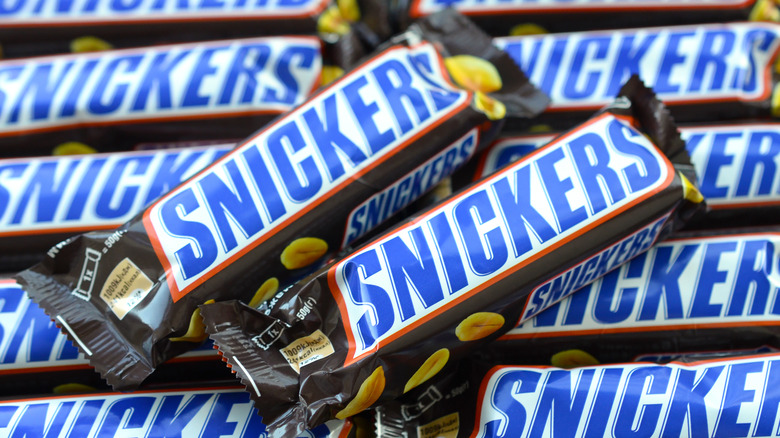 Mehaniq/Shutterstock
Aside from being the most important pro football game of the year, the Super Bowl also marks the biggest day for advertisers across the country. The TV spots that run during commercial breaks have become a tradition in their own right, featuring recognizable brands across industries such as beer, soda, snack foods, professional services, cars, insurance, and more. 
Over the years, millions of viewers have looked forward to seeing the latest mega-creative, humorous, nostalgia-inducing, and tear-jerking ads throughout the broadcast. With the average 30-second plug costing a whopping $6 million these days (according to Variety), consumers are bound to enjoy a laugh or two. These massive budgets typically account for the cost of recruiting famous celebrity representatives, soundtracks, special effects, and estimated viewership ratings.
One brand in particular that has been known for producing stellar commercials is Snickers, the chocolate-coated candy bar filled with peanuts, caramel, and nougat. And in 2010, Snickers aired arguably one of the funniest ads of all time, which starred the one and only Betty White (per Ad Age).
Betty White's Snickers commercial is still among her greatest works
Betty White, who passed away on December 31, 2021 at age 99 — less than three weeks shy of her 100th birthday — was a beloved, legendary actress whose career spanned more than 80 years, per IMDb. The Golden Girl appeared in a hilarious Snickers ad for Super Bowl XLIV, a spot still fondly remembered by fans. 
In a recent Mashed survey, nearly 600 participants voted for their favorite food brand commercial in the history of the Big Game. More than 30% of respondents considered Betty White's Snickers commercial to be the best of all time. During the renowned spot, a group of men are playing football in the mud with Ms. White, who is mysteriously called "Mike." In an attempt to provide constructive criticism, one of the men says, "Mike, you're playing like Betty White out there," to which the sharp-witted, elderly woman retorts, "That's not what your girlfriend says." Then, after taking a bite of a Snickers bar, the character is revealed to be a young man like the rest of them (via iSpot.tv).
Other contenders in the poll included Budweiser's 1999 "Whassup?" spot (25%); Cheetos' "U Can't Touch This" ad featuring MC Hammer (18%); the McDonald's "The Showdown" commercial in which Michael Jordan and Larry Bird compete in a heated game of HORSE (12%); Cindy Crawford's sultry 1992 Pepsi promotion (10%); and the Wonderful Pistachios ad featuring Psy, who made "Gangnam Style" a global sensation (4%).