The No. 1-Ranked Restaurant In Montreal Isn't Actually Real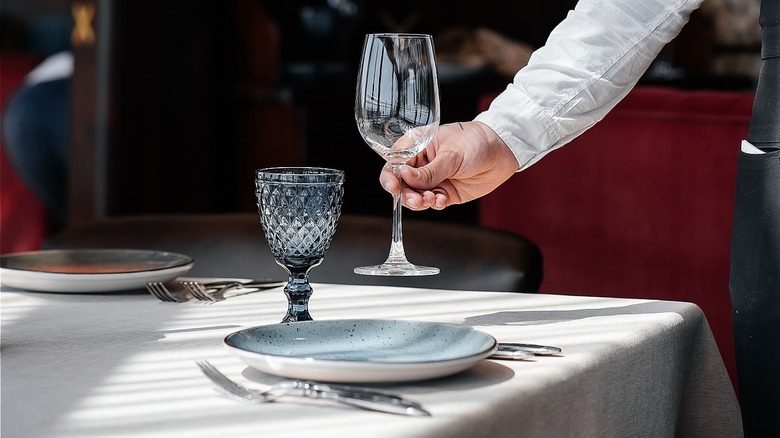 Andrii Medvednikov/Shutterstock
You are so excited. You've just planned the perfect trip to Montreal and your itinerary looks fabulous. Sure, you'll do all the touristy things like visit Old Montreal to experience its European charm, enter the hallowed walls of the Notre-Dame Basilica, and do some shopping in La Ville Souterraine, the largest "underground city" in the world (via Hand Luggage Only). And, of course, one of the highlights will be dining at Montreal's Le Nouveau Duluth, an eatery that earned Tripadvisor's title as the number one place to eat in Montreal. Unfortunately, you are about to be disappointed. This restaurant doesn't exist. 
Wait a minute? How can a fake business secure the top spot on a legitimate website? It turns out it's not hard. In 2017, Vice's Oobah Butler shared how he turned his shed into London's most popular restaurant on Tripadvisor. By simply setting up an "appointment only" restaurant to avoid having to give an address and using a cellphone to become "verified," he laid the groundwork for his experiment. Next, he devised a website showcasing a quirky mood-based menu and insta-ready food photos of deceptively enticing meals that were actually staged using painted sponges, toilet pucks, and a human foot. Thanks to this and a barrage of recruited reviews, the non-existent The Shed at Dulwich captured the coveted No. 1 spot.
You would think that after Tripadvisor's experience with this debacle, it would be next to impossible to pull this trick off again. Yet, Le Nouveau Duluth managed to do exactly that. 
A restaurant has never existed at this Montreal address
According to its now-defunct Tripadvisor account, Montreal's Le Nouveau Duluth is located at the corner of Duluth and St. Denis. There's just one problem. CBC visited the address and there is no such eatery. The owner of the flower shop next door, Yoo Jeung, says she's been there for 22 years and has never heard of it. Plus, she says the online photos associated with the account show high ceilings, a feature that isn't found in her area. The supposed restaurant's Tripadvisor account boasted 85 five-star reviews, listed an inactive website, and had just four not-so-convincing pictures associated with it — two shots of a living room, one of a bar, and one showing a comedian. And no company was registered in that name in Quebec. Still, it ascended to the top spot among Montreal's thousands of dining establishments. 
So, who was the person behind this stunt? Well, remember the photo of the comedian that was featured on Le Nouveau Duluth's Tripadvisor listing? He is funnyman Charles Deschamp, the person responsible for this phony eatery. He says he did it as he finds review sites "problematic," saying that a friend's eating establishment was ruined after someone accidentally spilled wine on a diner's dress, leading to an outpouring of solicited one-star reviews (via Today). 
Thankfully, according to Food & Wine, Tripadvisor has shut down the account, allowing real restaurants to claim their hard-earned spot in the top 10.