This Was John Wayne Gacy's Last Meal
Many have probably played the "If you were on death row, what would you choose as your last meal?" game. After all, this is the one time you can eat anything you like without worrying about consequences. While it's fun to create a hypothetical menu for your final feast, the reality is that for some it actually is their last meal. Why, then, is the "last meal" a topic of great interest? Capital punishment law expert and Fordham University law school professor Deborah Denno told BBC that this tradition fascinates the public because "it brings us back to the fact that this is a human being who will not be having any more dinners like we do." It marks the end of a life.
People are also morbidly curious about danger and dangerous figures like serial killers, according to psychological horror expert Coltan Scrivner (via Psychology Today). So when a killer reaches their final meal, what do they order? The New York Times shared that Timothy McVeigh, the domestic terrorist behind the Oklahoma City bombing, requested "2 pints of mint chocolate chip ice cream." Kidnapper and murderer, Victor Feguer, ordered a solitary olive with the pit still in. Ted Bundy declined a special meal, getting instead the "traditional last meal" of medium-rare steak, over-easy eggs, toast smeared with butter and jam, hash browns, and glasses of milk and juice.
Then there's serial murderer John Wayne Gacy. His request seemed partly inspired by his connection to a famed restaurant chain.
Gacy's last meal included a bucket of KFC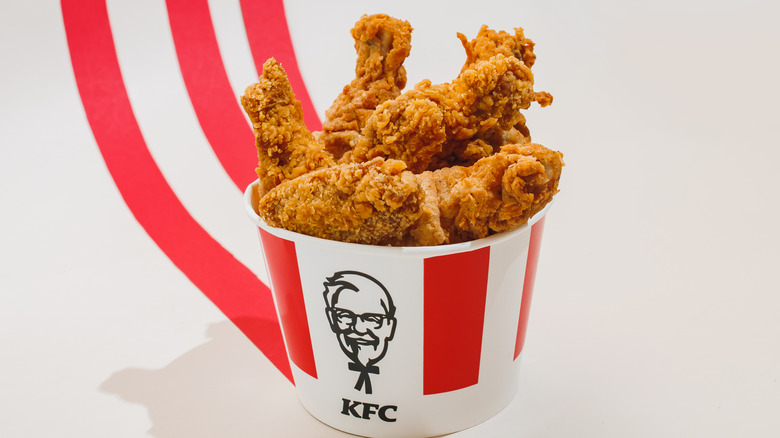 Pavlovska Yevheniia/Shutterstock
John Wayne Gacy, aka the "Killer Clown," murdered 33 young males among other heinous acts. Biography shares that he died by lethal injection at Illinois' Stateville Correctional Center on May 10, 1994. And, yes, he was granted his final meal request. The New York Times shares that Gacy's last dinner boasted "12 fried shrimp, a bucket of original recipe KFC, french fries, and a pound of strawberries." An entire bucket of the Colonel's chicken may seem excessive. But perhaps a glimpse at Gacy's previous work life will explain his predilection for Kentucky Fried Chicken.
Following an interview with the serial killer, The New Yorker wrote that Gacy had been a graduate of the KFC Chicken School. Afterward, he and his wife relocated so he could help manage three different locations of Kentucky Fried Chicken that Gacy's father-in-law owned. But he reportedly claimed that his wife was Colonel Sanders' daughter. According to LADbible, Gacy allegedly enjoyed working at Kentucky Fried Chicken, offering co-workers free food, and demanding that people call him "the Colonel." The outlet adds that one of his intended victims was a friend of one of Gacy's restaurant employees. It seems the significance of KFC and its poultry in Gacy's life played a role in his last meal choice.