The Sweet And Savory Origins Of BBQ Pizza
siamionau pavel/Shutterstock
With Super Bowl Sunday just days away, many fans worldwide are preparing to entertain family and friends at watch parties. And like any party, Super Bowl food and drinks are paramount to a good time. Local and nationwide pizza chains are preparing to fulfill tons of orders. According to The Daily Record, in 2021, an estimated 12.5 million pizzas were sold for the Super Bowl, making it one of the busiest days for pizza chains.
While pepperoni and cheese are popular toppings, another favorite is the sweet and savory taste of a BBQ pizza. And while the popularity of the BBQ chicken pizza may lead some to think that this pizza type originated in California, it was actually the product of the home to Beale Street and Graceland. That's right, the Memphis, Tennessee is the birthplace of BBQ pizza. Let's take a look at how this tasty creation came to be (via Commercial Appeal).
The beginnings of BBQ pizza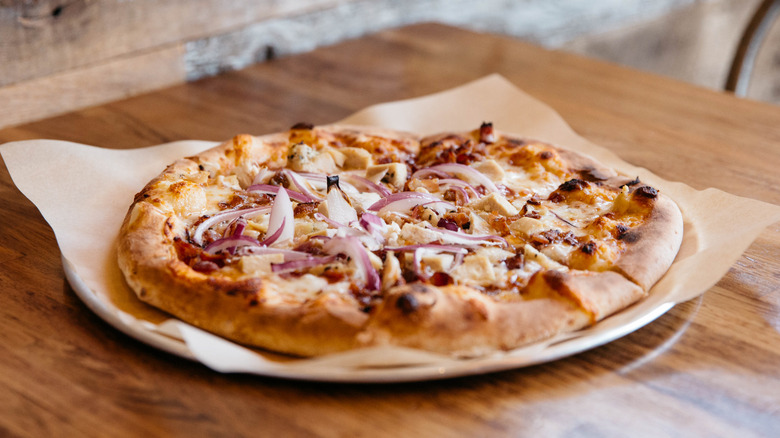 Cavan Images/Getty Images
According to Commercial Appeal, BBQ pizza dates back to the 1950s. A man named Horest Coletta worked at the restaurant his father started as an ice cream stand in the 1920s in Memphis. After a request from Navy sailors stationed nearby, he tried serving a pizza recipe that was not gaining traction with the locals. So, given Memphis's history with BBQ, he reimagined the pizza recipe to feature barbecue sauce instead of marinara, and the demand for the pizza soared. It gained so much popularity that it even found favor with legendary singer Elvis Presley — not too shabby of an endorsement.
Since then, BBQ pizza has gotten remixed by different states. In 1985, California popularized the barbecue chicken pizza as part of the pizza franchise California Pizza Kitchen's menu (via Pizza Day TX). Since then, BBQ has become a famous pizza sauce and has taken on different variations based on the region. According to AP News, even New York City sells BBQ pizza versions inspired by a Texas restaurant's sauce. Thankfully, when it comes to BBQ, the possibilities are almost endless.