Garlic And Black Pepper Tri Tip Roast Recipe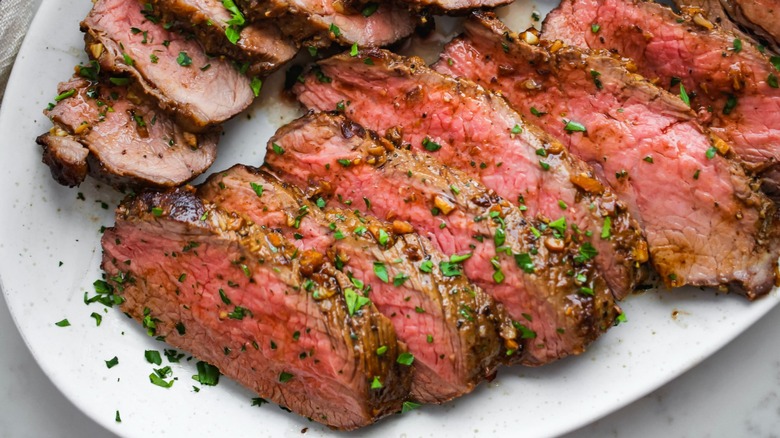 Feta Topalu/Mashed
A good roast is something that can be so simple, yet so indulgent. While it can be fun to impress your dinner guests with multi-ingredient, multi-step culinary creations, sometimes a nice hunk of well-seasoned meat is all you need to make everyone happy. Tri tip steak, a uniquely shaped cut of beef that's flavorful but won't break the bank, is the star of developer Feta Topalu's peppery, garlicky recipe.
"This marinade was inspired from a marinated beef kabob that I regularly pick up at my local grocery store," Topalu says. Even if you find yourself with another type of steak, this recipe will still come in handy: "This garlic and black pepper marinade works well with any cut of beef and is especially great when grilling!" True as that may be, if you're able to make a run to the store, you might as well use the type of meat this marinade is meant for. Here's how to make this juicy, flavorful, tri tip roast.
Gather your garlic and black pepper tri tip ingredients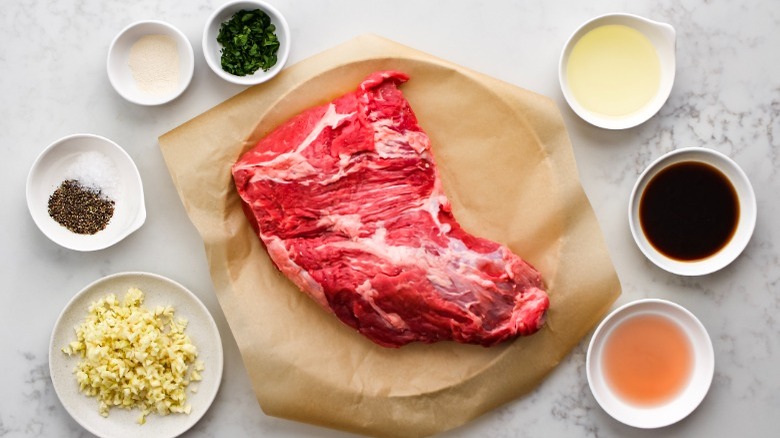 Feta Topalu/Mashed
The main ingredient in this recipe is tri tip steak, of course, but you'll also need a few other items for the marinade, specifically canola oil, salt and pepper, red wine vinegar, onion powder, Worcestershire sauce, and plenty of minced garlic, plus parsley for garnishing.
Marinate the meat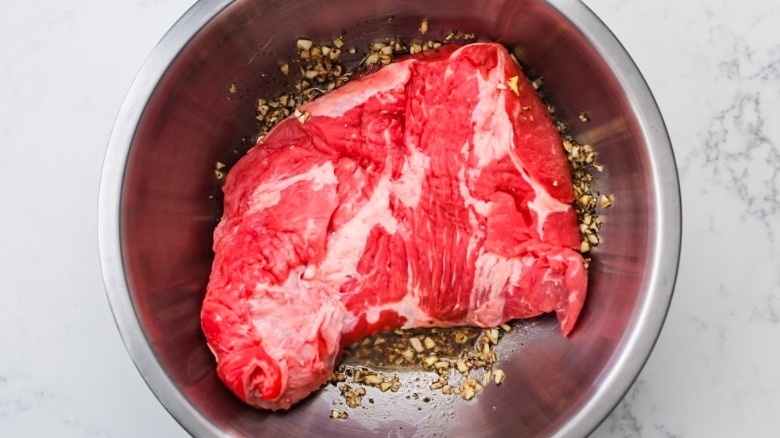 Feta Topalu/Mashed
The first step in this recipe is an important one: Making the marinade. Take out a big bowl and in it, stir together the vinegar, Worcestershire sauce, salt and pepper, onion powder, minced garlic, and 2 tablespoons of canola oil. Then, place the meat in the bowl and cover it with the marinade. Cover the bowl and let it sit in the fridge for at least 2-4 hours, but feel free to leave it overnight and do the rest of the cooking the following day.
Brown then bake the roast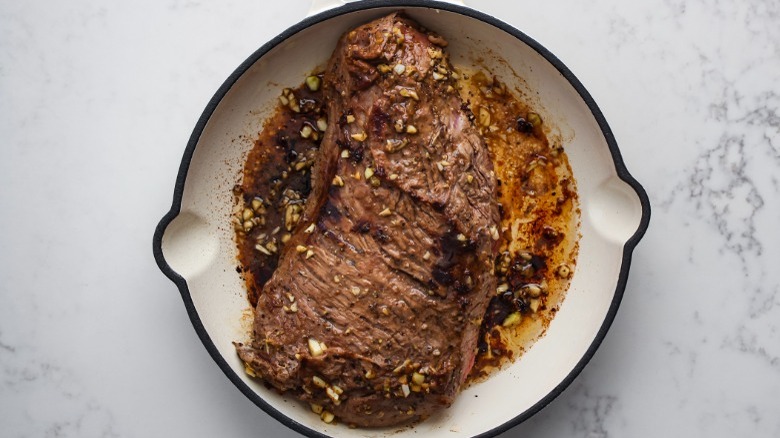 Feta Topalu/Mashed
Once your meat has been properly imbued with flavor from the marinade, it's time to cook. Start by preheating your oven to 350 F, then take out an oven-safe skillet and turn the stove to medium-high. Drizzle the remaining canola oil in the pan, and when it's hot, add in the tri tip. Topalu suggests cooking it for "2-3 minutes per side," so each side gets nice and browned.
When your roast is browned and your oven is ready, place the meat in the oven to cook the rest of the way. "Use a meat thermometer to best ensure for desired level of doneness," Topalu says. "For a medium-rare roast, cook at 10 minutes per pound."
Garnish and serve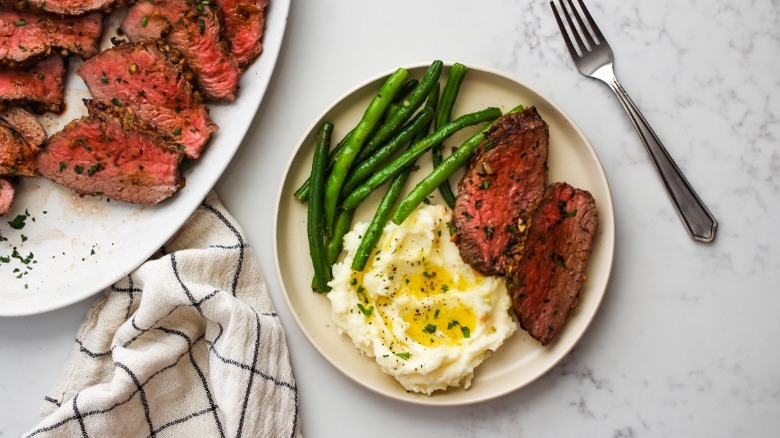 Feta Topalu/Mashed
When your roast has cooked to the level you'd like, take it out and let the meat rest for about 10 minutes. Then, slice it up and garnish it with a scattering of chopped parsley. "This garlic and black pepper tri tip roast is served along green beans and mashed potatoes," Topalu says, but if you want other suggestions, she recommends pairing this protein with "roasted brussels sprouts, cheesy scalloped potatoes, or a spring salad."
This recipe makes a lot of meat, so if you're not feeding a group, it's likely you'll end up with extras. "Store any leftover tri tip in an airtight container in the refrigerator for up to 4 days," Topalu says. 
Garlic And Black Pepper Tri Tip Roast Recipe
If you want to make a perfectly flavorful steak, you can't go wrong with this garlic and black pepper tri tip recipe.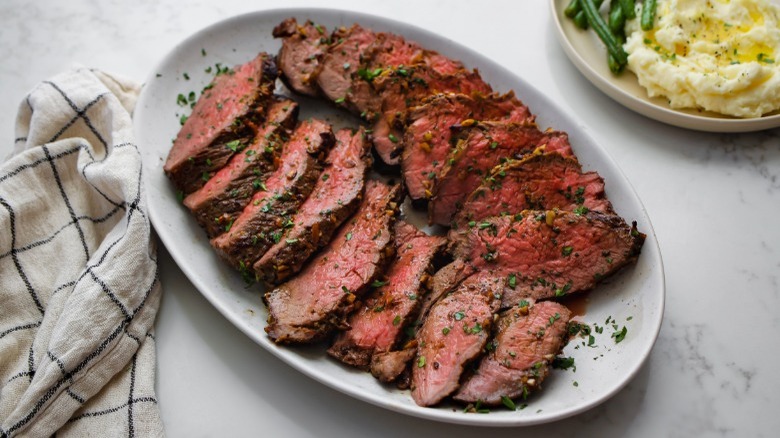 Total time: 2 hours, 45 minutes
Ingredients
3 tablespoons canola oil, divided
12 cloves garlic, minced
1 teaspoon onion powder
2 tablespoons Worcestershire sauce
1 tablespoon red wine vinegar
1 teaspoon kosher salt
2 teaspoons fresh cracked black pepper
2 ½ pounds tri-tip roast
1 tablespoon chopped parsley, for garnish
Directions
In a large bowl, combine 2 tablespoons of canola oil with the minced garlic, onion powder, Worcestershire sauce, red wine vinegar, salt, and pepper. Add the roast to the bowl and turn it over a few times until it's coated in the marinade.
Cover with foil and place into the refrigerator to marinate for 2-4 hours or overnight. Remove from the refrigerator 1 hour before cooking.
Preheat the oven to 350 F.
Heat 1 tablespoon of canola oil in an oven-proof pan over medium-high heat. Add the roast to the pan and brown on both sides. Transfer the roast to the oven.
Finish cooking the roast in the oven, until the internal temperature reaches 120 F for a rare roast, 130 F for medium-rare, and 140 F for medium, about 20-30 minutes.
Let the roast rest for 10 minutes before slicing. Garnish with parsley.
Nutrition
| | |
| --- | --- |
| Calories per Serving | 350 |
| Total Fat | 21.5 g |
| Saturated Fat | 6.1 g |
| Trans Fat | 0.0 g |
| Cholesterol | 110.2 mg |
| | |
| --- | --- |
| Total Carbohydrates | 3.5 g |
| Dietary Fiber | 0.4 g |
| Total Sugars | 0.6 g |
| Sodium | 400.8 mg |
| Protein | 33.9 g |