The Cardi B & Offset Meal At McDonald's Is All Twitter Is Talking About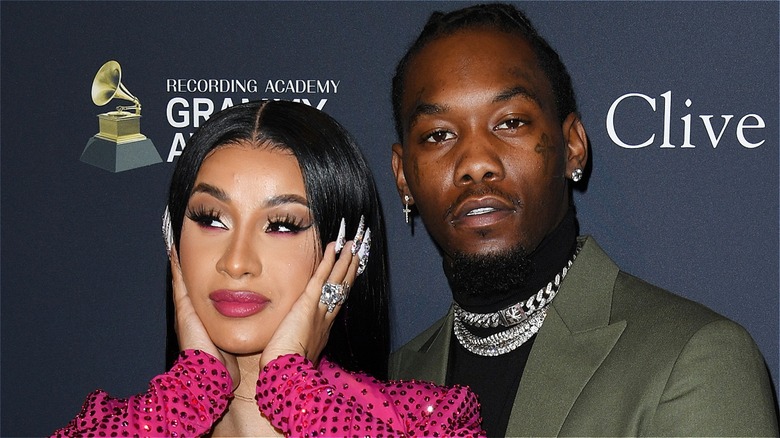 Jon Kopaloff/Getty
Celebrity meals are nothing new to McDonald's. They're a tactic the brand has been employing for years. The brand's J Balvin meal, which featured a Big Mac with no pickles, fries, and an Oreo McFlurry, came out in 2020. And then there were meal collaborations with celebrities like Travis Scott and K-pop sensation BTS, which even included the launch of two new sauces (per Insider). More recently, we saw Mickey D's partner with rapper Saweetie to bring her favorite McDonald's meal to the masses, along with another limited edition sauce, the Saweetie 'n sour sauce. Okay, so it was just the regular sweet and sour sauce re-named, but boy was the packaging cute.
It turns out McDonald's meals are nothing new to celebrity Cardi B, who has shared the creative way she pairs McDonald's fires with spoonfuls of a McFlurry or ice cream (via Facebook) Now Mickey D's is gearing up to launch a meal deal with her. The two-for-one special will feature her and Offset, who are not only a couple of rappers but a romantic couple (per USA Today).
McDonald's wants you to celebrate Valentine's Day with Cardi B and Offset
Despite some ups and downs, periods of separation, and even a close brush with divorce, Cardi B and Offset have been married since 2017. They're basically celebrating their 50th wedding anniversary in celebrity marriage years. This year, the Migos rapper and the "WAP" diva are celebrating Valentine's Day with McDonald's (per People). The couple also appeared in the brand's Super Bowl ad, in which couples recount each other's orders because, as one couple puts it, "knowing their [partner's] order is a sign of loving them" (per Twitter). But Mickey D's didn't stop at the romantic ad, on February 14th, the nation can enjoy celebrity old married couple Cardi B and Offset's favorite meals in a two-for-one combo. And Twitter is eating it up.
Despite being released less than 24 hours ago, the post announcing the meal now has more than 4,200 retweets and nearly 1,800 quote tweets. It has racked up more than 46,000 likes and countless replies, including many from other big businesses showing their love for the famous couple. Twitter Marketing hopped on the thread to share a play on Cardi B's "Bodak Yellow" lyrics: "I don't Tweet now, I make money moves (to the drive thru)." T-Mobile had this to say: "Now THIS is a happy meal." It seems the people of Twitter can't help but agree.