Roasted Vegetable Quiche Recipe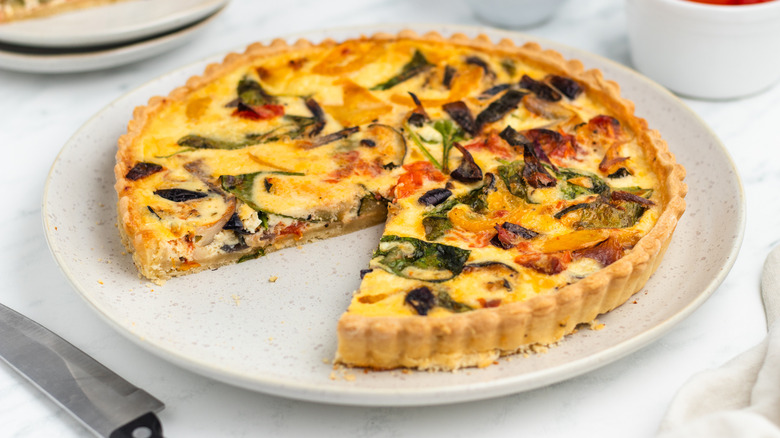 Catherine Brookes/Mashed
There's no denying that quiche is a quintessential brunch item — it's one of the most popular, in fact, right up there with pancakes, eggs Benedict, and French toast. The great thing about quiche is that you can pack quite a few breakfast and brunch staples into one cohesive pie. There are eggs, of course, which is the base of the quiche. From there, however, you can get creative with ingredients, opting for bacon, cheese, or maybe even some vegetables.
Recipe developer Catherine Brookes took the veggie route with her roasted vegetable quiche recipe, and it's one that will certainly help you clean out your produce drawer. "The best things about this quiche are its delicious flavor, versatility, and the fact is uses classic staple ingredients," Brookes says. This quiche features veggies, such as onion, tomatoes, and zucchini, but there is room to adjust the ingredients based on what you have available and your flavor preferences. If one thing is for certain, however, it's that you'll feel completely nourished, and ready to take on your weekend after enjoying a slice of this quiche. 
Gather the ingredients for this roasted vegetable quiche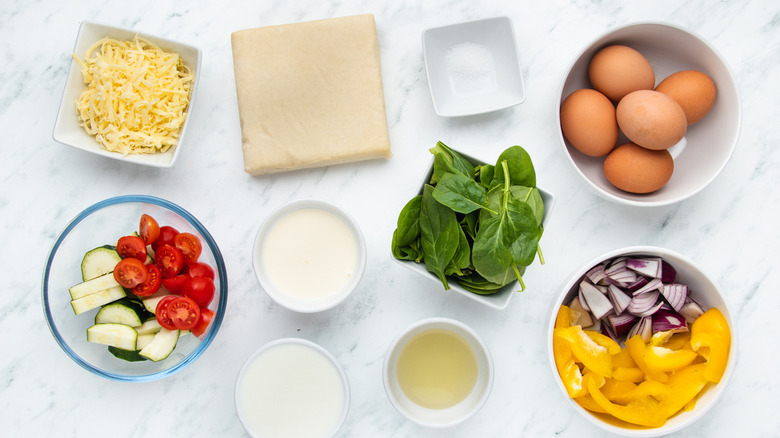 Catherine Brookes/Mashed
You don't need to worry about making a from-scratch crust for this recipe; instead, you'll simply use a pre-made pastry crust. As for what goes into the quiche, you'll need eggs, olive oil, heavy cream, whole milk, grated cheddar cheese, salt, and pepper. "Half-and-half would work in place of heavy cream," Brookes notes. She adds, "If desired, a portion of the cheddar could be subbed for Parmesan."
It wouldn't be a roasted vegetable quiche without roasted vegetables — you'll need zucchini, yellow bell pepper, red onion, cherry tomatoes, and spinach. Like we mentioned, however, there is room for creativity when it comes to the veggies used. "Broccoli, butternut squash, and mushrooms would work really well too," Brookes suggests. 
Par-bake the crust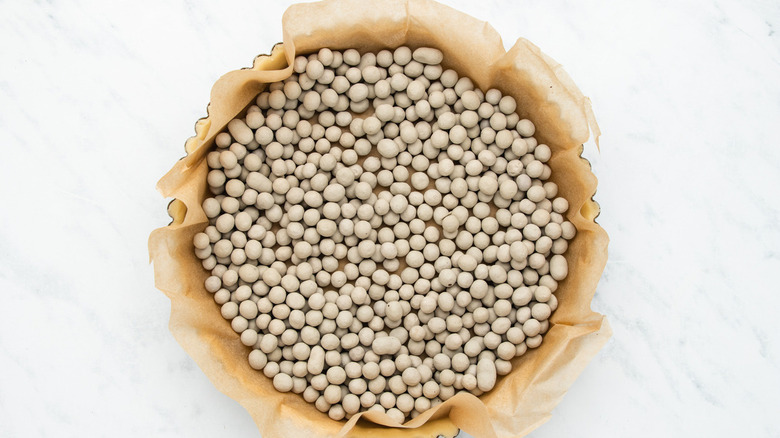 Catherine Brookes/Mashed
Get your oven preheating to 350 F, then turn your attention to the shortcrust pastry. Roll the pastry out onto a clean, floured surface, then transfer the crust over to a fluted, 9-inch pie or tart pan. Use your hands to gently press the pastry into the crevices of the pan, then use a knife to cut away any excess dough from around the edges. Use a fork to prick the bottom of the crust all over, which will help let steam escape, and keep the pastry from puffing up when it bakes.
Place a sheet of parchment paper over the crust, then fill it with baking beans, rice, or pie weights. Bake for 15 minutes, then pull it out of the oven, and remove the beans and parchment paper. Return the crust to the oven, and bake it for another 10 minutes. 
Roast the vegetables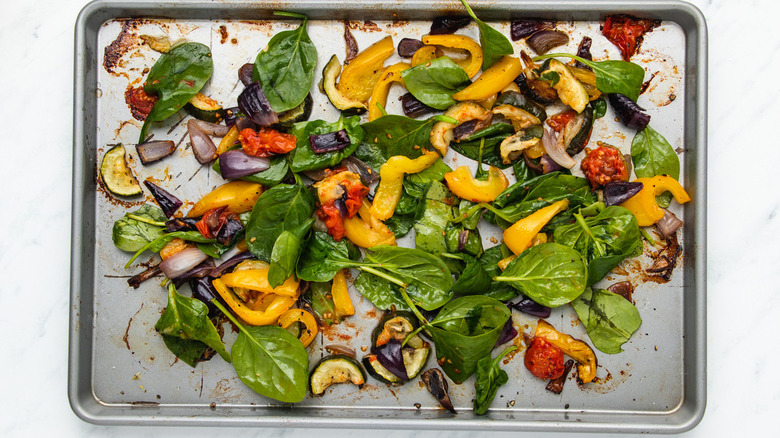 Catherine Brookes/Mashed
Once the crust is done baking, turn the oven's heat up to 400 F. Now, evenly spread the diced zucchini, diced bell pepper, diced red onion, and halved cherry tomatoes on a baking sheet, then drizzle everything with the olive oil. Add some salt and pepper to taste, then toss everything to evenly coat.
Roast in the oven for 30 minutes. After 30 minutes, remove the vegetables from the oven, and scatter the spinach on top. The residual heat from the vegetables will help the spinach wilt, so you don't need to return it to the oven. 
Assemble, and bake the quiche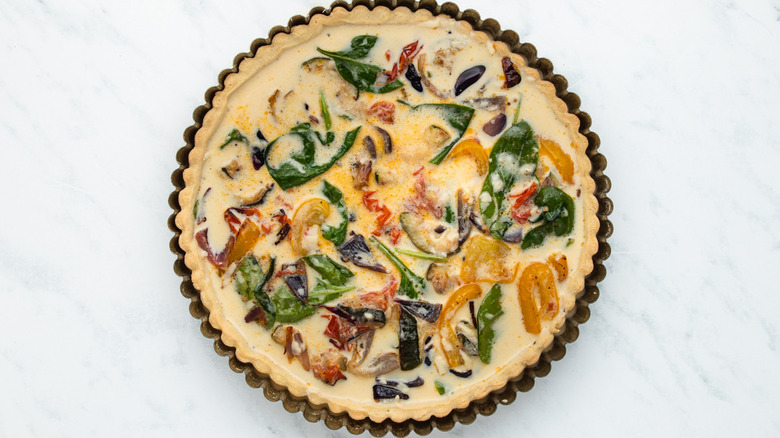 Catherine Brookes/Mashed
Grab a large mixing bowl, and whisk together the eggs, heavy cream, milk, shredded cheese, and salt and pepper to taste. Spread the roasted vegetables evenly across the bottom of the baked pastry crust, then pour the egg mixture over it. Place the quiche into the oven to bake for 30 to 35 minutes, or until it is set. 
Serve this roasted vegetable quiche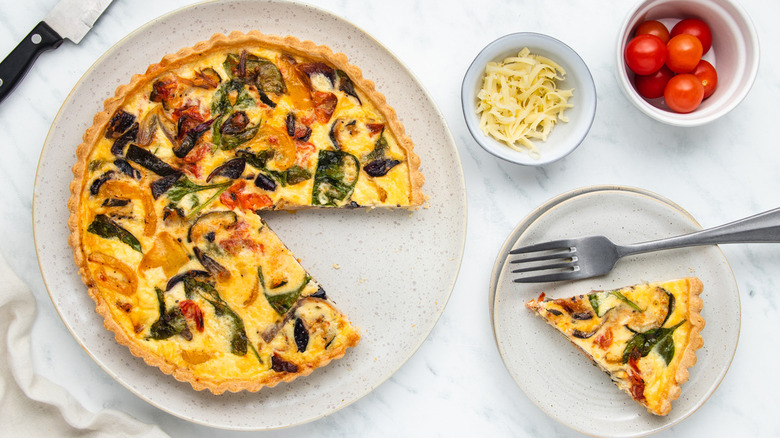 Catherine Brookes/Mashed
Once it's out of the oven, give your quiche about 15 minutes to cool. Then, you're ready to slice and serve it. Quiche is great as a breakfast or brunch fare, but Brookes notes that it is also "great to serve as part of a big lunch spread with cold meats, cheese, [and more]."
Whichever way you serve it, there's a good chance that you'll have some leftovers. Not to worry, as "Leftovers will keep well in the fridge up to 3 days," per Brookes.
Roasted Vegetable Quiche Recipe
Start your brunch off on the right foot with this vegetarian-friendly, roasted vegetable quiche recipe.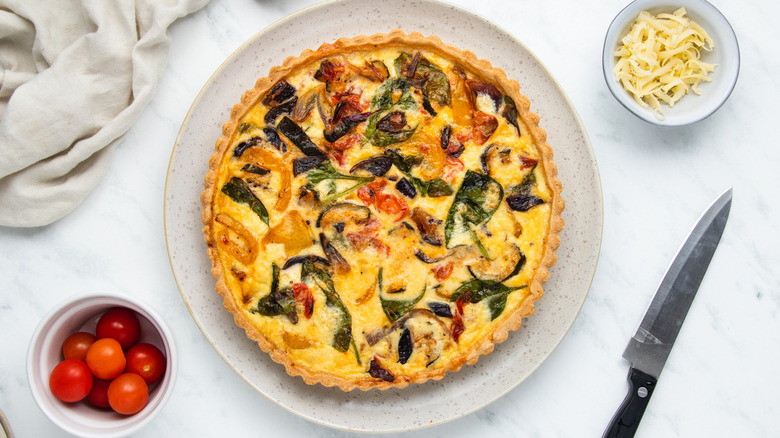 Ingredients
1 500-gram shortcrust pastry
½ zucchini, diced
⅔ yellow bell pepper, diced
8 cherry tomatoes, halved
1 small red onion, diced
2 tablespoons olive oil
Salt and pepper, to taste
1 cup spinach, loosely packed
5 eggs
½ cup heavy cream
¾ cup whole milk
1 cup grated cheddar cheese
Directions
Preheat the oven to 350 F. Roll out the pastry on a lightly-floured surface, and lay it over a 9-inch fluted pie or tart pan. Using your hands, smooth it down into the base and the sides of the pan. Slice any excess dough off the sides, leaving a neat edge.
Prick the base all over with a fork. Cover the pastry crust with a piece of parchment paper, then cover with baking beans or rice. Bake for 15 minutes, then remove the beans and paper, and bake for a further 10 minutes.
Turn the oven temperature up to 400 F. Add the zucchini, pepper, tomatoes, and red onion to a baking sheet. Drizzle with olive oil and some salt and pepper to taste, and toss to coat. Roast for 30 minutes.
Remove the roasted veggies from the oven, and immediately spread the spinach on top. Leave it for a few minutes to wilt slightly.
Whisk together the eggs, cream, milk, cheese, and salt and black pepper to taste in a mixing bowl.
Spread the roasted veggies in the base of the pastry, then pour the egg mixture on top. Bake for 30 to 35 minutes, or until it is set.
Let it cool for about 15 minutes before removing it from the pan, and transferring it to your serving plate of choice.
Nutrition
| | |
| --- | --- |
| Calories per Serving | 560 |
| Total Fat | 41.7 g |
| Saturated Fat | 14.4 g |
| Trans Fat | 0.2 g |
| Cholesterol | 139.5 mg |
| | |
| --- | --- |
| Total Carbohydrates | 33.4 g |
| Dietary Fiber | 1.8 g |
| Total Sugars | 3.3 g |
| Sodium | 471.7 mg |
| Protein | 13.6 g |