TikTok's $1000 Erewhon Sundae Brings Ice Cream And Caviar Together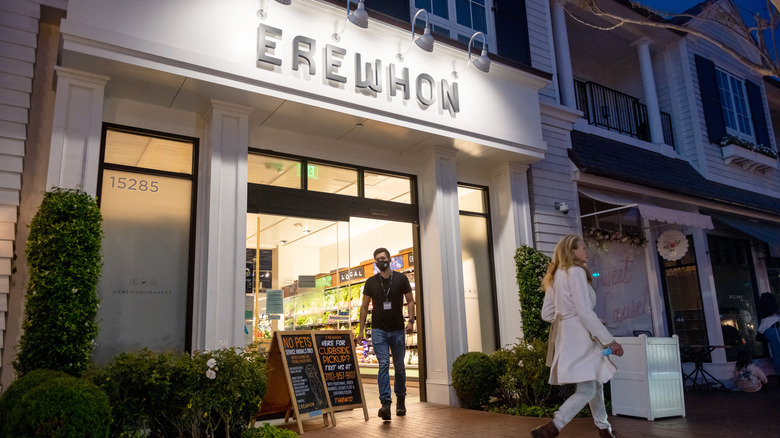 Alexi Rosenfeld/Getty Images
Like any big cosmopolitan city, Los Angeles is an expensive place to live. From a pricey housing market to upscale cocktails with the price to match, you have to work hard to enjoy the many attractions LA has to offer. In fact, even fast food is more expensive in Los Angeles. According to a report by Money Geek, the southern California mecca is the second most expensive city to purchase fast food in all of America, trailing only behind San Francisco.
With such an expensive reputation, it should be no surprise that grocery shopping in Los Angeles is just as expensive as everything else in the city — especially if you're shopping at luxury grocer and lifestyle retailer Erewhon. Home to Hailey Bieber's strawberry glaze smoothie, $50 vinegar, and other outrageously-priced everyday items, Erewhon is dedicated to curating the most opulent grocery shopping experience possible. For a pretty penny, of course.
Showcasing just how expensive it can be, one Erewhon shopper took to TikTok to assemble a caviar-topped ice cream sundae with a price tag that could rival someone's bi-weekly paycheck.
The viral Erewhon sundae features 30 ingredients
Brooke "Chef Bae" Baevsky is a Los Angeles resident, private celebrity chef, and the self-proclaimed mayor of Erewhon. Her TikTok page is a smorgasbord of day-in-the-life updates, recipes, and most importantly, clips of her assembling basic recipes with souped-up Erewhon ingredients. One could even consider her TikTok page a love-letter to the extravagant market.
In addition to her $200 peanut butter and jelly sandwich and $300 mac and cheese made exclusively from Erewhon ingredients, Baevsky has gone viral once again for a $1000 ice cream sundae. What might cost the average Albertsons shopper under $10 ultimately cost the mayor of Erewhon a fortune. Among its many other health-boosting properties, the 30-ingredient sundae comes equipped with herbal supplements like chlorophyll, nootropic mushrooms like lion's mane and chaga, and even boasts a serving of sea moss gel and 20-carat gold edible flakes.
The strangest part of her expensive sundae recipe? Caviar. Although it sounds like a food nightmare from a different planet, the saltiness of caviar can actually pair nicely with the sweetness of the ice cream. But some may think that due to the high price tag, this Erewhon sundae is a classic example of just because you can, doesn't mean you should.