A Customer Is Already Dragging KFC's New Chicken Wrap On TikTok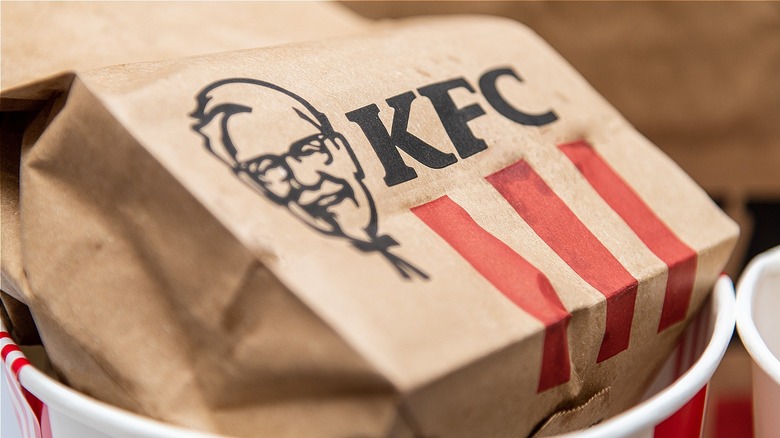 Yalcin Sonat/Shutterstock
Despite the age-old saying, when it comes to the food industry, all press is, in fact, not good press. One could ask giants like Chipotle and Jack in the Box how that worked for them. With social media, it is even easier for fans to share positive or negative experiences. Sadly, KFC has found itself facing backlash over its new chicken wrap combo after a Tik Tok video went viral critiquing it.
So, what's in the new chicken wrap? Unfortunately, not much. They offer two versions: a spicy slaw and a classic chicken wrap. Both come with a chicken tender, lightly toasted flour tortilla, and pickles. The original includes a mayonaise sauce, and the spicy consists of a spicy sauce as well as KFC coleslaw.  In the video, the author Brooklyn opines the fact that the wrap was small, included no cheese or lettuce, and the wrap was not toasted. Needless to say, she was not enthusiastic about the KFC wrap compared to the McSnack wrap that was popular at McDonald's back in the day. In large part, the comment section shared her disappointment.
Fans aren't feeling the new KFC wrap
This is not KFC's first foray into wraps. In years past, they sold a wrap called a Twister that was quite popular with the masses but discontinued, and many in the comments recalled their fondness of them when critiquing the new wrap. This was captured in a statement that stated, "In the early 00s, KFC had a wrap called The Twister that I'd always order. Chicken tenders, lettuce, tomato, shredded cheese in a large tortilla."
It appears to be a case of disappointed expectations. Last year, KFC introduced a wrap that also had mac n cheese in select locations for instance. Like Brooklyn, many were disappointed by the size and lack of filling, including a user who commented, "they don't even put lettuce on it or cheese. and my KFC is connected to a Taco Bell, so I KNOW they have the stuff to do that." While the humor in the response was appreciated, others appeared offended, stating, "NO, THEY DIDN'T?! A raw tortilla, two pickles, and a chicken tender?!"
In fairness, a few users did defend the taste of the wrap. One, in particular, suggested Brooklyn's experience may have been an isolated bad one stating, "I've had them twice now, and my KFC did it justice; it's so fire. Guess you gotta find a good KFC, lol."