James Beard 2023 American Classic Honors Hawaii's Oldest Restaurant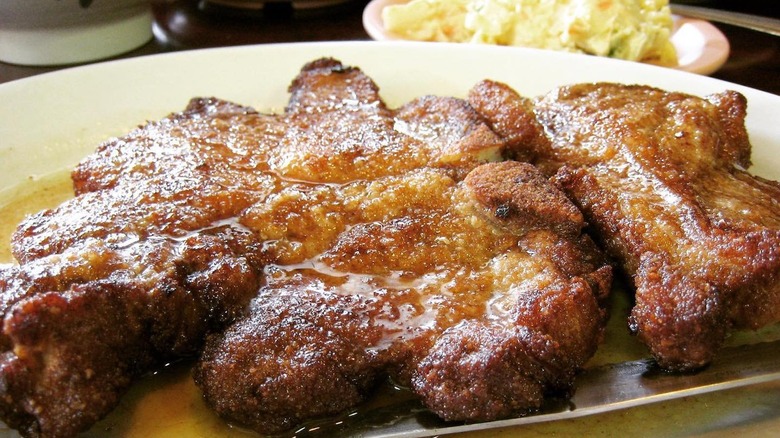 lealeadayz/Instagram
The James Beard Foundation has announced the winners for the 2023 American Classics, an award given to "locally owned restaurants that have timeless appeal and are beloved regionally for quality food that reflects the character of its community." The Manago Hotel, along with five other restaurants across the United States, will share the James Beard American Classics accolade with more than 100 cherished establishments that have received the award since its inception in 1998.
The Manago Hotel is located in Captain Cook Town on the Island of Hawaii overlooking Kealakekua Bay. Founded by Japanese immigrants Kinzo and Osame Manago in 1917, it is now run by the 3rd generation of the family. Before it was an official hotel, Kinzo and Osame began by selling simple foods out of their home. They offered cots to travelers and were later contracted to serve food to soldiers during World War II. The hotel has grown significantly and now has 64 rooms and a brand-new wing. 
They stay true to their humble beginnings by offering spotless rooms at an affordable rate, and of course, solid (and now, award-winning) Hawaiian comfort food that keeps tourists and locals alike coming back for more.
The food at the Manago Hotel is classic and comforting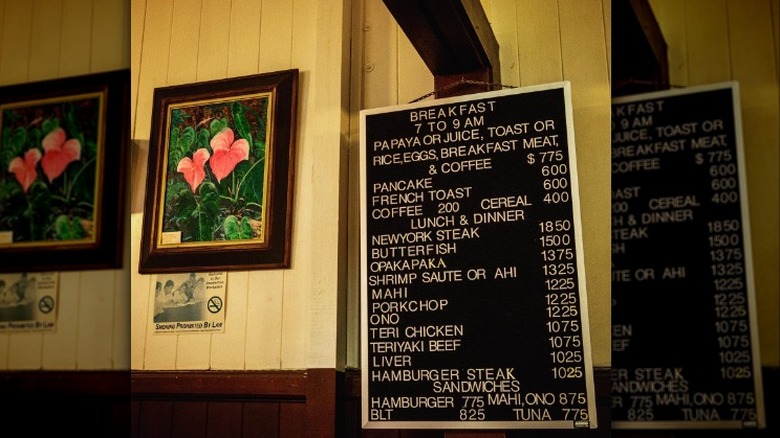 sixislands/Instagram
Kinzo and Osame started out by selling foods like udon noodles, bread, jam, and coffee to passersby. Now, the menu at Hawaii's oldest restaurant is full of local favorites and has stayed pretty much the same since the 1940s. The simple breakfast offerings reflect Hawaiian culture. Alongside eggs, you get the option of toast or rice. Breakfast meat choices include not just bacon or ham, but Portuguese sausages, Vienna sausages, and Spam, as well.
In addition to a few classic sandwiches, the plate lunches and dinners include Hawaiian mainstays that reflect the state's diverse history and colonial past including butterfish, shrimp saute, teriyaki, hamburger steak, and their fan-favorite pork chops, along with local fish like opelu and ahi, when available. Butterfish is typically made by marinating black cod in miso. Shrimp saute is made by dredging whole shrimp in mochiko flour, pan frying them with lots of crispy minced garlic, and is finished with fresh lemon. Hamburger steak, a Hawaiian riff on a Japanese riff on Western food, is smothered in a savory mushroom and onion gravy and served over rice.
The Manago Hotel and restaurant holds a special place in the hearts of Hawaiians. Several Instagram users summed it up sweetly with the Hawaiian expression that encompasses admiration, respect, appreciation, and gratitude – Mahalo Manago.