Guy Fieri Responded To Those 'Hysterical' Guy Fieri-Themed Bachelorette Parties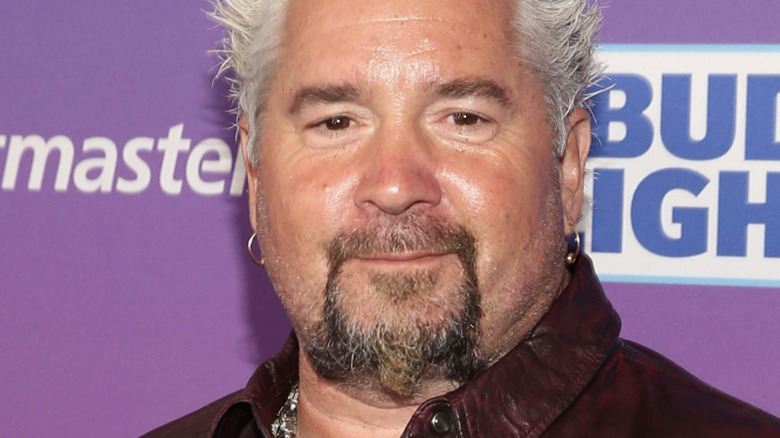 Jesse Grant/Getty
Before a couple says, "I do," the bride and groom may choose to celebrate the end of their single life by throwing bachelor and bachelorette parties. Bachelor parties remain popular today — The Knot found that 71% of grooms have one, but bachelorette parties take the cake, with 78% of brides celebrating before the big day. Engaged couples are forgoing tradition by hosting gender-inclusive parties and oftentimes engaging in joint bachelor-bachelorette parties. Today, bachelorette parties run the gamut in terms of price and location. Some brides choose to jet set to a new city like Las Vegas to eat at restaurants owned by Food Network stars, while others prefer a quiet get-together at their favorite neighborhood haunt.
No bachelorette party is complete without a theme. There are really no rules to it, except choosing something the bride loves, of course. Some popular themes play off of classic or beloved tv shows, like "Friends," "Real Housewives," or "Sex in the City." Of course, dressing up for the theme is essential to nabbing the perfect photo. If you're thinking of the stereotypical boa, sash, and sparkly high heels, think again. A new trend of themed bachelorette parties is emerging, and the look is sure to turn some heads.
Guy Fieri thinks it's 'hysterical'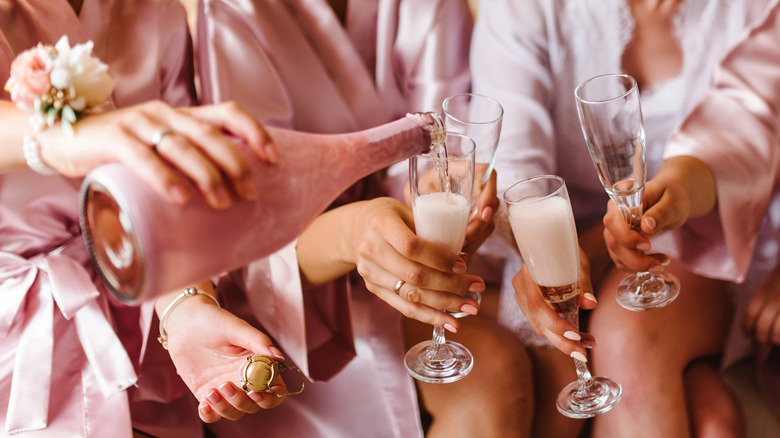 Sergii Sobolevskyi/Shutterstock
One of the more unique and out-there bachelorette party themes being embraced by Gen-Z is the man, the myth, the legend: Guy Fieri. Scores of TikTok videos have gone viral showing bachelorette party groups dressed in Fieri's signature flame-filled bowling shirt and platinum-dyed spiky hair. Those going the extra mile have even drawn on replicas of Fieri's tattoos and goatee. Fieri appeared on "The View" and was asked how he felt about the new party trend. "I just think it's great people having a great time," the "Diners, Drive-Ins, and Dives" star responded. He did acknowledge that he's been aware of this trend and has often seen these groups at his Las Vegas and Atlantic City restaurants. His waitstaff gets a kick out of it too, as they've been known to FaceTime Fieri and show off the dressed-up partygoers.
This isn't the first Guy Fieri trend that has taken the internet by storm. For the past several years, Fieri fans have honored the Mayor of Flavortown by dressing up as him for Halloween. There's even an official Guy Fieri costume that fans can purchase. Fieri himself even joined in on the fun this year by hosting an official Guy Fieri costume contest, where the winner received a $750 prize.