Lemony Blueberry Cake Recipe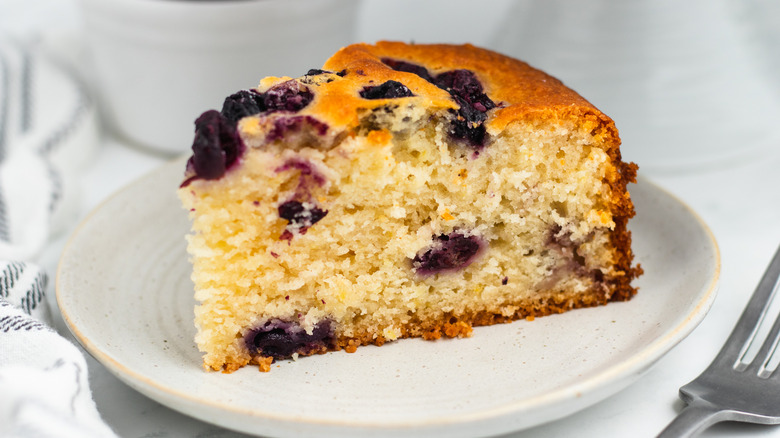 Catherine Brookes/Mashed
Who said you can add fruit to a cake? Cakes come in all shapes, sizes, and flavors, and you can get creative with additions like chocolate, sprinkles, or candy. Sometimes, however, the best addition is fruit, and that's certainly the case with this lemony blueberry cake, which boasts a sweet, lemon-flavored batter that adds a nice citrus vibe to the dessert. Combine the lemon-flavored cake with a ton of blueberries and the two make an incredibly sweet and fruity cake that is a must-try. It's also worth mentioning that the addition of buttermilk adds a silky and smooth texture to the batter. Not only is this cake great to serve with after dinner, but we could argue that you could sneak in a little piece at breakfast with your coffee since it's almost like a scone but in cake form.
Recipe developer Catherine Brookes came up with this quick and easy recipe totally hits the spot. "This cake is so soft, fluffy, moist and full of berry goodness! It's so easy to make being baked in just one layer with no fancy decoration required," Brookes says. "This is a great cake to serve for special occasions all year round, but it's particularly great in spring time!" Lemons and blueberries do boast a certain springtime freshness, don't they?
Gather the ingredients for this lemony blueberry cake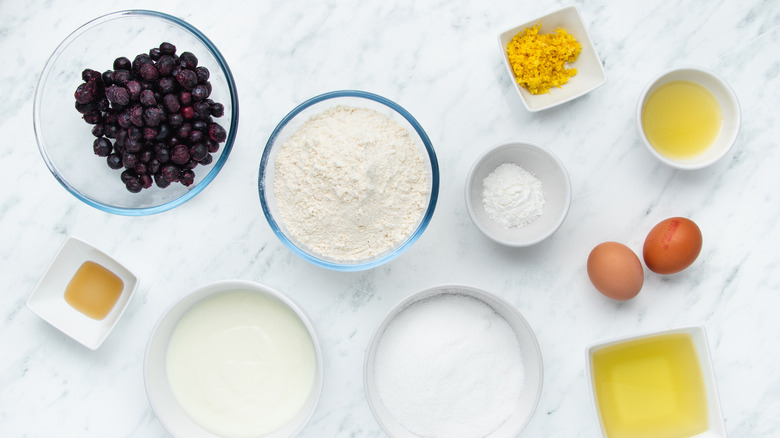 Catherine Brookes/Mashed
If you bake often, you're in luck and may have most of the ingredients you need to make this cake. All you need is white sugar, large eggs, vegetable oil, lemon zest, lemon juice, vanilla extract, buttermilk, all-purpose flour, baking powder, and frozen blueberries (Brookes notes that you could use fresh blueberries here).
Preheat the oven and start mixing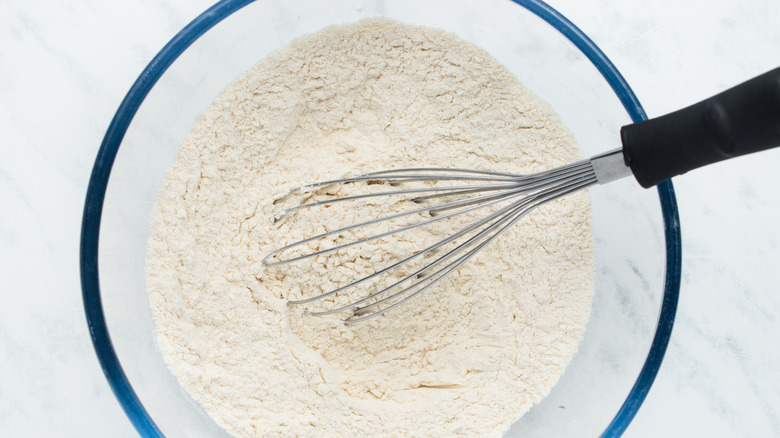 Catherine Brookes/Mashed
Preheat the oven to 350 F, and grab a 9-inch cake pan. Grease the cake pan first, and then add a layer of parchment paper to prevent the cake from sticking.
To get started on the cake, take out a mixing bowl and add 2 ¾ cups of flour and the baking powder. Whisk together to combine, and then set the bowl aside.
Whisk the eggs and sugar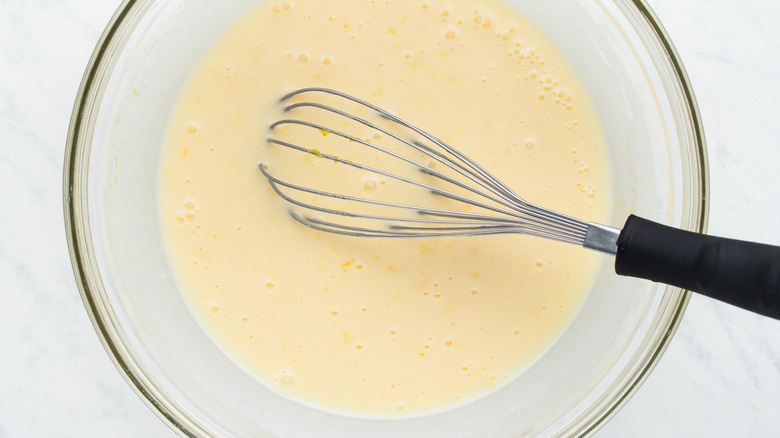 Catherine Brookes/Mashed
In a different bowl, add the eggs and sugar. Whisk together until the two combine and form a smooth batter. Add the oil to the same bowl and whisk again to incorporate.
Mix in the lemon zest, lemon juice, and buttermilk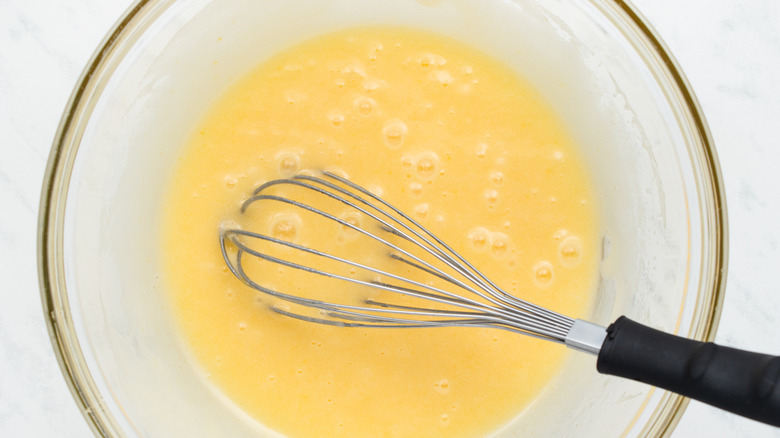 Catherine Brookes/Mashed
There are still a few more things that you will need to add to the mix. Start with lemon juice and lemon zest, which adds a hint of citrus flavor to the batter. Then, mix in the buttermilk and whisk to combine. "The buttermilk helps to keep the cake super moist and fluffy," Brookes notes. 
Combine the flour and the sugar mixtures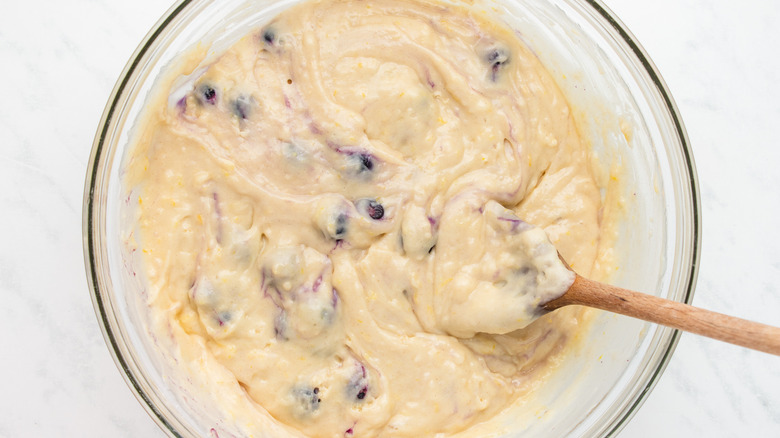 Catherine Brookes/Mashed
Gently fold in the flour mixture with the sugar mixture. Use a wooden spoon to mix until just combined. If the batter has a few lumps in it, don't worry — that's totally fine. "When adding the flour mixture, be careful not to overmix or the cake may come out too dense. Just fold together until just combined," Brookes notes. 
Then, combine the blueberries and the last tablespoon of flour so that they get coated well. Add about half of the coated blueberries to the batter and gently fold to combine. "The taste is sweet and a little tart, with a little vanilla and plenty of juicy berries," Brookes notes of the batter flavor. 
Transfer the batter and bake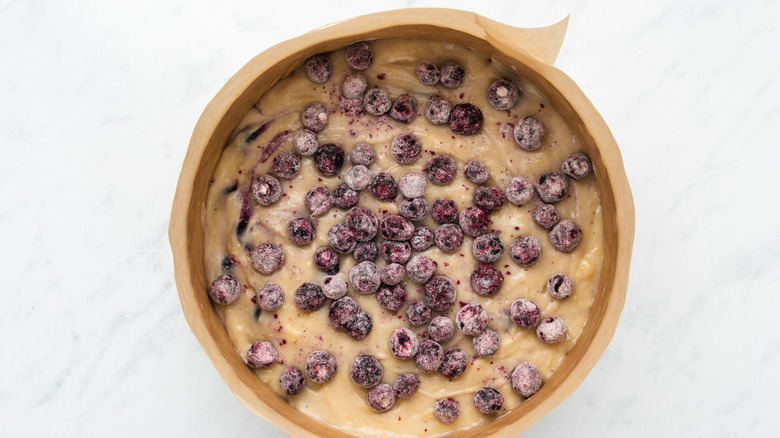 Catherine Brookes/Mashed
Transfer the batter to the prepared baking pan and then scatter the other half of the blueberries on top. Pop the cake your preheated oven and bake for 50 minutes to an hour. You can check for doneness by inserting a skewer into the cake's center and ensuring it comes out clean. If it does, you can take it out. If not, the cake will need to cook a little longer.
Let the cake cool and serve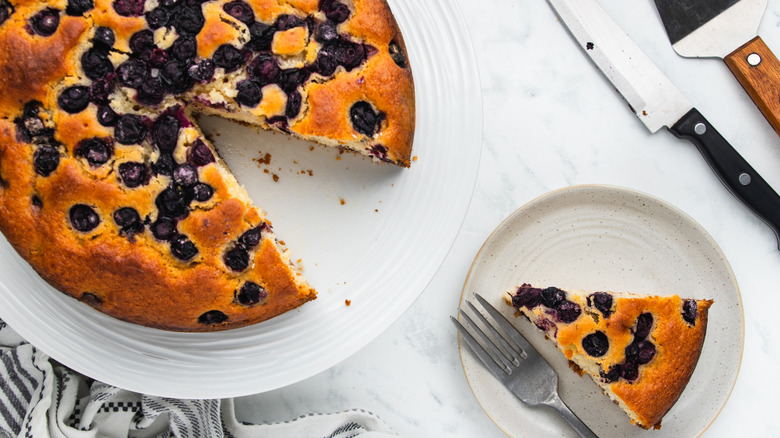 Catherine Brookes/Mashed
Remove the cake from the oven and let it cool for about 15 minutes in the pan. Then, transfer the cake to a wire rack and let it cool completely. Once cooled, slice and serve the cake. 
"It's great served with some heavy cream poured on top, or with ice cream," Brookes suggests. Anything left? "Leftovers will keep well in an airtight container at room temp for up to 4 days," she adds.
Lemony Blueberry Cake Recipe
This lemony blueberry cake marries fresh flavors together in a perfectly moist, sweet treat.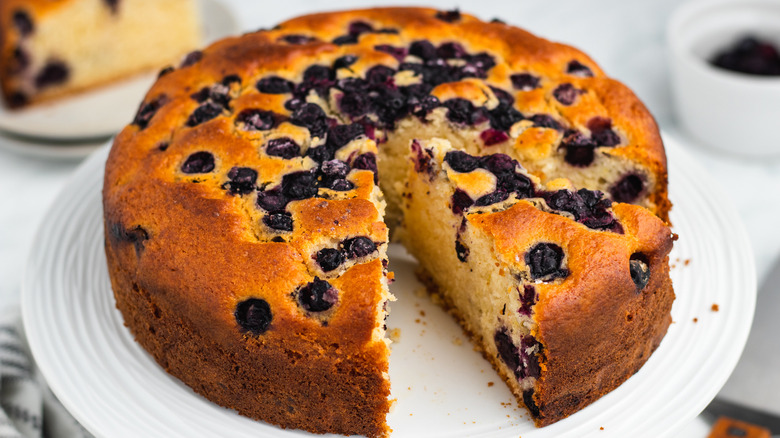 Ingredients
2 ¾ cups + 1 tablespoon all-purpose flour, divided
4 teaspoons baking powder
2 large eggs
1 ⅓ cups white sugar
¾ cup vegetable oil
2 tablespoons lemon zest
¼ cup lemon juice
½ teaspoon vanilla extract
1 cup buttermilk
2 cups frozen blueberries
Directions
Preheat the oven to 350 F and grease and line a 9-inch cake pan with parchment paper.
In a mixing bowl, whisk together 2 ¾ cups of the flour and the baking powder. Set aside.
In a separate bowl, whisk together the eggs and sugar until smooth. Add the oil and whisk again to combine.
Add the lemon zest, lemon juice, and buttermilk to the wet ingredients bowl. Whisk well.
Add the flour mixture and gently fold together with a wooden spoon until just combined. A few lumps are okay, and be careful not to overmix.
Toss the frozen blueberries in the remaining 1 tablespoon of flour. Add half of the coated blueberries to the batter and fold gently to combine.
Transfer the mixture to your prepared baking pan and scatter the remaining blueberries on top.
Bake for 50 minutes to 1 hour, or until a skewer poked into the center of the cake comes out clean.
Leave the cake in the pan for about 15 minutes before transferring to a wire rack to cool.
Slice and serve.
Nutrition
| | |
| --- | --- |
| Calories per Serving | 353 |
| Total Fat | 15.4 g |
| Saturated Fat | 1.3 g |
| Trans Fat | 0.1 g |
| Cholesterol | 31.8 mg |
| | |
| --- | --- |
| Total Carbohydrates | 50.1 g |
| Dietary Fiber | 1.5 g |
| Total Sugars | 25.9 g |
| Sodium | 172.8 mg |
| Protein | 5.0 g |