Massimo Bottura Is Making A Rare One-Night Return To The Gucci Kitchen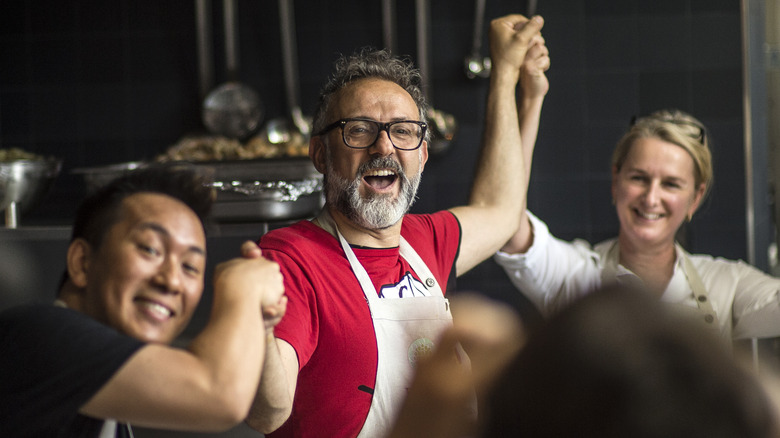 Simon Owen Red Photographic
Los Angeles has no shortage of high-end fine-dining restaurants. With all the glitz, glam, and celebrity that surrounds the city, it's a no-brainer that there need to be upscale restaurants to satisfy any food desire. The highest food honor a restaurant can receive is a Michelin star from the coveted Michelin Guide. Los Angeles has a colored history with the Michelin Guide after the guide stopped rating LA restaurants in 2010 due to a financial dispute, before returning to the city in 2019. The newest guide lists 158 LA restaurants that have earned anywhere from one to three Michelin stars. One of the more unique LA Michelin restaurants is Gucci Osteria da Massimo Bottura.
Gucci Osteria da Massimo Bottura is unique in that it is hidden in a Gucci store. The restaurant is located in Gucci's flagship Beverly Hills store, but also has locations in Gucci stores around the world. Massimo Bottura, the famed Italian chef you know from "Chef's Table," helped develop the concepts for these restaurants. As of 2020, Bottura stepped away from the day-to-day operations, turning it over to chef Mattia Agazzi. Under Chef Agazzi's direction, the restaurant earned its first Michelin Star in 2021.
Enjoy Massimo's cooking for a hefty price
Though Massimo Bottura hasn't been in the kitchen of Gucci Osteria in 3 years, he's coming back to cook a one-night-only dinner (via Eater). Those who want to get a taste of Bottura's cooking can purchase a $500 ticket for a six-course tasting menu. The dinner will only occur on March 8 at 6 pm in the Gucci restaurant. The last time Bottura was seen cooking in the Gucci LA kitchen was back in February 2020. Bottura is a busy guy, currently overseeing Gucci Osteria's three other international locations, as well as his critically acclaimed restaurant Osteria Francescana in Modena, Italy.
While the six-course menu is being kept under wraps, Bottua is known for elevating and modernizing classic Italian cuisine. Osteria Francescana won the award for the best restaurant in the world in 2016 and is now ranked number two, with the coveted three Michelin stars. One look at the Beverly Hills menu, and you'll see elevated Italian dishes with a hint of California influence. Taking inspiration from California ingredients, diners can enjoy local Santa Barbara spiny lobster and California citrus. 
Each restaurant location features the signature tortellini, so diners could perhaps enjoy a twist on the classic for this special one-night dinner.