Underrated Store-Brand Foods You Should Be Buying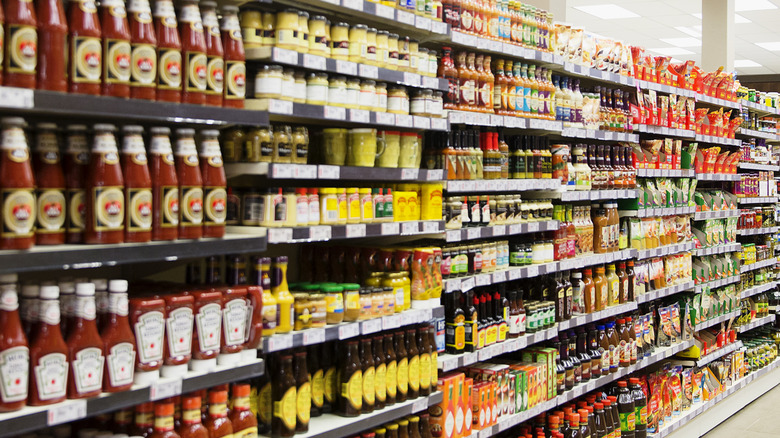 Dan Dalton/Getty Images
We may receive a commission on purchases made from links.
It's no secret that the cost of living has gone up significantly over the past few decades. And sometimes it may seem like going to the grocery store is more expensive than a night out at a nice restaurant. But there's no denying that for the most part, cooking cheaper foods at home is the best way to stay on track with your budget.
And when you want to save even more money, buying store-brand items is a pretty great way to do it. Yes, you might be used to the big-name brands. But when you really look at the ingredients (and sometimes even the manufacturers), there's not actually much of a difference between store-brand and name-brand foods. In fact, most of them have close to identical ingredients — the big difference is just the cost. But if you feel a little lost on which store-brand foods are worth buying and which ones warrant a splurge to skip on, then you've come to the right place. After all, there are more than a few underrated store-brand foods that you should be buying.
Great Value Mac and Cheese
It's basically an unwritten rule that boxed macaroni and cheese is a staple in most American homes. When you need a quick meal, your kids are screaming for dinner, or you're just craving a bit of comfort, the convenience of boxed mac and cheese can't be topped. For most people, Kraft is the king of boxed Mac and cheese, and at just a dollar a box, it would seem as though the price can't be beat.
Enter Great Value Macaroni and cheese. The Walmart brand of boxed, cheesy pasta is half the price of its Kraft competitor. It's made up of practically the exact the same stuff, though the taste might even be better. Reviews say it's as "good as Kraft," and that it's perfectly creamy and cheesy. So not only is this store-brand food a great deal, but it might just replace your Kraft cravings once and for all, and for literally half the price.
Good & Gather Southwest Chopped Salad Kit
For anyone with a busy lifestyle, salad kits from the grocery store can be lifesavers when you have no time to prepare a healthy, balanced meal. But just like everything else at the grocery store, prices on prepackaged salads are seemingly constantly on the rise. And that's where store-brand salad kits come in. To save some cash, store-brand salad kits seem like a smart idea, but a lot are filled with more cabbage and other cheap vegetables rather than flavorful toppings or tastier vegetables like carrots and even romaine.
But the Target brand, Good & Gather, has one specific chopped salad kit that really sets itself apart. The Southwest Chopped Salad Kit from Good & Gather is pretty incredible. Filled with romaine, carrots, cabbage (yes, cabbage, but the right amount), pepitas, green onions, cilantro, and tortilla strips, this gives the perfect Mexican vibes, and the creamy cilantro pepita dressing further brings that to light. So when you're craving an easy-to-assemble salad but also want to be frugal, this is the perfect swap.
Trader Joe's Organic Blue Tortilla Chips
For numerous reasons, tortilla chips are another staple in so many households across America. For dips, nachos, salad toppings, soup toppings, and so much more, tortilla chips are a such delicious and versatile food, even if you just want a crunchy snack. But they can also be expensive, especially if you want a truly tasty and high-quality tortilla chip. Fortunately, Trader Joe's has the perfect option with one of the best-tasting tortilla chips out there.
The Trader Joe's Organic Blue Tortilla Chips are perhaps the best store-brand tortilla chip, and at a great price, too. The chips run about $3.29 and that's an extremely good value for an organic product, especially one that blind taste testers described as crispy, delicious, and light, all qualities you'd want in a tortilla chip. And as they're made from blue corn, these chips are also a little sweeter and grainier, making for an excellent snack or dip companion.
Great Value Original Cinnamon Rolls
If you've ever had homemade cinnamon rolls, then you know there's practically nothing that can top them. However, they can take some serious effort to make from scratch, not to mention a lot of time. There are also store-bought, ready-to-bake cinnamon rolls out there that you can whip up in a fraction of the time — and for a fraction of the cost if you're willing to try a store brand over other name-brand cinnamon rolls. Sure, you could go with Pillsbury for the name recognition, but the Walmart brand Great Value Cinnamon Rolls are just as good, and much cheaper.
When you think about it, refrigerated, ready-to-bake cinnamon roll dough can't vary all that much from brand to brand, so why pay more for a bigger name? What's more, people seem to really love the Great Value brand of rolls. They are delicious, fluffy, full of flavor, and so easy to bake it might shock you. So try to grab these next time you make a Walmart run, and see for yourself just how underrated and delicious they are.
Good & Gather Frozen Crushed Garlic Cubes
If you're someone who truly enjoys food and cooking, then you've no doubt tried just about every hack out there to make some aspect of cooking easier. From slicing grape tomatoes with the top of a Tupperware lid to hold them still, to using scissors to chop your herbs, or rinsing your produce with baking soda to keep it fresh and clean. But the most sought-after kitchen hack definitely seems to be a way to make peeling and mincing garlic easier. Garlic is a staple for so many recipes, but it's pretty annoying to handle.
Fortunately, Target's store brand, Good & Gather, has the perfect solution for all the garlic lovers out there. The Frozen Crushed Garlic Cubes are the perfect addition to any chef's freezer, and make cooking so much easier. These are literally just pure crushed garlic with a little water, oil, and sea salt, so when you need to add garlic to your next sauce but don't have the time or energy to peel, chop, or mince fresh garlic, these are the perfect, cost-effective solution.
Kroger Pizza Snack Rolls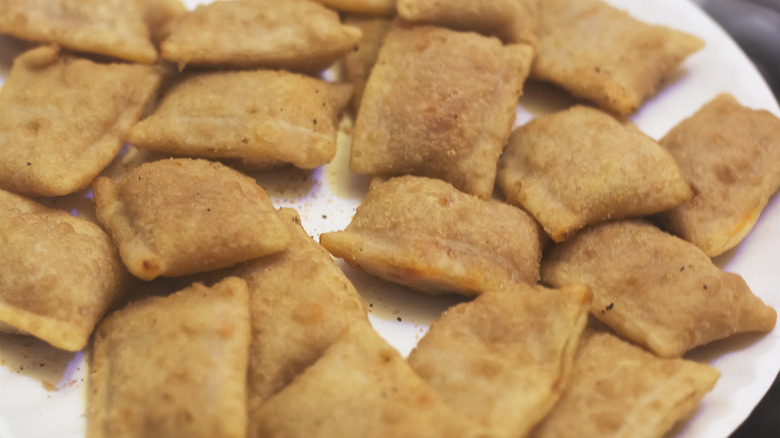 Are Visual (andrew R Emery)/Getty Images
If you grew up in the 1990s or early 2000s, then you probably remember the quintessential after-school snack, pizza rolls. Cooked in the microwave or (preferably) the oven, these crispy, salty, delicious rolls were filled with cheese, pizza sauce, and (if you were lucky) pepperoni. And while you probably associate Totino's pizza rolls specifically with those memories, it turns out that there's one store brand that might just do it better.
The Kroger Pizza Snack Rolls are actually surprisingly delicious, arguably one of the best pizza roll brands out there. Yes, these perfectly golden, sauce-filled delights are actually better than Totinos, and some reviewers say they have the best ratio of crust to sauce, meaning they aren't too dry but also not too saucy and messy. So the next time you're feeling nostalgic, want a yummy snack for your kids, or just find yourself craving a pizza roll, head to Kroger to give theirs a try.
Trader Joe's Organic Green Vegetable Foursome
In the world of frozen vegetables, it might seem like you don't really have much of a choice when it comes to selection. The big-name brands tend to be overpriced and even the store brands are usually not all that great. But at Trader Joe's, that's not the case. The grocery store is somewhat famous for its frozen food selections, so it makes sense that their frozen vegetables would be impressive, too.
Specifically, Trader Joe's Organic Green Vegetable Foursome is the perfect frozen vegetable blend to have on hand. It contains broccoli florets, peas, French green beans, and zucchini, making it the perfect combination of healthy vegetables with just a touch of natural sweetness from the peas. You can have this blend as a side dish on it's own, served over some rice, with pasta, or as parto of a delicious and nutritious roasted veggie salad. Basically, this is the ultimate affordable frozen vegetable option.
Aldi Creamy Peanut Butter
If there's one grocery store in the United States that's the most well-known for having low prices, it's Aldi. The grocery store might be a little more stressful to shop at due to the lack of baggers, and the quarter needed to use a cart, but most customers would agree that the prices make it all well worth it. And there are some products that are even more valuable than others, like peanut butter.
More specifically, the Aldi Creamy Peanut Butter is every bit as good as JIF and the other big-name brands. Aldi's peanut butter has just about the perfect combination of salty and creamy, with a subtle sweetness that makes it the perfect addition to any sandwich, dip, or just to eat by the spoonful, because who hasn't done that? So if you're looking to save money on groceries, head to Aldi's and make sure you grab the Creamy Peanut Butter, because you won't be disappointed.
Kirkland Signature Greek Yogurt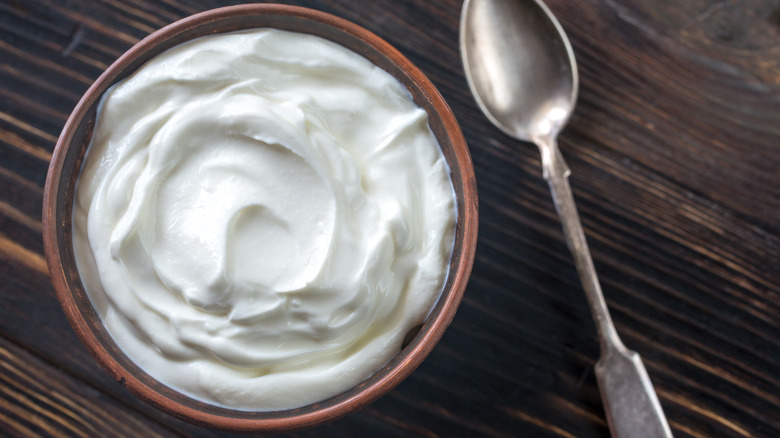 Alexpro9500/Getty Images
One of the most popular health-conscious food items that has gained popularity over the past decade or so is Greek yogurt. It's creamy, tangy, and high in protein — some people swear it works great as a sour cream substitute if you're looking to add more protein to your diet. It can also be used just like any other yogurt, and it's distinct flavor profile makes it pretty spectacular. But because it's a healthier food item, it can also be more expensive than regular yogurt, meaning buying a store brand versus a name brand is a great way to be frugal.
Fortunately, Costco's Kirkland Signature brand offers a great Greek yogurt that's incredibly delicious and also incredibly cost-effective. The Kirkland Signature Organic Plain Greek Yogurt is the best bang for your buck in terms of Greek yogurt, and a great staple to keep in your fridge. This yogurt is seriously creamy, rich, and has the perfect amount of tang that makes Greek yogurt so special. Whether you want to eat it with granola for breakfast, use it in recipes, or smoothies, there's no doubt that you'll get plenty of use from the yogurt, and be saving money at the same time.
365 by Whole Foods Ice Cream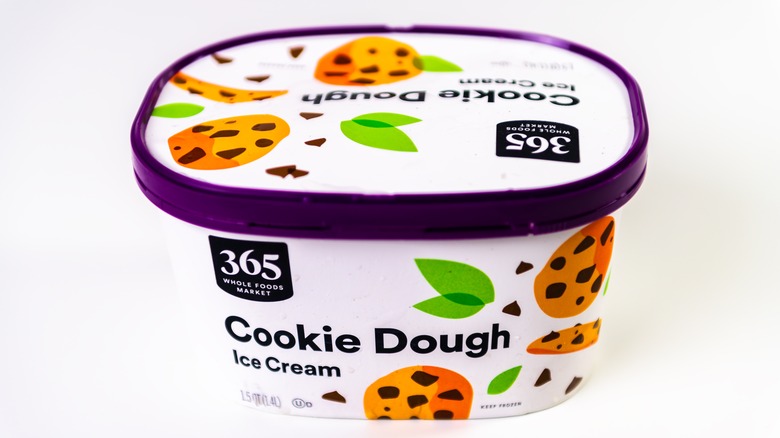 Andriy Blokhin/Shutterstock
Perhaps one of the biggest and certainly most enticing sections in the grocery store is the ice cream aisle. There are name-brand ice creams, store-brand, dairy-free ice creams, low-calorie ice creams, sugar-free ice creams, sorbets and sherbets — the list could go on and on. So, how do you choose? Well, if you're looking to stay on budget and find delicious ice cream with simple, quality ingredients, Whole Foods has you covered.
The 365 by Whole Foods Ice Cream is incredibly delicious, and every bit as good (if not better) than any other name-brand ice cream out there. Specifically, the simple yet satisfying Vanilla Ice Cream is a classic, perfect on its own or on top of a warm brownie, alongside a piece of birthday cake, or buried under your favorite toppings. This ice cream truly tastes vanilla, and is so creamy and satisfying you won't believe you're eating a store-brand dessert. So, next time you're at Whole Foods, bypass all the expensive brands of ice cream and head straight to the store brand.
HEB Butter tortillas
If you've never been to Texas, you might not know what H-E-B is. But if you've ever traveled to the state, or even just know a proud Texan, then you've likely heard of the beloved grocery store locals are obsessed with. H-E-B truly does everything better than most grocery stores, and that includes their store-brand products. They make everything from beauty products to organic salads, sauces, cheese, chips, and more. And, perhaps most importantly, they've always got bags full of their freshly made tortillas.
The H-E-B Buttery Flour Tortillas are so delectable, soft, chewy, fluffy, savory, and yes, buttery, that they even inspired a Super Bowl commercial in 2023. Anyone who has had the tortillas knows that there's no topping them, and at a store-brand price, why would you want to? Instead of spending more money on name-brand, mass-produced tortillas, grab H-E-B's fresh butter tortillas if they're available to you, and prepare for to taste some of the best carbs you've ever tasted.
365 by Whole Foods coffee
If you're among the 64% of Americans who drink coffee on a regular basis, then you probably have your favorite coffee brand that you tend to stick to at the grocery store or online shopping app. But the price of coffee can be steep, especially at times when you find yourself needing more than just a couple of cups to power through the day. Luckily there are quite a few store-brand coffees that are just as good as the more expensive brands. Specifically, we recommend the Whole Foods 365 coffee as a great option to wake you up. 
The 365 by Whole Foods Pleasant Morning Buzz Vienna Roast is both tasty and a good price. The coffee is a darker roast, though not too dark, making it a good choice for just about everyone. "This coffee is just as good or better than most coffees and for more like .50 per ounce," said one happy customer on Amazon. And that perfectly sums it up. Why waste more money on coffee that's not even as good just because you recognize the brand? Try this store brand and see just how delicious saving money can taste. 
Trader Joe's Sicilian Selezione Extra Virgin Olive Oil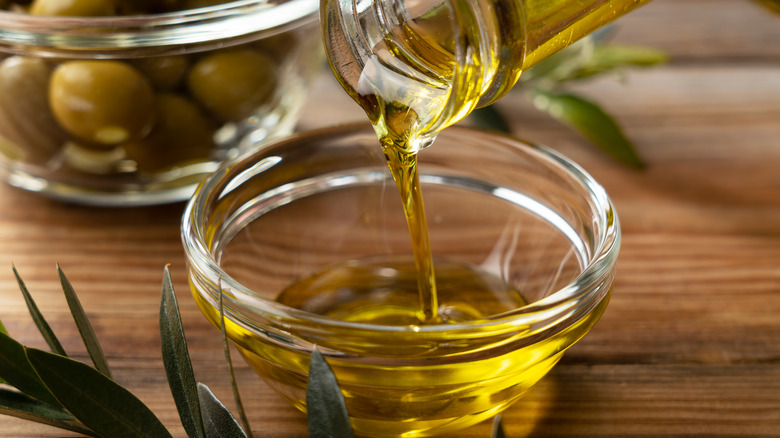 masa44/Shutterstock
Olive oil is pretty much a staple in most homes, especially for anyone who tends to cook a decent amount. It's perfect for salad dressings, roasting vegetables, dipping bread in, and so much more. But a good quality olive oil that actually tastes good can also be expensive and hard to find. But Trader Joe's manages to sell an olive oil that's affordable, incredibly tasty, and high-quality. The Sicilian Selezione Extra Virgin Olive Oil at Trader Joe's is said to be a one-of-a-kind blend made in Sicily that's sure to enhance everything you make. 
This particular product is seriously surprising, with plenty of flavor and finishing notes of pepper that make it easy to compare to a higher-end, more expensive name-brand olive oil. This olive oil is a beautiful color, rich, and smooth, making it the perfect addition to your next grocery haul. And at only around $8 or $9, it's practically a steal. 
Kirkland Signature Organic maple syrup
It's no secret that buying organic products is typically more expensive than non-organic. But that isn't always the case, especially when you buy a store-brand organic product in bulk. And Costco's Kirkland Signature brand has quite a few organic products that are much better in value than what you'll find anywhere else. That includes their Organic Maple Syrup, made in Canada, and sure to impress everyone at the breakfast table. 
This maple syrup is 100% pure Grade A Amber color with a rich taste that is to die for, too. Other syrups you find in stores, maple or otherwise, might be filled with other ingredients, added preservatives, and non-essential filler ingredients that make them cheaper, albeit not as tasty. But Costco's brand is pure, delicious, and as long as you have a Costco membership, totally worth it. So skip those other name brands and stick with a simpler, better quality maple syrup from Costco, because you'll be saving money in the long run and your taste buds will thank you.