Giada De Laurentiis' Simple Cooking Method For Extra Crispy Lasagna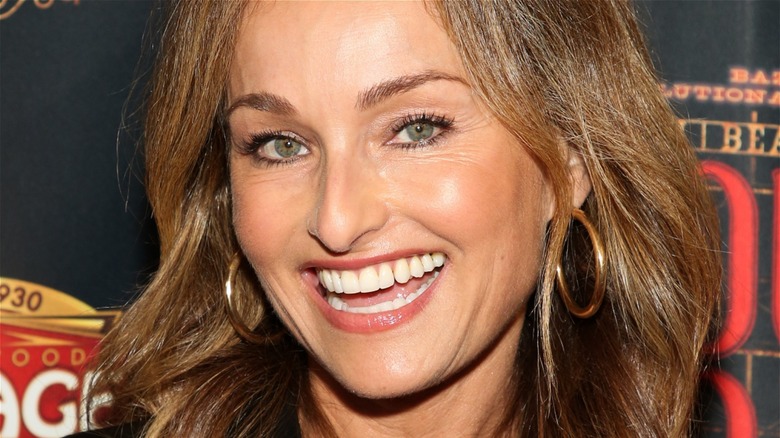 Paul Archuleta/Getty
As far as food goes, in the hierarchy of meals, casseroles fall somewhere between frozen fish sticks and scrapple (sorry, Philly). While most are tasty and comforting, casseroles are not usually on the menu when the boss comes to dinner, or the family gathers for the holidays. Instead, one-pot casseroles are quickly whipped up when a friend is sick or when you're traveling to a potluck. However, this often maligned meal category contains some of our favorite international dishes.
While we may not consider them as such, American classics like mac and cheese and chicken pot pie, Mexican favorites like enchiladas, and a host of Italian dishes like baked ziti and chicken parmesan are casseroles. Among the many Italian dishes we enjoy, one of the most popular Sunday suppers, lasagna, is perhaps the most delicious casserole of them all.
Whether preparing the classic lasagna bolognese, making each component from scratch, from the meaty ragú to the creamy béchamel sauce, cooking all day, or saving a few hours using jarred sauce and no-bake noodles, lasagna is versatile with many recipes to choose from. Usually prepared in a casserole dish, traditional lasagnas are thick, layered meals containing wide, flat sheets of pasta, sauce, and cheese that can take hours to prepare and an hour to bake.
Giada De Laurentiis has created a new lasagna recipe, increasing the best part of the casserole, the crispy edges of caramelized cheese. Even better, this style of lasagna is customizable and preps in minutes.
Sheetpan layerless lasagna
Giada De Laurentiis bakes her new lasagna recipe in a sheet pan, increasing the surface area to allow more cheese to caramelize, doubling the number of crispy bites. This version reduces prep time to just ten minutes and halves the cooking time to 30 minutes. While De Laurentiis' sheetpan layerless lasagna is made with Italian sausage, the meat can be omitted or swapped for vegetables like sautéed mushrooms or zucchini for a vegetarian lasagna version.
@giadadelaurentiis

Lovers of crispy lasagna edges, this Sheet Pan Lasagna is for u! Recipe on @thegiadzy
Baking the lasagna in a shallow sheet pan compared to a deep casserole dish means the noodles aren't layered, so De Laurentiis breaks apart traditional frilly-edged lasagna noodles into bite-sized pieces; however, taccole pasta can be used too. At the same time as the pasta cooks, Italian sausage and diced onion are sautéed, then mixed with four cups of store-bought marinara sauce, and ricotta is flavored with parmesan cheese and sautéed spinach. 
Like a typical casserole, the pasta, marinara sauce, and meat are combined and poured onto a half-sheet pan. The mixture is topped with dollops of ricotta, a sprinkling of parmesan cheese, and lots of shredded mozzarella before baking it in a 425-degree oven for 30 minutes until the top is golden brown and the edges are crispy. If you can wait, allow the lasagna to cool for a few minutes before cutting and enjoying it, or follow De Laurentiis' lead, pick off a few noodles, and eat it like a plate of nachos.