Scoring Girl Scout Cookies Hasn't Been Easy This Year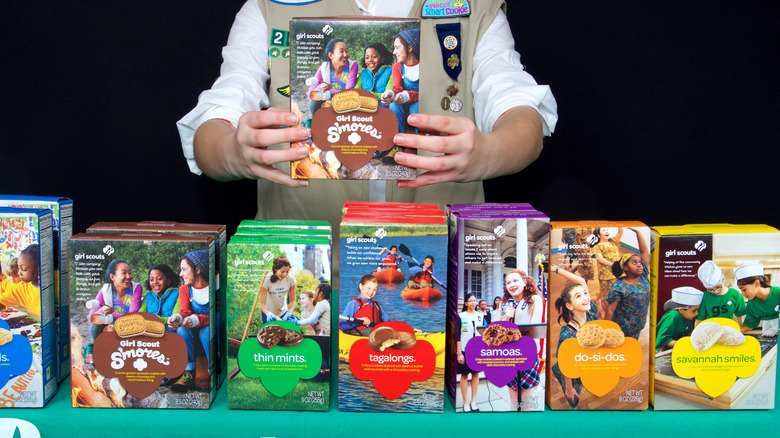 Sheila Fitzgerald/Shutterstock
It's been a tough year for the many devoted fans of the Girl Scouts. It's not litigation or scandal that's got them down; it's the cookie situation. Girl Scouts' Cookies have been going strong since they were first in launched in 1917, when an enterprising young woman in Oklahama first started baking and selling them in her school cafeteria (per Girl Scouts). Over the decades, the business expanded to become a central moment in the scouting year, both for financing and morale, since cookie sales support local troops' activities. Girl Scouts across the country sell cookies to friends, family, and unsuspecting strangers. Green uniforms shining, scouts sit sweetly at their bake-sake tables, which are often set up in front of supermarkets to lure shoppers. How can you resist those fresh faces — or their amazing cookies? 
Girl Scout cookies are so popular they have spawned a host of imitators, and spin-off products (like thin-mint Blizzards). Buying their cookies is a win-win for many: you bring home a tasty treat that also supports a local charity. The Girl Scouts have been doing this for a century, and they're experts at it. So why has it been so difficult to find Girl Scout cookies this year? The issue is at the source. In the very early years, Girl Scouts baked their own cookies, but that quickly became impossible, due to both sheer quantity and standardization. For most of their history, the Girl Scouts have relied on a couple of bakeries to supply the confections we have all come to know and love.
It's the supply chain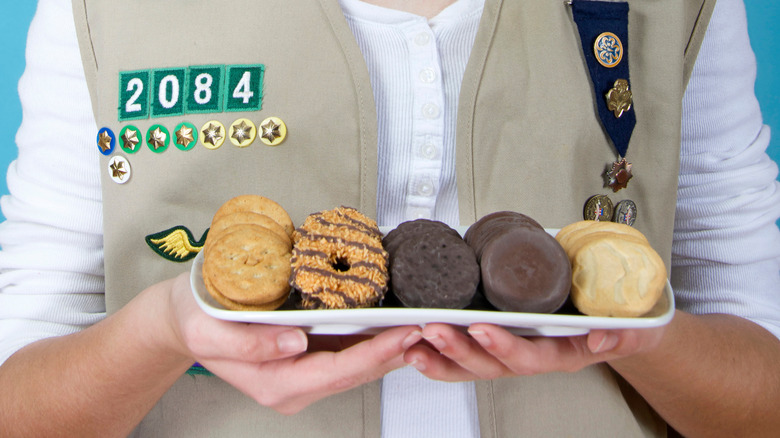 Sheila Fitzgerald/Shutterstock
One bakery has been working with the scouts since the very early years in a collaboration that began in 1937. ABC Bakery is based in North Dakota. The second, Little Brownie Bakers is based in Louisville, KY and has baked for the scouts for 35 years (as noted by the News Observer). Where you get your supply depends on where you live (the LA Times even has an interactive map to find out which you're getting). The names themselves can be a tip-off: ABC prepares Carmel Delites and Peanut Butter Patties while LBB produces Samoas and Tagalongs. 
Little Brownie Bakery has had a great deal of difficulty keeping up its supply, which the Girl Scouts knew in advance and warned people about back in December. So if you're in the LBB-sourced Girl Scout Cookie Zone, sheer lack is the biggest hurdle to getting the tasty treats into your hands. The second challenge is that there's a new cookie in town which has proven extraordinarily popular. The just-launched Raspberry Rally has got people lining up to try it, making it exceptionally hard to find. Problem three is the intersection of online demand with in-booth sales: the Girl Scouts launched digital cookie sales in 2014,  which has opened up more opportunities for demand and has complicated the supply chain a bit further. 
People have been so desperate they've even turned to eBay to get some cookies (as People noted), which isn't quite supporting the troops. Desperate times call for desperate measures.