The Chef-Approved Panera Soup And Sandwich Combo Is Rich In Flavor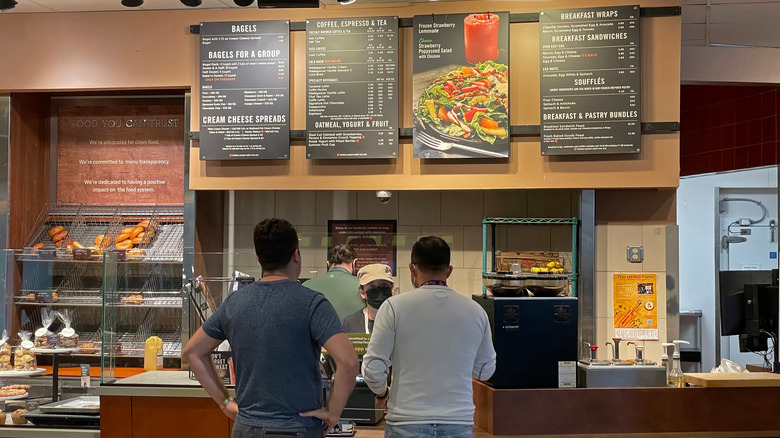 QualityHD/Shutterstock
Known in the hearts and stomachs of Americans as one of the best fast casual restaurants to grab a soup, salad, or sandwich, Panera is always introducing new gems to its menu. The restaurant chain is committed to clean eating and serves up healthier meal options like its leafy, veggie-stacked sandwiches and freshly baked bread. Maybe it's your go-to spot for a warm cup of coffee, a reliable Wi-Fi connection, and a comforting bread bowl of tasty soup in the colder months. While Panera's tasty eats aren't exactly gourmet, they are deliciously elevated, which is a reflection of its dedication to creating unique, well-crafted offerings for customers. 
One undeniably brilliant menu option at Panera is "You Pick Two," where customers can order half of one dish and half of another. It not only makes the experience feel a bit fancier by having separate courses, but it also gives you the best of both worlds when it comes to building your perfect meal. You're good to fill up on your daily dose of greens with a Greek salad while also indulging in the savory roasted turkey BLT you had your eye on — go wild. Such a menu makes one wonder what professional chefs might think about some of Panera's popular items. Dana Murrell, the main chef of the organic food kit company, Green Chef, loves Panera for this reason — and has her favorite combo all picked out.
Pair Panera's French onion soup with the steak and cheddar panini
Those who aren't strangers to hearty, well-seasoned soups will know that Panera's Bistro French onion soup is one of the greats. It's bursting with umami goodness from sweetly caramelized onions, a cheesy topping, and black pepper croutons to soak up all that rich flavor. This soup is just a special moment. Creating this savory soup, even with the best copycat recipes, can be quite a time-consuming process, which is one reason why it's half of Chef Murrell's perfect "You Pick Two" combination. According to Insider, she loves it for its flavor and restaurant-quality taste, which she says is much easier to grab at Panera than to make at home. Even with the ingredients at your disposal and all the culinary zeal you can muster, having that sort of quality in mere minutes as opposed to waiting around for the soup to properly cook and develop flavors can't be beaten.
For the other half of her combo, Murrell says the best thing to pair with Panera's French onion soup is the steak and cheddar panini, and what a wonderfully cheesy pairing it is. This sandwich starts with toasted artisan ciabatta bread that holds together sliced steak, aged white cheddar, pickled red onions, and a layer of zesty horseradish sauce. It's no wonder why these two menu items are a match made in foodie heaven with all the mouthwatering flavors going on in every bite or slurp you take.