Simple Roasted Rutabaga Recipe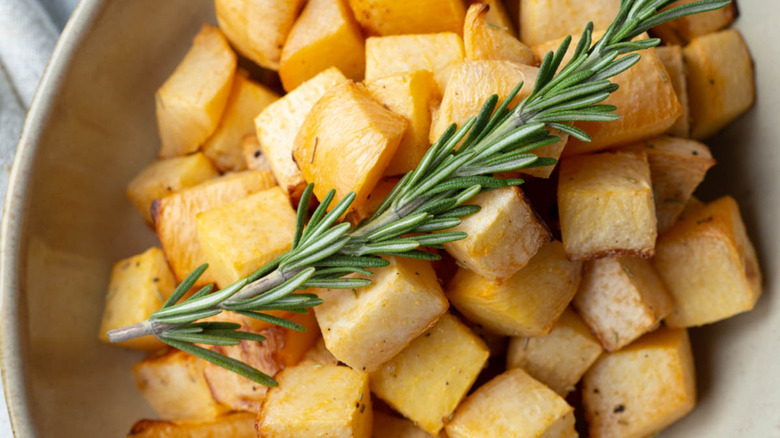 Kate Shungu/Mashed
Did the word "simple" on the title of this recipe stop you in your tracks? When you're strapped for time and are looking for something delicious to serve with a main course but don't want to spend a ton of time (and money), this simple roasted rutabaga is the perfect thing to add to anything from chicken to fish to a big ol' steak. To make this side, you only need rutabaga and a few other ingredients you likely have at home.
Recipe developer Kate Shungu is the brains behind this simple recipe that uses an often-overlooked vegetable. "Rutabagas have a lightly sweet flavor that pairs really nicely with chicken, pork, beef—it's a really versatile side dish," she shares of her reasoning behind using a rutabaga for this recipe. "Rutabaga is a great way to add a different veggie to your side dish repertoire. They're similar in texture to potatoes, but lower in carbs," Shungu adds.
Gather the ingredients for this simple roasted rutabaga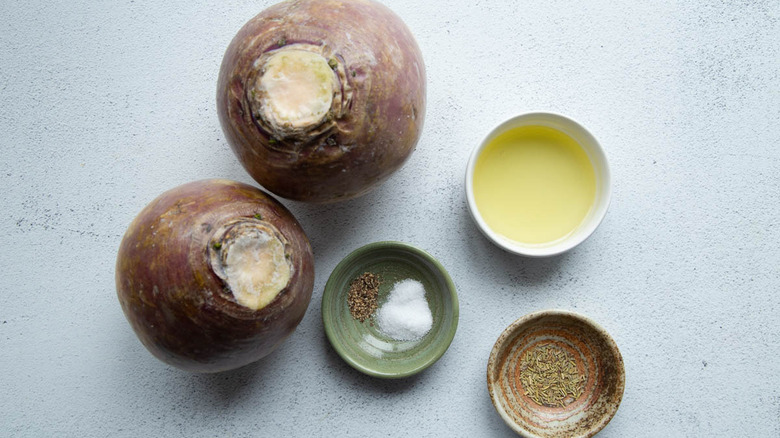 Kate Shungu/Mashed
Preheat the oven and cut the rutabaga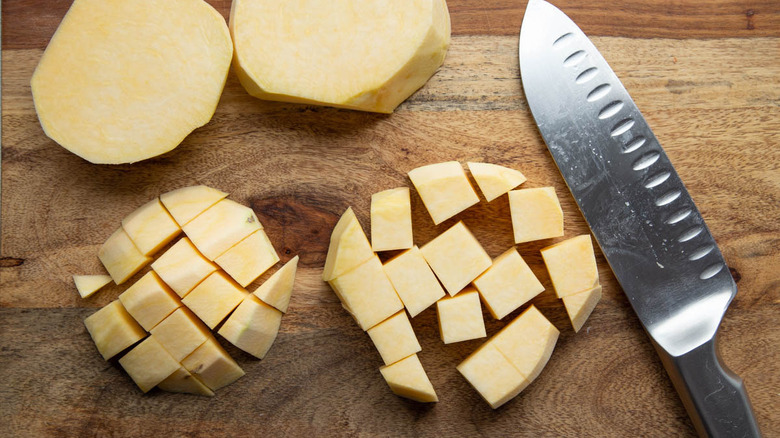 Kate Shungu/Mashed
Before you do anything else, turn the dial of your oven to 400 F — this allows it to get hot while you prep the rutabaga. In the meantime, take out a cutting board and a knife. "Use a sharp knife!" Shungu suggests. Another tip? "The key to peeling rutabaga is to run your knife along the edge of it, instead of using a vegetable peeler. Since the rutabaga has an odd shape, it's a quicker and easier way to do it."
Cut the rutabaga into ¾ inch cubes. "Try to keep the pieces somewhat evenly sized, so they all cook at the same time," Shungu notes. 
Toss the rutabaga in olive oil and spices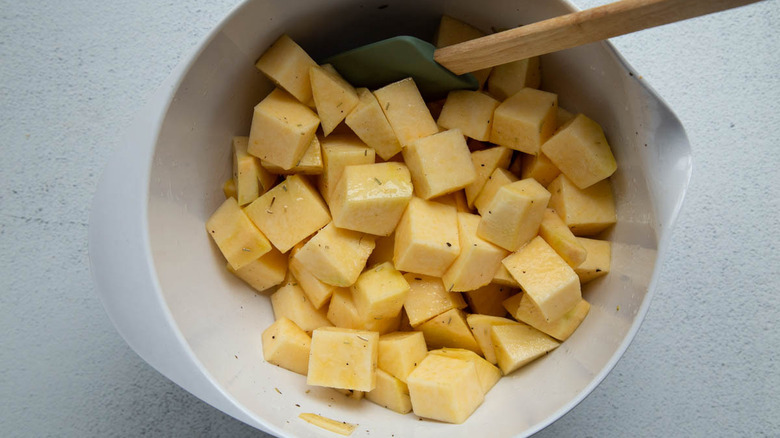 Kate Shungu/Mashed
Once you finish cutting the rutabaga, add it to a bowl. Then, drizzle in the olive oil, which helps the rutabaga to brown nicely in the oven. 
Last but not least, throw in the salt, pepper, and dried rosemary to add some flavor. Give the bowl a few good tosses to coat the rutabaga with olive oil and spices.
Bake the rutabaga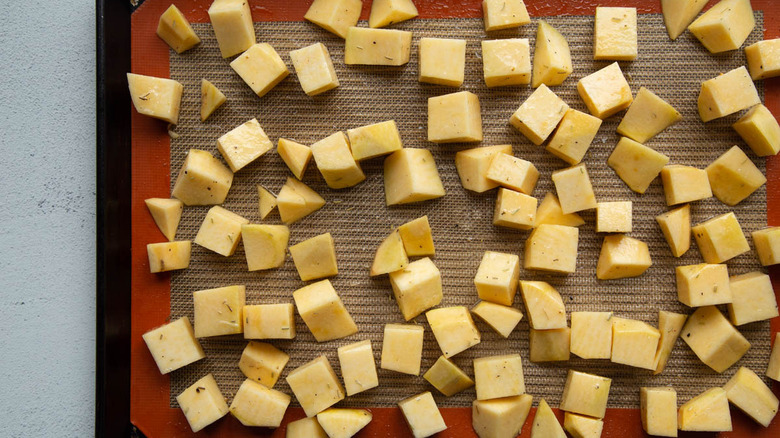 Kate Shungu/Mashed
Transfer the rutabaga to a baking sheet and double-check to be sure your oven has finished preheating. If it has, pop in the baking dish and cook for 40 to 45 minutes. You can tell it's done when the rutabaga is soft in the center but crispy on the bottom. This is the perfect texture and doneness. 
Serve and enjoy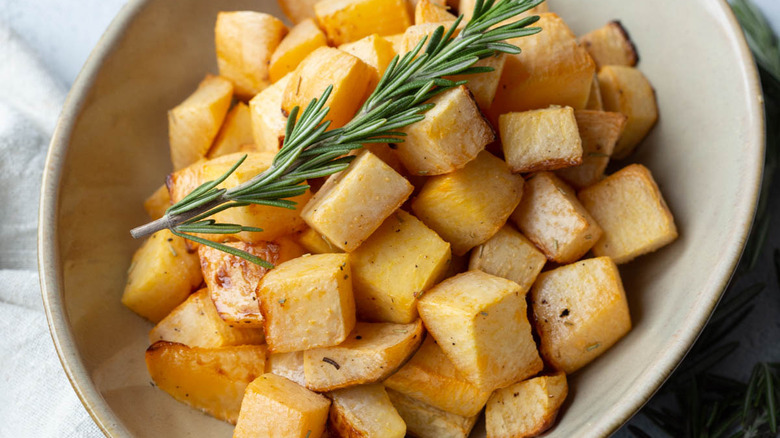 Kate Shungu/Mashed
Like most dishes, this is best when served warm, so make sure you don't let too much time pass before you spoon some onto your plate. As we mentioned before, this goes well with several things, but Shungu shares a few of her favorite serving suggestions. "I like rutabaga as a side dish for roast chicken or pork chops," she shares.
We hope you enjoyed this often overlooked veggie as a side. 
Simple Roasted Rutabaga Recipe
Switch up the side dishes you serve with your favorite meals by trying this super easy recipe for roasted rutabaga that only uses a few ingredients.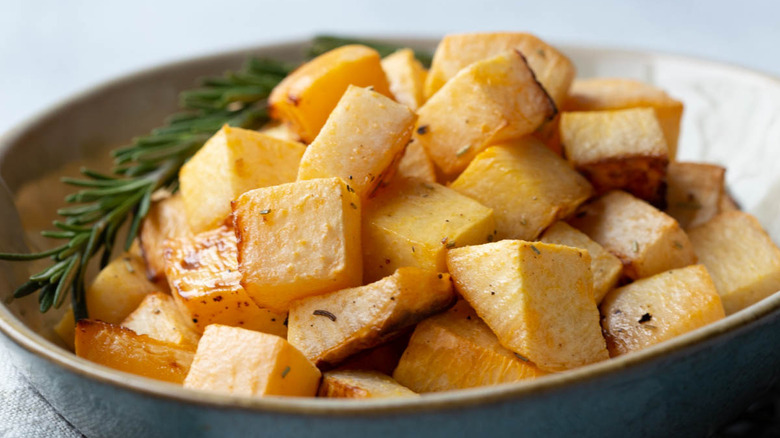 Ingredients
2–3 lbs rutabaga
3 tablespoons olive oil
¾ teaspoon salt
¼ teaspoon pepper
½ teaspoon dried rosemary
Directions
Preheat oven to 400 F. Carefully peel the rutabaga using a sharp knife. Cut the rutabaga into ¾ inch cubes.
Place the cubed rutabaga in a bowl with the olive oil, salt, pepper, and dried rosemary. Toss to combine.
‌Transfer the rutabaga to a baking sheet. Bake for 40 to 45 minutes, or until the rutabaga is soft and crisp on the bottom.
‌Transfer to a serving dish and serve while warm.
Nutrition
| | |
| --- | --- |
| Calories per Serving | 195 |
| Total Fat | 10.6 g |
| Saturated Fat | 1.5 g |
| Trans Fat | 0.0 g |
| Cholesterol | 0.0 mg |
| | |
| --- | --- |
| Total Carbohydrates | 24.6 g |
| Dietary Fiber | 6.6 g |
| Total Sugars | 12.6 g |
| Sodium | 470.4 mg |
| Protein | 3.1 g |