3-Ingredient Blueberry Jam Recipe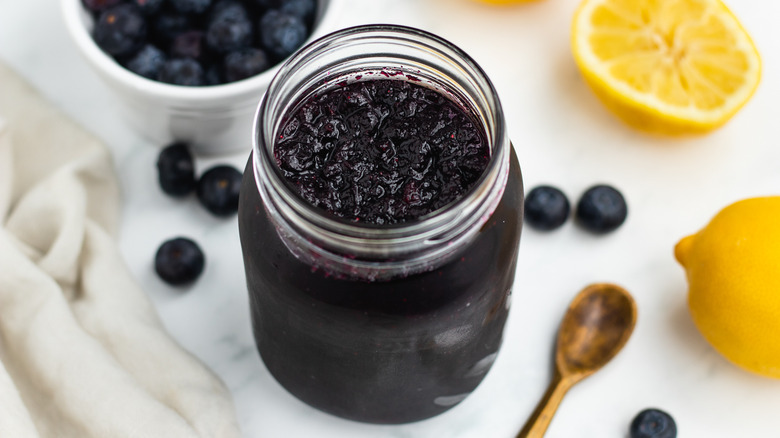 Catherine Brookes/Mashed
Making jam might seem like a difficult undertaking for the average home cook, but it's actually not all that hard to do. You will need some patience to take on the task, but if you have half an hour or so to spare and a few pints of blueberries in the refrigerator, you, too, can have homemade jam without canning.
Recipe developer Catherine Brookes tells us, "This blueberry jam is super fruity and sweet ... and has a lovely thick texture, too." She notes that she doesn't use any pectin to thicken it, since as long as you're willing to put in the necessary time, it'll thicken up after 15 to 20 minutes or so of stirring and boiling. She does say that you can only make the jam with fresh blueberries, cautioning that frozen berries "may release too much liquid as they cook." Luckily, blueberries freshly trucked in from warmer climates are available in supermarkets even in winter, making this a year-round recipe.
Assemble the ingredients for the blueberry jam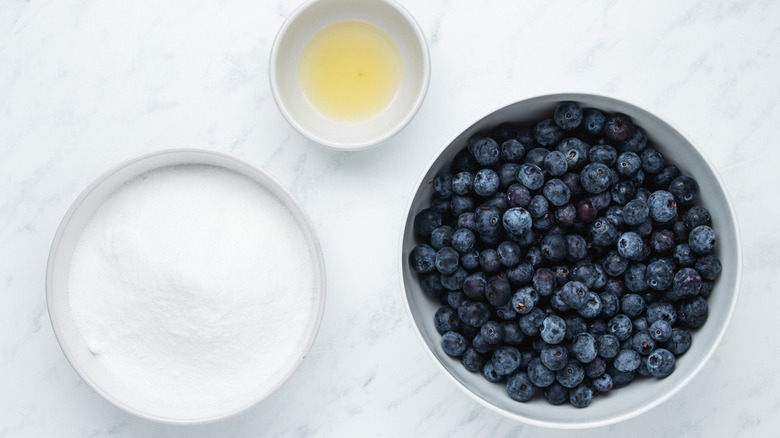 Catherine Brookes/Mashed
This jam recipe only calls for three ingredients, as the name indicates. You'll need blueberries, of course, plus a fair amount of sugar, and you'll also want to add some lemon juice to help bring out the flavor of the berries and provide acidic balance alongside all of that sugar.
Start the jam off at a simmer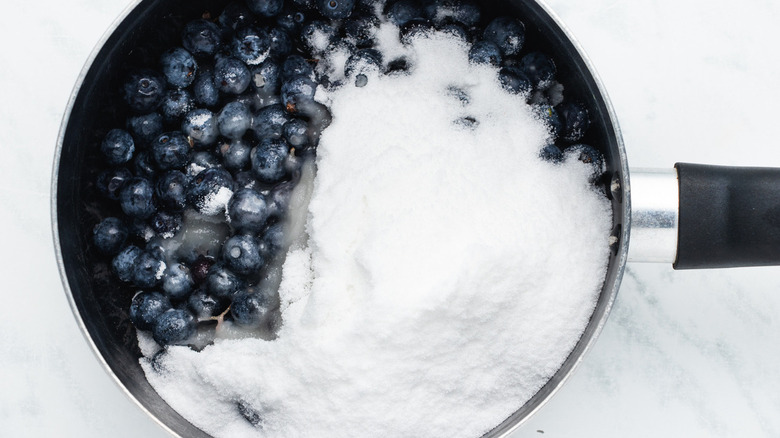 Catherine Brookes/Mashed
Squeeze the lemon juice if you're using the fresh kind, then combine it with the berries and sugar. Cook these ingredients over medium heat, stirring the mixture until all of the sugar has dissolved.
Boil the jam until it thickens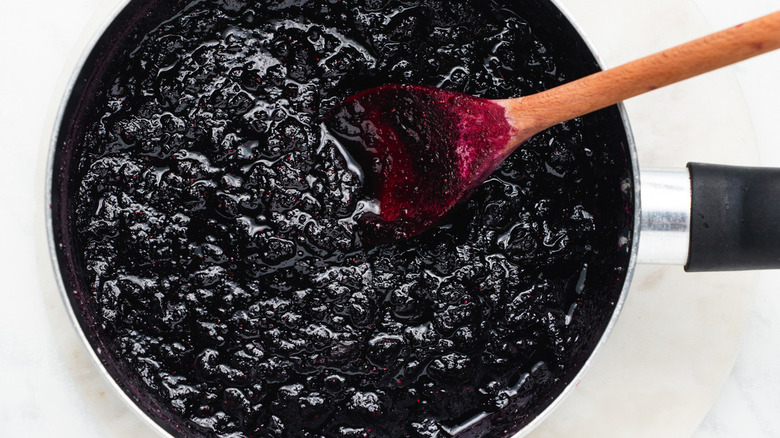 Catherine Brookes/Mashed
Once you can no longer see any sugar, crank the stove burner up to medium-high and bring the jam to a boil. Keep boiling it for 15 to 20 minutes, stirring frequently to make sure it doesn't stick to the pan. Watch it closely, since anything so sugary can burn pretty quickly at a high heat.
How can you tell when the jam is done? Brookes has a suggestion: "Spread a small spoonful of it onto a plate that has been chilling in the freezer. If the texture become more solid and jelly-like, it's ready." If it's still liquidy, though, you will need to keep boiling it for a while longer.
Let the jam cool before you refrigerate it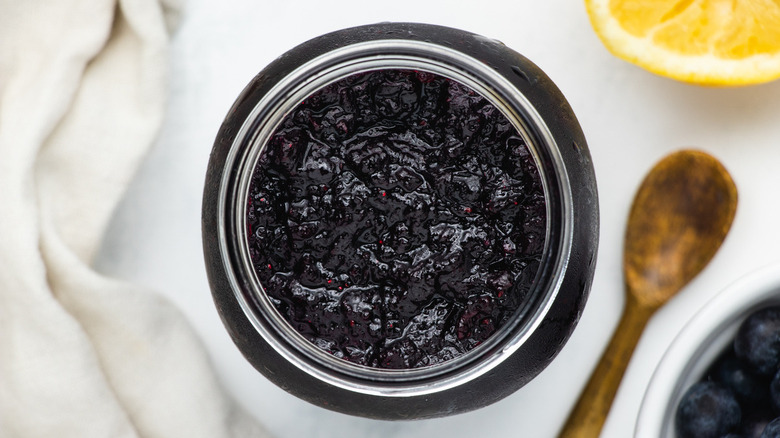 Catherine Brookes/Mashed
When the jam is done cooking, let it sit in the pan for 10 minutes, then spoon it into jars or other containers. Don't put it in the refrigerator, though, until it has cooled down to room temperature. "Otherwise," says Brookes, "it can increase your fridge temperature."
The blueberry jam should last for a month in the refrigerator. In addition to using it for PBJs or spreading it on toast, Brookes suggests mixing it into yogurt or eating it with cheese and crackers. Other possible uses for this jam include as a topping for waffles, biscuits, or fruit tarts or a glaze for chicken or pork.
3-Ingredient Blueberry Jam Recipe
This 3-ingredient blueberry jam is the perfect sweet topping for toast, pastries, or even a chicken glaze.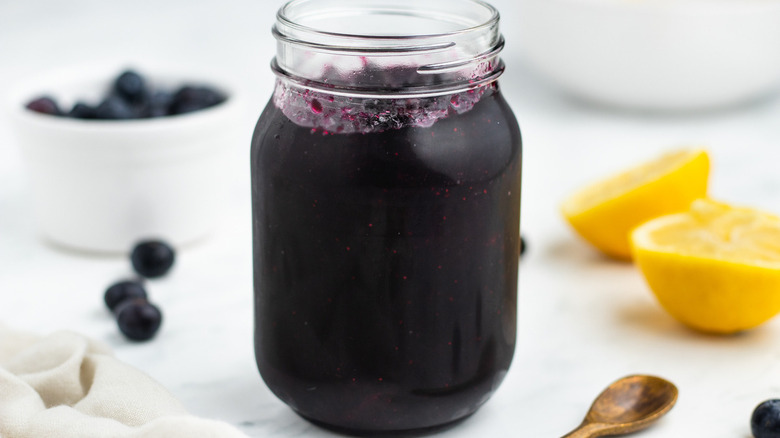 Ingredients
4 cups blueberries
2 cups white sugar
1 ½ tablespoon lemon juice
Directions
Cook the blueberries, sugar, and lemon juice over medium heat, stirring the mixture until the sugar has dissolved.
Turn the heat up to medium-high and bring the jam to a boil.
Boil the jam, stirring frequently, for about 15 to 20 minutes until it reaches a jelly-like consistency.
Let the jam cool in the pan for about 10 minutes.
Pour the jam into jars or other storage containers. Allow it to reach room temperature before refrigerating it.
Store the cooled jam in the refrigerator for up to a month.
Nutrition
| | |
| --- | --- |
| Calories per Serving | 76 |
| Total Fat | 0.1 g |
| Saturated Fat | 0.0 g |
| Trans Fat | 0.0 g |
| Cholesterol | 0.0 mg |
| | |
| --- | --- |
| Total Carbohydrates | 19.5 g |
| Dietary Fiber | 0.6 g |
| Total Sugars | 18.3 g |
| Sodium | 0.4 mg |
| Protein | 0.2 g |