Passover-Friendly Chocolate Cake Recipe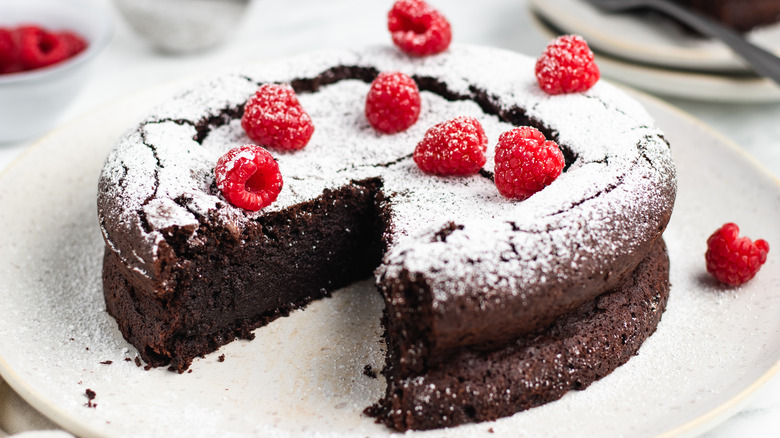 Catherine Brookes/Mashed
A good Passover dessert recipe — at least one that's for something other than coconut macaroons – can be difficult to find. For one thing, during Passover no flour can be used. For another, if you're planning a meat-based meal such as a nice smoked brisket, the laws of kashrut that apply year-round dictate that the rest of the meal cannot contain any dairy. This chocolate cake is not only flourless, but is also kept kosher-friendly by using vegan butter and no milk. "The reasoning behind keeping the cake dairy-free," recipe developer Catherine Brookes says, "is so it could be enjoyed [by those keeping kosher] as part of a multiple-course meal that also features meat."
While you may be a bit dubious about using a plant-based dairy substitute if you don't follow a vegan diet, Brookes assures us that the cake made with this ingredient still has a "lovely soft, rich texture." She says the dessert is "deliciously rich, chocolaty, and decadent" and adds, "I don't think anyone would notice this was dairy-free."
Assemble the ingredients for the Passover-friendly chocolate cake recipe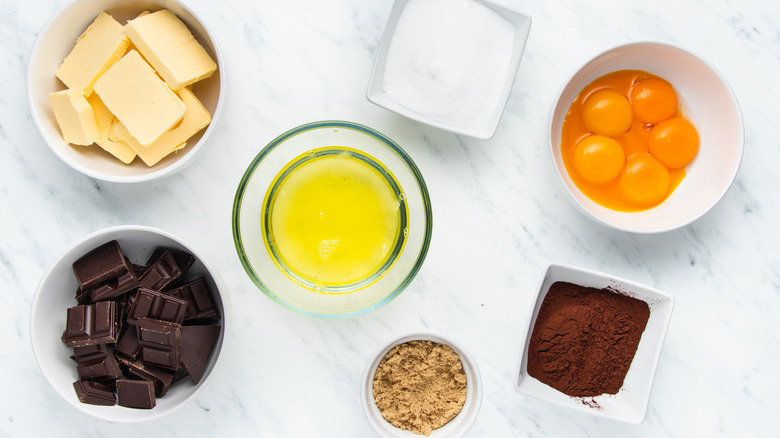 Catherine Brookes/Mashed
This cake only requires six ingredients. In addition to the vegan butter, you'll need some semisweet chocolate, although you might want to check and make sure this is Passover kosher. You'll also be using eggs and both kinds of sugar — white and brown — as well as some cocoa powder to make the cake extra-chocolaty.
Melt the chocolate and butter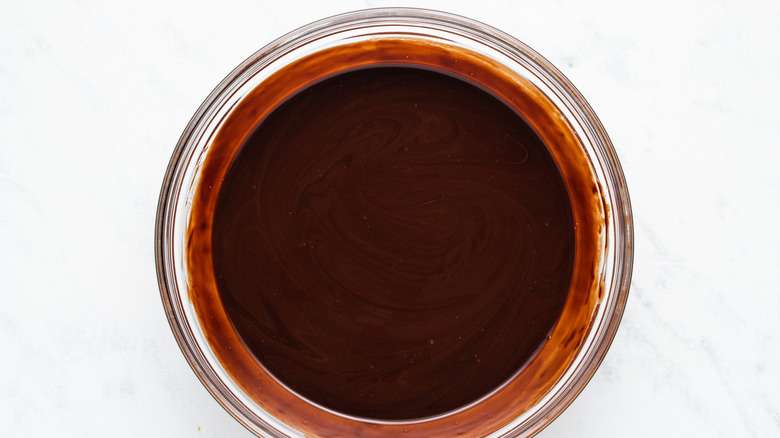 Catherine Brookes/Mashed
Begin your preparations by preheating the oven to 320 F. Melt the butter substitute and chocolate together in the microwave in 30 second bursts, stirring in between each one.
Beat the eggs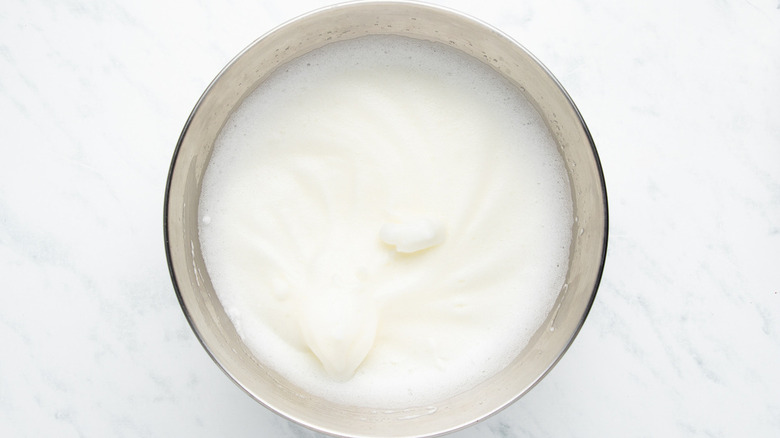 Catherine Brookes/Mashed
Separate the eggs, then beat the whites in one bowl until they form soft peaks. Brookes says this may take about 5 minutes, although it could take longer if you do it by hand instead of using an electric or stand mixer. Still, it's great exercise for your arm if you do! These whipped egg whites are a crucial part of the cake — as Brookes explains, they're what makes it rise without any leavening due to the fact that the air bubbles expand in the oven. She says this is what gives the cake a texture she describes as "not dissimilar to a souffle, perhaps a little more heavy and cakey."
The yolks, too, have their part to play, so beat them in a different bowl along with both types of sugar. Again, this should take about 5 minutes, at the end of which time the yolks should appear pale and fluffy.
Make the cake batter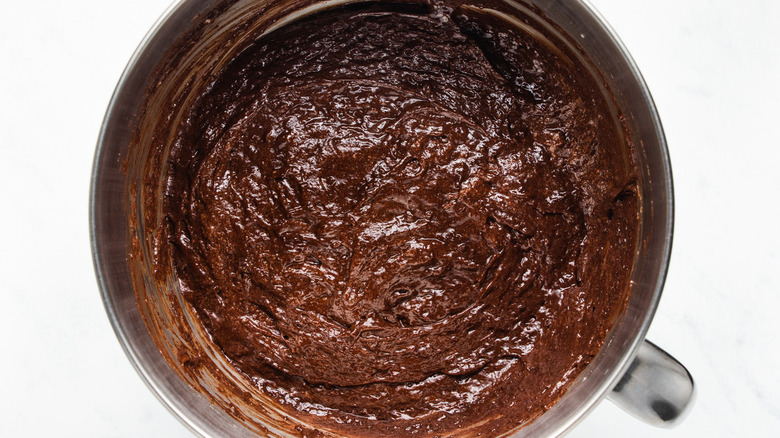 Catherine Brookes/Mashed
Measure your cocoa powder into a sieve or sifter, then sift it into the sugar/yolk mixture and fold it in until the mixture is well-combined. Fold in the melted chocolate, as well. It should have had time to cool off a bit by now — you never want to add anything hot to eggs since it might cook them before they go into the oven and scrambled egg cake is not what we're going for here.  Finally, fold in the egg whites, then your batter is done.
Bake the cake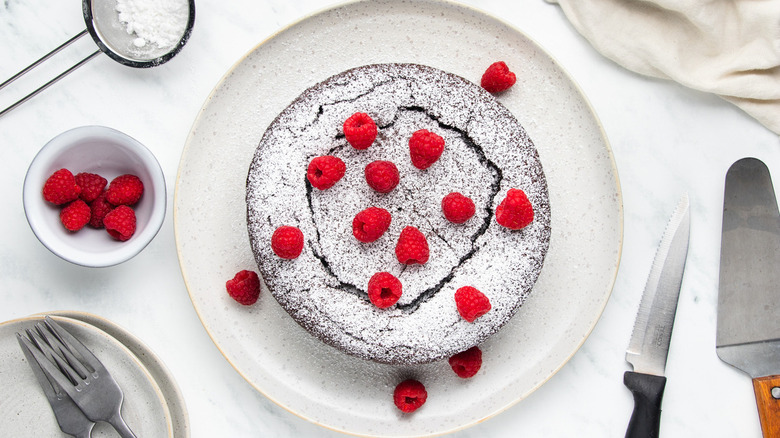 Catherine Brookes/Mashed
Pour the batter into an 8-inch round pan that's been greased and lined with parchment paper. The oven should be hot enough by now, so bake the cake for an hour or up to an hour and 20 minutes. Once it's done, the top should look crackly and it should pass the "toothpick test" — you know, the one where you stick a wooden toothpick down into the middle of a cake and it comes back free of unbaked batter.
Let the cake cool in the pan for 15 minutes, then gently detach it from the pan and cool it completely on a wire rack. It needs little in the way of adornment, perhaps just a sprinkling of powdered sugar and maybe a few fresh berries on top. Brookes does say, though, "You can also add a glaze or top [it] with ganache, if desired."
Passover-Friendly Chocolate Cake Recipe
This chocolate cake is flourless and uses vegan butter, making it an ideal dessert option during Passover.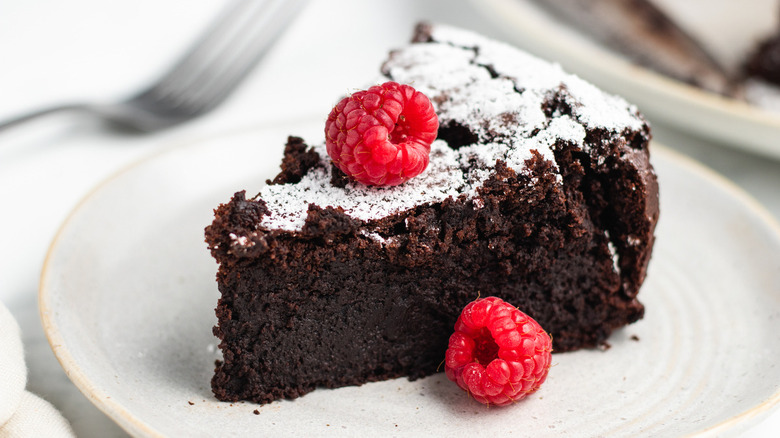 Ingredients
¾ cup + 3 tablespoons vegan butter
9 ounces semisweet chocolate, broken into chunks
6 large eggs, separated
1 cup granulated sugar
⅓ cup brown sugar
½ cup cocoa powder
Optional Ingredients
powdered sugar, for garnish
raspberries, for serving
Directions
Preheat the oven to 320 F and grease and line an 8-inch round baking pan with parchment paper.
Add the butter and chocolate to a heatproof bowl and microwave in 30 second bursts until melted. Set aside to cool.
Using an electric stand mixer or hand whisk, whisk the egg whites until they form soft peaks. This should take about 5 minutes.
In a separate bowl, whisk together the egg yolks and sugars until pale and fluffy, which should take another 5 minutes.
Sift the cocoa powder into the bowl with the egg yolk mixture and fold together until combined.
Add the cooled chocolate mixture and fold together.
Add the egg whites and again gently fold until just combined.
Transfer the mixture to your prepared baking pan and bake for 1 hour-1 hour 20 minutes, or until crackly on the top and a skewer poked into the center of the cake comes out clean.
Leave the cake in the pan for about 15 minutes before transferring to a wire rack to cool completely.
Optionally dust the cake with a little powdered sugar and top with some fresh raspberries to serve. You can also add a glaze or top with ganache if desired.
Nutrition
| | |
| --- | --- |
| Calories per Serving | 452 |
| Total Fat | 31.5 g |
| Saturated Fat | 25.0 g |
| Trans Fat | 0.1 g |
| Cholesterol | 111.6 mg |
| | |
| --- | --- |
| Total Carbohydrates | 43.7 g |
| Dietary Fiber | 3.1 g |
| Total Sugars | 38.7 g |
| Sodium | 49.1 mg |
| Protein | 5.7 g |