Dunkin' Unveils New Taco Bell-Like Breakfast Tacos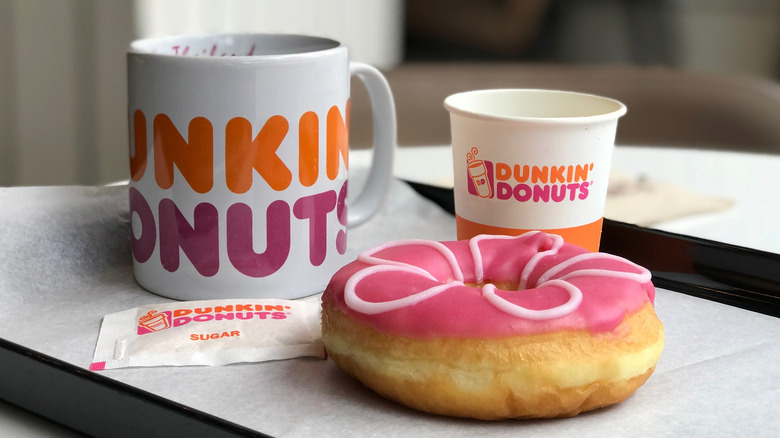 pancha.me/Shutterstock
We've probably all had a few mornings — whether on Taco Tuesday or otherwise — when we've woken up with tacos on the brain. Luckily, this is one of the more convenient cravings to have during the A.M. hours since we live in a world where breakfast tacos exist, and now, thanks to Dunkin', it's even easier to quell that hankering for Mexican food as you start your day. Per a press release, the chain has joined the ranks of fast food eateries like Taco Bell and Del Taco in that it will be serving up breakfast tacos, which have officially launched at restaurants nationwide today, March 22.
A somewhat surprising addition to Dunkin's menu, the coffee shop's newest offering features a combo of "spring-forward ingredients" including scrambled eggs, white cheddar cheese, fire-roasted corn, and a lime crema drizzle, all of which are rolled up in a warm flour tortilla and conveniently packaged in a "taco holder" that makes them easy to eat on-the-go. Customers also have the option of adding bacon crumbles for an additional charge.
Prices for Dunkin's newest breakfast item will start at $2.59 per taco, while the addition of bacon will bring the cost to $2.99. No need to worry about missing out on the handheld if you accidentally sleep through the traditional breakfast hours, either, as they will be available from open to close.
Here's what Dunkin' customers are saying about its new breakfast tacos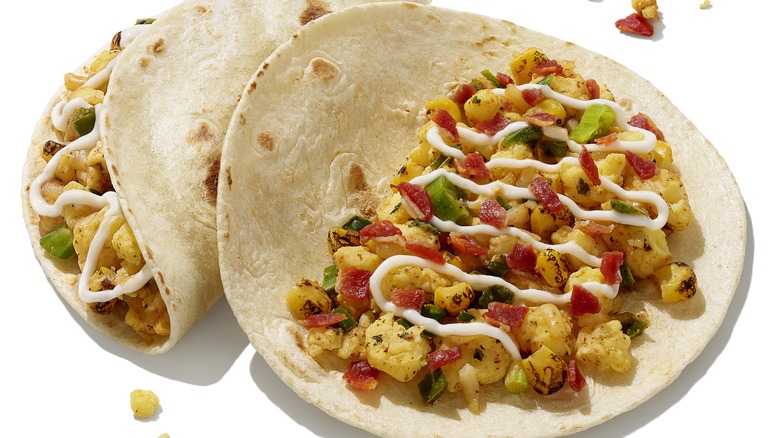 Dunkin'
You may be hesitant to give Dunkin's new breakfast tacos a try, especially if you're boycotting the chain for recently cutting some of its fan-favorite menu items. However, in a press release, the brand's Chief Marketing Officer Jill McVicar Nelson makes a solid case for the handhelds, calling them "undoubtedly one of the tastiest savory items we've launched at Dunkin'."
Of course, marketing is marketing, so how do these truly taste? For some customers, like TikTok user @honeyjackcreates, they're already living up to the hype. "Okay, people. If y'all have not tried the breakfast tacos from Dunkin' Donuts...these things are amazing," the TikToker announced in a post earlier this week, noting that all the components "actually taste good" together. "Dunkin' Donuts, y'all outdid yourselves with this one," they added.
One Reddit user on the Dunkin subreddit agreed, writing that the tacos "taste pretty good." However, they did point out that the tortillas can get a bit chewy, which was a complaint that YouTuber DadReviewsStuff had when sampling the new menu item, as well. Additionally, another Redditor found the tacos to be a bit bland — though that's nothing a little dash of your favorite hot sauce can't fix.