Heineken Jumps On The Low-Carb Beer Train With Heineken Silver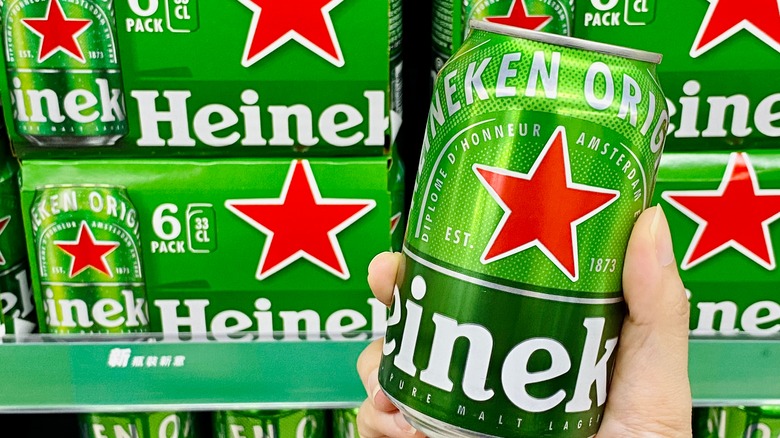 Gina Hsu/Shutterstock
Heineken is joining the likes of Corona Premier and Bud Light Next to create a beverage fit for low-carb dieters. Soon to be released, Heineken Silver will have 3.2 grams of carbs, 4% ABV, and 95 calories per 12-ounce beer. Like other Heineken beverages, it will implement its prominent A-yeast, as well as malted barley and water. A-yeast is Heineken's signature ingredient that can be attributed to much of its taste. It was invented by Dr. Hartog Elion, who was the head of the company's laboratory in 1886. It's not quite known what makes A-yeast different than traditional yeast, but it must work, as it's still used today.
The new low-carb products are slated for worldwide release, and the lineup includes 12-ounce bottles, 24-ounce cans, and 12-ounce slim cans. In order to celebrate Heineken's announcement, the company will be promoting the new beverages on several fronts, including Formula 1 races and the Coachella Valley Music and Arts Festival. (Perhaps the low-carb options are a distraction for the many who are calling for a Heineken boycott one year into the Russian war.)
The demand for low-carb beer is only expected to grow
Luckily for Heineken, there could hardly be a better time to dive headfirst into the low-carb beer industry. Per Hexa Research, the market was worth nearly $167 billion in 2017, and it's expected to achieve a compound annual growth rate of 7.3% by 2025. Because millennials are looking for more health-conscious products, companies are benefiting from putting out their own low-carb, low-calorie alternative. This trend is expected to grow in the wine, champagne, and liquor segments as well.
According to the vice president of Michelob Ultra, which has been a mainstay in the low-carb market since 2002, lighter beers can serve as an enjoyable option for a variety of people. "Whether someone is physically active on a regular basis, just beginning to get back themselves back in shape, or simply looking for a beer that keeps them a little lighter on their feet, a low-carb beer is almost always a solid go-to pick," Azania Andrews said to AskMen. Furthermore, Heineken Silver can also serve as an option for Keto dieters who want to enjoy a beer from time to time.
Per Body Ketosis, 12.9 Americans follow the keto diet as of 2021 — a lifestyle choice that requires you cut out bread, pasta, and even certain fruits. The keto diet typically only allows 50 carbs per day, making that new 3.2-carb Heineken a much more feasible choice than a traditional beer containing 13 carbs on average.