The All-You-Can-Eat Origins Of The Buffet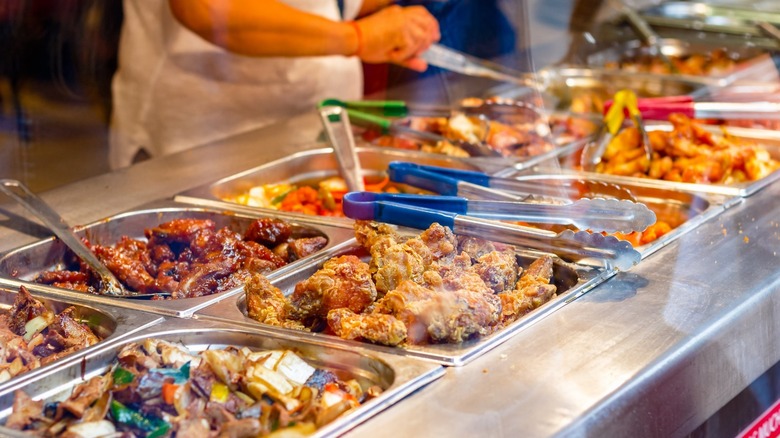 I Wei Huang/Shutterstock
American buffets have us grabbing a little bit of this, a little bit of that, sometimes plowing through that usual "full" feeling altogether. In the moment and before the inevitable post-dinner nausea sets in, we can't help but answer the irresistible call of the decadent spread laid before us. With so many delicious options to treat yourself to, it can feel like you're a kid at culinary Christmas. Even before Golden Corral and other buffet-style restaurants became popular in America, Europeans were already enjoying the decadent self-indulgence of this form of communal dining, except it was a bit more classy.
The very first buffet in the U.S. originated at the El Rancho Vegas casino in the 1940s, when a famished employee wanted a stacked late-night sandwich. It's said that, after gathering his chosen ingredients at the bar, gamblers took notice and asked if they could get in on the cold cut action too. Realizing he'd be able to fuel his customers' money-spending energy with food, Herb McDonald started the Buckaroo Buffet, which is where the term "all-you-can-eat" comes from. The original advertisement for his 24-hour buffet promised hungry customers "everything you can eat, and you'll want it all!"
Although McDonald's famous midnight snack eventually led to America's first buffet that successfully appeased "the howling coyote in your innards," it was Sweden who first brought the mouthwatering concept to the States. For the meal that seemingly never ends, we have the Swedish smorgasbord to thank.
Sweden introduced buffet-style meals to America at The World's Fair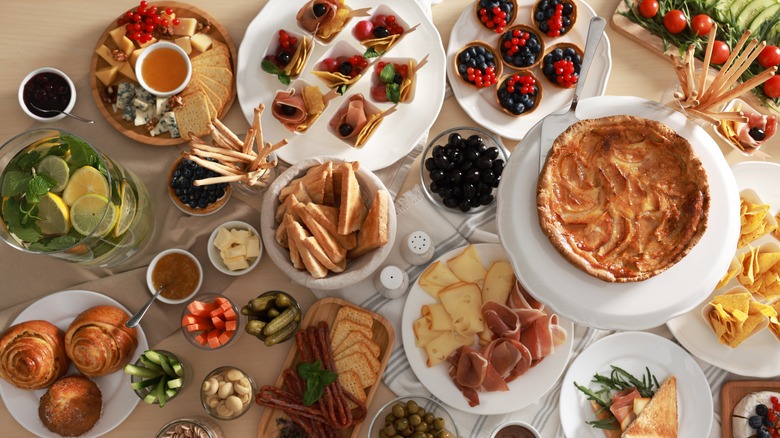 New Africa/Shutterstock
When thinking about some of the best buffet restaurants in America, it's interesting to see how the buffet has evolved into a truly all-encompassing menu since it was first introduced. The smorgasbord, which translates to "butter goose table" or "bread and goose table," first became an international hit at one of the most successful Olympic events the world has seen, the Stockholm Olympic Games of 1912. After such a triumph in their country's capital, Sweden wanted to share the delights of the smorgasbord with even more people, so it was brought to New York's World's Fair in 1939. Three Crowns Restaurant was where visitors could go to enjoy this buffet-style meal, which was offered on a revolving appetizer table with an extensive entrée and dessert menu.
Included on the smorgasbord menu were dishes like roast pork loin, broiled salmon, sirloin steak, poached chicken, fried scallops, and roast lamb. Each dish came with a sauce or side of its own, all for just a couple bucks. There were even a few Swedish foods on the list — a beef stew known as Sjömansbiff, rose hip soup, and a pudding made from dried fruits, called Fruktsoppa, to name a few. Besides your typical ice cream and cake, the majority of the dessert options were fruit-based and fresh. A few years later, the Las Vegas Buckaroo Buffet became the catalyst that would eventually become one of America's favorite ways to dine.