It's True, Fatburger Cannabis Ketchup Is Actually A Thing You Can Buy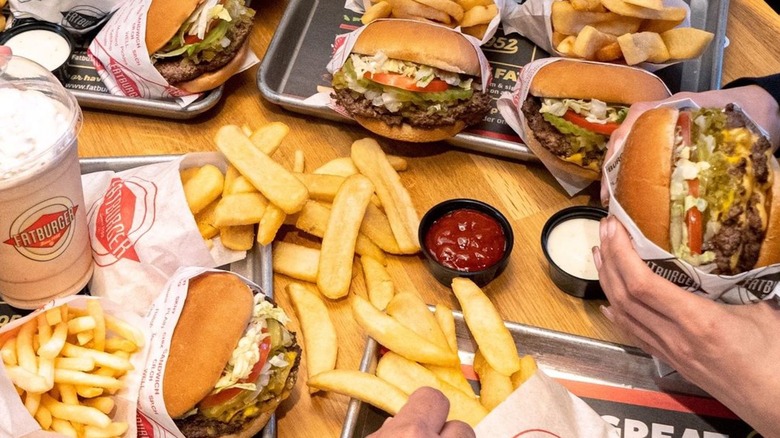 Mohd Syis Zulkipli/Shutterstock
LA-based fast food chain Fatburger is going green this month to celebrate 4/20. According to a press release, the self-proclaimed "Last Great Hamburger Stand" is partnering with Kiva Confections to release a ketchup infused with 10mg of THC. This Kiva x Fatburger Infused Ketchup will sell for $5 beginning on April 6 at select Los Angeles Artist Tree and Sweet Flower dispensaries.
Per a release sent to Mashed, Fatburger is also introducing munchie-based promotions. After April 1, customers who place an online order will receive a free milkshake with their future order. And to commemorate April 20 itself, the Original Fatburger will cost just $4.20 when ordering online. Fatburger dropped a similar deal for 4/20 in 2022: Just like this year, the burger chain sold its original sandwich for $4.20, but instead of a free milkshake, the company offered free delivery for orders over $20. Though this is the first time a major brand has stood behind cannabis ketchup, that doesn't mean the concept has never been done.
This condiment can only be purchased in California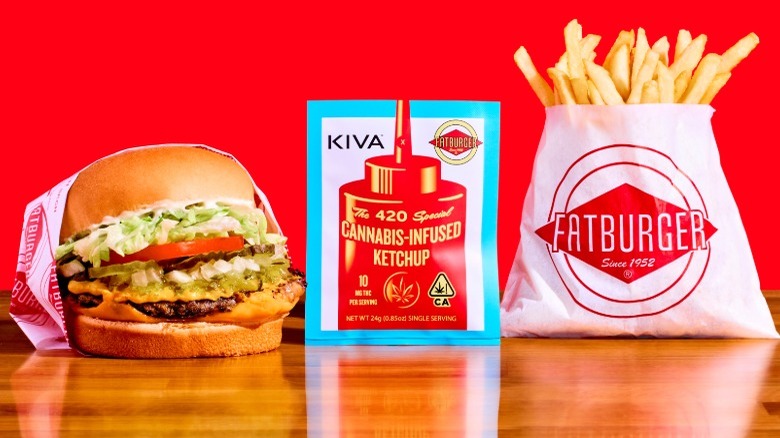 Kiva x Fatburger
Until now, THC-infused ketchup hasn't been available on the market, but there's not much you can put past creative (and high) college students. According to Hempster, the mixture is a match made in heaven; apparently, the ketchup's zesty ingredients mix well with cannabis, especially when honey is added. If you're looking to make your own THC ketchup, the chosen cannabis should have "strong citrus flavors," because this complements and enhances the natural sweetness in the tomatoes. Additional recommended add-ins include savory, umami-forward ingredients like Dijon mustard, red wine vinegar, hoisin sauce, and Worcestershire sauce.
Unfortunately, those who can't make it to Los Angeles Artist Tree or Sweet Flower stores won't be able to try this limited-edition, 4/20-friendly condiment. However, you can find Fatburger locations in 16 states across the country, which means a larger population of people will have the chance to partake in Fatburger's other April "holiday" specials.