Chick-Fil-A Isn't Removing The Side Salad After All
Chick-fil-A never wants to disappoint its loyal customers. After all, the fast food chain has won its share of awards for customer satisfaction throughout the years. When it comes to feedback — or even pushback — from its customers, Chick-fil-A listens. Case in point, Chick-fil-A reversed the decision to remove its side salad from all menus nationwide in April 2023 (via FOX Business). In March 2023, when Chick-fil-A first decided to get rid of side salads for good, customers were handed paper flyers notifying them of the change. After several customers expressed disappointment on the company's Facebook page, Chick-fil-A reinstated the side salad. 
Several customers appreciated the side salad as a healthier option than fried chicken sandwiches. Chick-fil-A's side salad consists of mixed greens, shredded cheese, and crunchy red peppers, so it's a good choice for customers who want a lighter side option. While the fast food restaurant does offer three others — a cobb salad, market salad, and spicy Southwest salad — they are designed to be eaten as full meals rather than sides. Thankfully, the side salad won't meet the fate of other discontinued Chick-fil-A items.
Which Chick-fil-A menu items stay and which ones go?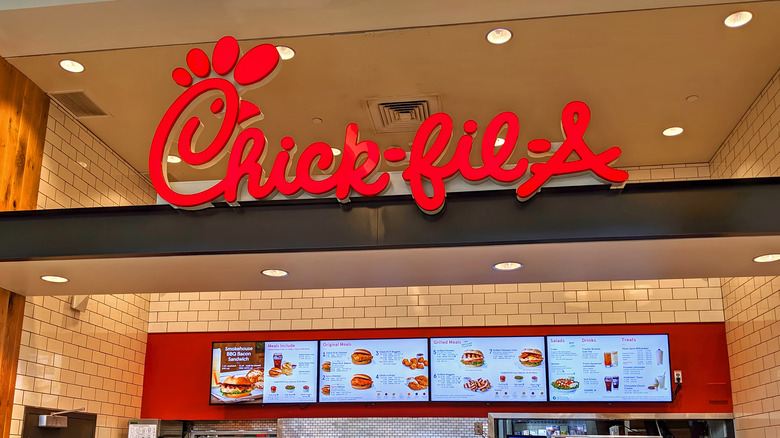 QualityHD/Shutterstock
Chick-fil-A, like other fast food chains, constantly experiments with new items and re-evaluates its current menu. When it comes to adding menu items, it's a long process — a five-step process, to be exact — for an item to go from the chain's very own test kitchen to chains across the nation. For example, Chick-fil-A spent four years perfecting a cauliflower sandwich. When it comes time to remove a menu item, sometimes there is transparency about the reason, but other times, customers are left in the dark. Where the side salad was concerned, the company was planning to replace it with a new collection of spring items. 
Chick-fil-A's spring collection brings back a perfect spring duo: watermelon and mint beverages (via Chick-fil-A). Customers can enjoy watermelon mint lemonade over ice, frosted watermelon mint lemonade, and watermelon mint iced tea. The menu's launch date, April 3, 2023, was supposed to coincide with the side salad's exit, but now customers can enjoy both if they wish. Unlike the salad, the lemonade is not meant to stay and will only be around while supplies last throughout the spring 2023 season.