Here's Why Graham Elliot Closed All Of His Restaurants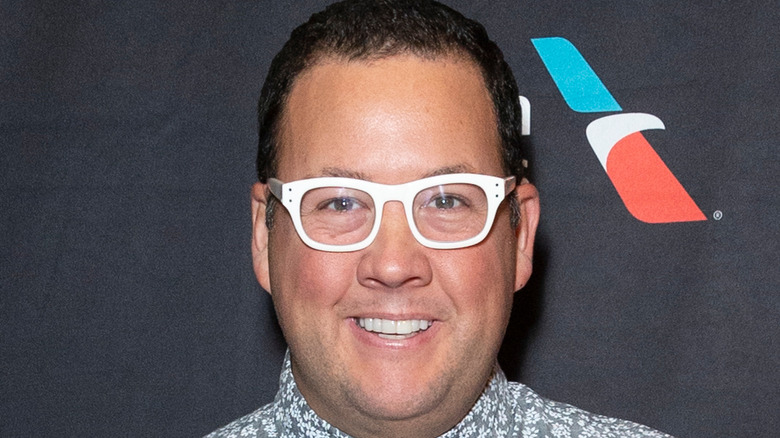 Lev Radin/Shutterstock
Behind his signature white frames, radiant short-sleeved shirts, and waistcoats, MasterChef Graham Elliot continues to transform, garnering a host of appearances on popular television shows like "Access Hollywood," "Good Morning America," and "The Today Show." Worth about $1.5 million, Elliot boasts an arsenal of James Beard Foundation nominations, as well as nods from the esteemed Food & Wine Magazine's "Best New Chefs" and Crain's Chicago Business "40 Under Forty" lists. He has also grown quite a reality TV following thanks to his time as a judge on "The Great American Recipe," "MasterChef," "MasterChef Junior," and "Top Chef."
Of course, none of these accolades would be possible if not for his culinary prowess — even if Gordon Ramsay doesn't approve of his questionable burger hack. With his approach to food driven by "creativity" and "expression" (per PBS Food), Elliot has earned himself some of the greatest markers of a successful chef career. While his praise as a celebrity judge in popular cooking competition shows has also been in part due to his various restaurant endeavors, these establishments have not been without their challenges. 
As any food business owner with their fair share of woes will tell you, issues can range from staff hiring gripes and bad reviews to clashes with food critics and simply unforeseen circumstances. Being a celebrity chef does not exempt you from these troubles; read on to find out why Graham Elliot ultimately closed all of his restaurants.
How many Michelin stars does he have?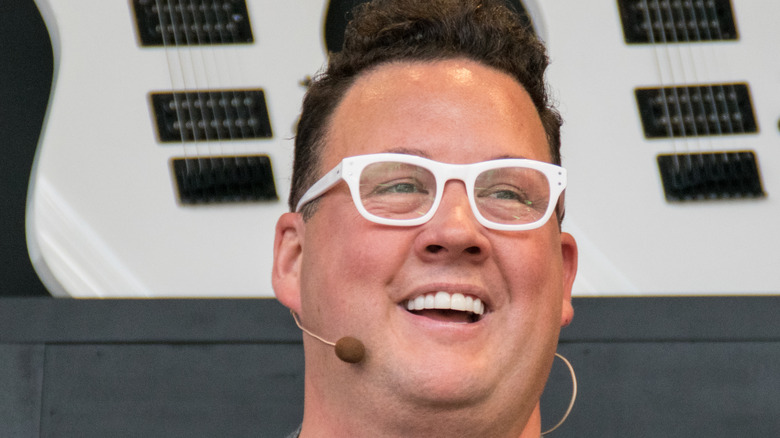 Agwilson/Shutterstock
Hailed as the highest token of recognition and excellence within the culinary world, Michelin stars are coveted by chefs all over. They possess the power to elevate restaurants from humble family-run businesses to world-famous tourist attractions. While receiving a star one year does not guarantee more will follow, the impact of a single star can be far-reaching in a chef's career. 
The Michelin Tire company released its first guide in the early 1900s featuring a list of restaurants and hotels in France by category. It seems the business knew that people would happily run their tire tread count down for the promise of good food. Rankings came along next, followed by the official star rating system that is still used today. While individual chefs cannot receive Michelin stars, their restaurants sure can.
Elliot's first nod from the hallmark ranking guide came after he opened his namesake restaurant in 2008. At the time, the restaurant was studded with two stars and was one of only 15 similarly awarded establishments in the U.S. Unfortunately, the next time it was awarded two stars occurred five years later. Nevertheless, with rankings scaling from one star to three, the fact that his restaurant received two stars on two occasions was a marker of Elliot's true culinary excellence, as well as his ability to rise above the competition more than once.
What is Graham Elliot's signature dish?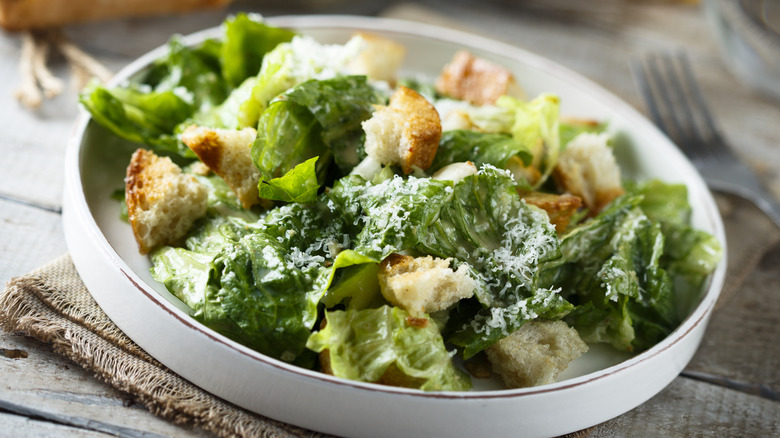 Mariha Kitchen/Getty Images
One would think that having such an in-depth understanding of food would mean a chef's signature dish is wildly extravagant. However, Elliot stays true to his mantra that food is all about simple pleasures. Caesar salad has grown to be a staple dish enjoyed on its own or as an accompaniment, and its popularity and status can not be understated both nationally and globally. 
In its conception, Caesar salad was all about using what is on hand — egg, lettuce, croutons, and olive oil. It is a perfect recipe when you want to use the last bits and bobs in your refrigerator before a restock, or when you're feeling lazy and still want something nutritious and tasty. Still, it tends to be fairly predictable. 
When Elliot created his signature Caesar salad, he turned his attention to the croutons, using them as a bed to serve a deconstructed salad. Rather than simply toss bread cubes in olive oil and bake them, Elliot makes what he calls a "brioche Twinkie" that is stuffed with a decadent mixture of cream, mascarpone, and Parmesan cheese. Made to look more like an art piece to be adored but not touched, the recipe nevertheless offers a forgiving set of steps that every Elliot fan can try at home. There's nothing quite like acing a dish — especially one that usually offers no surprises — and getting to proudly declare you got it from your fave chef.
Did he have trouble hiring staff?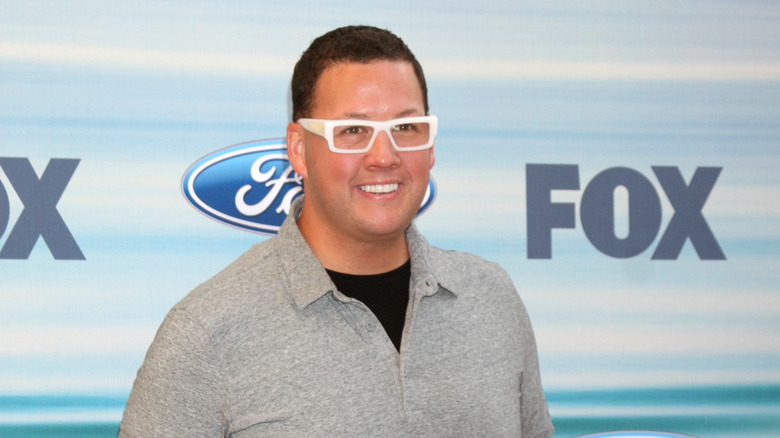 Kathy Hutchins/Shutterstock
It goes without saying that even if a restaurant's food offers nothing but perfection, patrons will remember the overall experience above all. Much of that has to do with happy employees, which was an area where Graham Elliot seemed to falter in the past. Despite the early success of his self-titled Chicago restaurant, its woes tended to involve background staffing issues. 
In 2012, 14 ex-waiters filed a lawsuit against Elliot, accusing him of pooling the waiters' tips and redistributing them among all the employees including bartenders and food runners. Not only is this practice a violation of federal law, but he had allegedly also failed to compensate his employees with fair minimum wages.
While the debacle came to be known as one of the biggest scandals to ever hit Top Chef, Elliot and his former employees reportedly came to an agreement that was signed off by the judge presiding over the lawsuit. Though details about the settlement price remain undisclosed, Elliot agreed to pay the former employees and did not comment on the matter. It is unclear whether this dispute had an impact on Elliot's hiring procedures for staff at his subsequent restaurants since the story died down. Many celebrities — chefs or not — have lived to tell the tales of their scandals. Nevertheless, a lawsuit always acts as a blemish on any successful business, regardless of the outcome.
Why did Grahamwich close?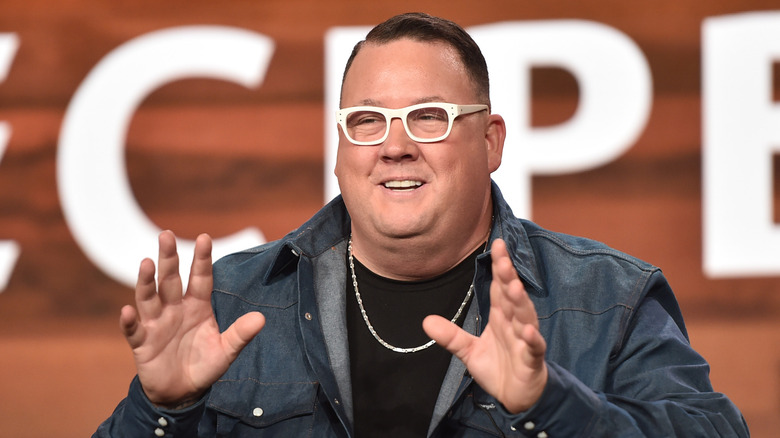 Alberto E. Rodriguez/Getty Images
When Elliot opened Grahamwich in River North, Chicago, in 2010, it was designed to be a casual sandwich shop where patrons could enjoy their orders with a side of truffle popcorn or chips and soda made in-house. There's nothing quite like a satisfying sandwich to curb a host of cravings — whether you're all about the goodness of carby bread or enjoy being surprised by the mix of fillings. 
Unfortunately, three years after opening a sandwich shop that was meant to accomplish that purpose, it unceremoniously closed. After serving unique sandwich offerings like grilled cheese with cheese curds and tomato marmalade, twice-cooked turkey and stewed cranberries, and candied yams with sage mayo, Elliot simply announced: "Ladies and gentlemen, Grahamwich has left the building," (via Chicago Tribune).
Grahamwich's last service took place at Lollapalooza, an annual music festival for which Elliot served as culinary director at the time. One can only hope the festival attendants who got to enjoy his food got their fill, savored every bite, and noted the last of an era. The details of why the shop closed remain undisclosed, however, at the time, both Graham Elliot and the Graham Elliot Bistro were still open for business.
Why did Graham Elliot close?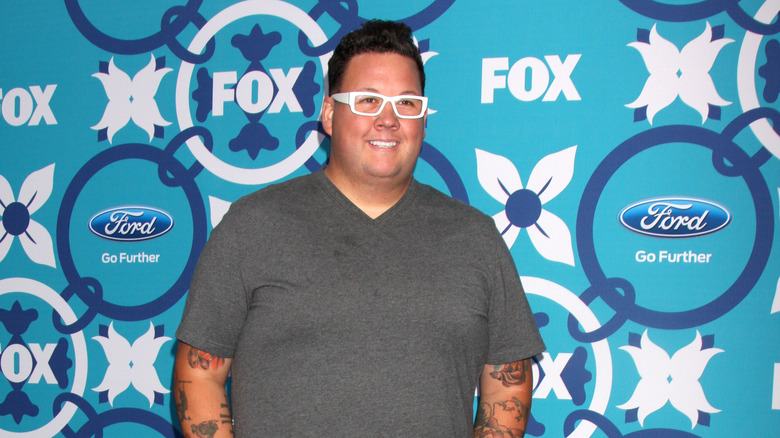 Kathy Hutchins/Shutterstock
Every Michelin star chef owes their recipient status to a specific restaurant. For Elliot, it was his namesake restaurant — call it serendipity, if you will. When the 120-seat establishment first opened, it was breaking barriers as far as what was deemed appropriate within the food service industry. Elliot is reported saying: "It was one of the first restaurants where everyone wore a T-shirt in the front of the house. Beams and ductwork and loud music. It seems a lot of people took that same model and ran with it," (via Chicago Magazine). However, those features were soon tempered down to provide more of a fine-dining experience, earning the restaurant two Michelin stars again in 2013.
Nevertheless, it appears that breaking restaurant culture barriers was not enough to keep its doors open, and the restaurant closed that same year. Unfortunately, intentions do not always equal success. In the case of Graham Elliot the restaurant, the changes that were made proved to have altered the consumer experience a little too much. In its final weeks, the menu consisted of dishes from an upcoming reinvented restaurant as well as a selection of some of his culinary hits, which included the foie-lipop, truffle popcorn, and his signature Caesar salad.
Why did Graham Elliot Bistro close?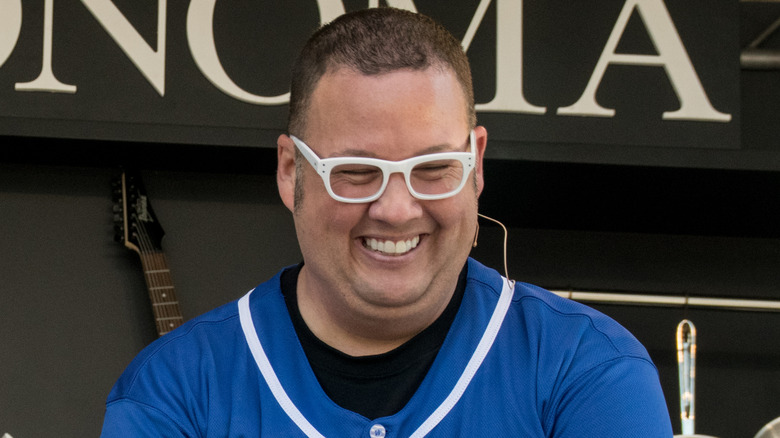 Ag Wilson/Shutterstock
Launched with the primary objective of demonstrating that simplicity can be a hallmark of good food, Graham Elliot Bistro's 2012 opening came with a menu that celebrated techniques over artsy gimmicks. Featuring chops, steaks, and plates made for sharing, each dish showcased three seasonal elements to enjoy along with unique cocktail and wine pairings. The restaurant went on to close for three days in April 2016 for minor changes. However, its final closure came only a few months later with its last service at the end of August.
Over the years, Graham Elliot Bistro underwent multiple rounds of closures for decor changes and menu modifications that included incorporating items that had previously been featured at Graham Elliot. Unlike previous restaurant closures that were shrouded in silence or mystery, when the Bistro closed, it was to change the name and concept. Elliot reportedly stated: "We've made some great updates this spring and the restaurant is doing fine as a result. Yet we're not satisfied. We want to do more and we want to push more. And we learned the only way to do that is to make a bigger opportunity for ourselves," (via Chicago Eater). The change came to be Gideon Sweet.
Why did Gideon Sweet close?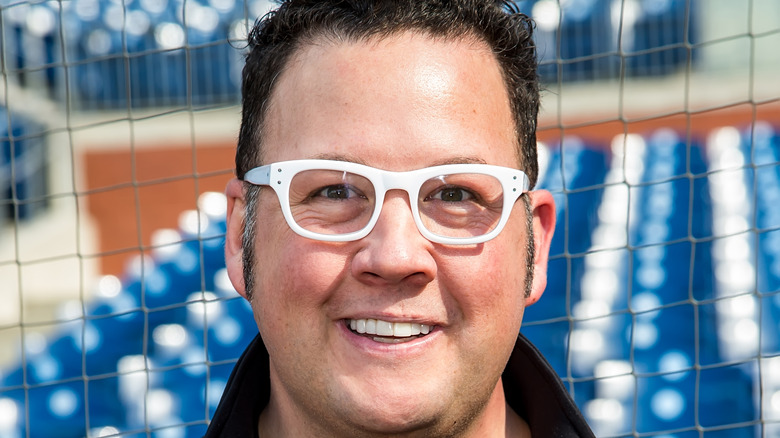 Gilbert Carrasquillo/Getty Images
Launched in 2017 and described as the place to get a bite before a night on the town along Chicago's prominent Randolph Street, Gideon Sweet closed the following year. The restaurant was a joint venture between Elliot and Matthias Merges and specialized in small plates and cocktails. The location featured a charming patio that was well-suited for patrons to share their nibbles while sipping on cocktails — a good sense of privacy coupled with social intimacy that can only spell perfection, right? Apparently not. 
The details of the closure were unclear, except for a brief statement made by restaurant management: "After a wonderful year of partnership between long-time friends Chef Matthias Merges and Chef Graham Elliot, Gideon Sweet has closed as they pursue new time-intensive projects," (via Chicago Tribune). The closure of Gideon Sweet came as a third blow to Elliot, who had previously opened and closed Graham Elliot Bistro twice to the same fate. One cannot help but wonder if the location, which was marked as one of its main draws, had anything to do with the closures. However, since no details were ever provided, it remains impossible to draw any conclusions.
Gideon Sweet initially had hype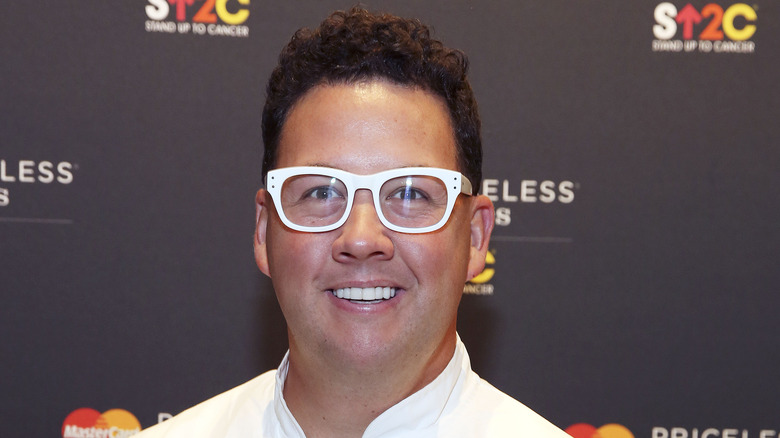 Tasos Katopodis/Getty Images
While it may be easy to assume that the restaurant was headed for failure from the get-go given the fate of Elliot's previous dining establishments, Gideon Sweet actually amassed quite the success when it first opened. Thanks to its pointed rock 'n' roll vibe, which included candles molded into various rock-star "saints" and a cocktail called Ghostface Killah, patrons were delighted. Say what you will, but there's nothing quite like an ode to your favorite stars coupled with good food and music. Add to that bangers by said stars and you truly have a winning recipe — or so Elliot thought for a while.
What seemed to have also set Gideon Sweet apart was the unique approach to the menu. Rather than only focusing on impressing patrons who would be acquainted with the techniques involved, it included ingredients that customers might otherwise snub. From pigtails to fish collars, each dish was meant to spark conversation while shared among a group. Unfortunately, even with these purest intentions — to celebrate foods that might ordinarily be given the culinary cold shoulder — its success was short-lived.
Graham Elliot goes off at food critics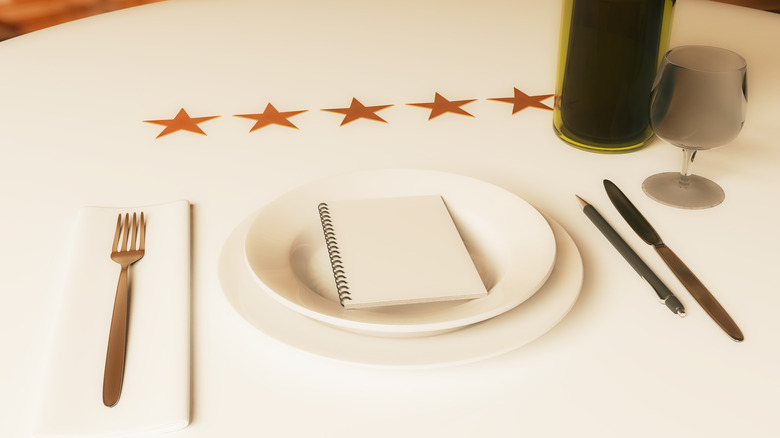 Peshkov/Getty Images
Amid the restaurant openings, accolades, lawsuits, and eventual closures, there were a series of everyday complications that Elliot navigated pertaining to his restaurants. In 2010, he reportedly went off at food critics who were invited to taste the Lollapalooza festival food samples. It is hard to take criticism on the chin, and being a celebrity chef apparently does not take the sting away. Elliot knew all about that because when Cassie Walker published a review for Chicago Magazine that was not to his taste, he immediately took to Twitter to settle the score.
What started as an unsavory "three words of the day" aimed at the outlet, grew into a days-long critique of Walker's writing with some name-calling thrown in for good measure. It went on right until the magazine tapped out, tweeting: "We appreciate @grahamelliot's opinion on our opinion. He's doing his job, we're doing ours. No need to make it out to be more than it is." Elliot went on to discuss his response to the review on the Windy Citizen which, in essence, demonstrated that he was never really going to take Walker's reviews in stride (via HuffPost).
Graham Elliot's Grahamwich gets negative reviews from customers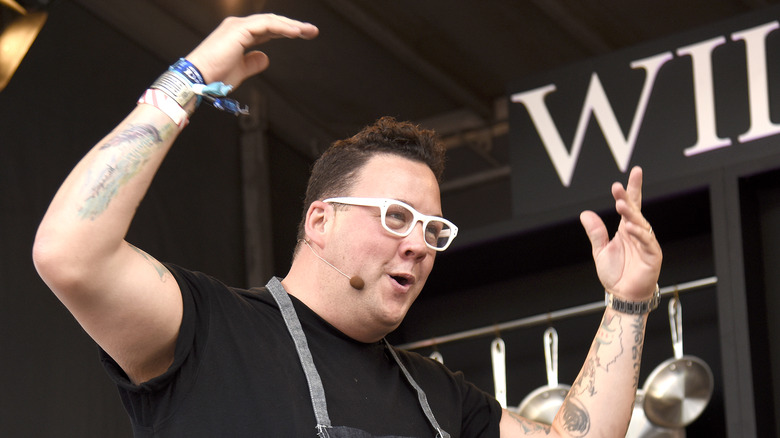 Tim Mosenfelder/Getty Images
While Elliot seemed to struggle to let go of Walker's review, perhaps experience is the mother of all teachers. Later that same year, the chef was able to take negative reviews on the chin and keep it moving. Eater wrote about a Yelp review from a patron who visited Grahamwich. Having read about it in The Chicago magazine, the reviewer stated that the most disappointing part of the experience was the fact that the shop was closed. According to the review, having had their interest piqued enough to take a walk over, finding its doors shut was enough of an unpleasant outcome to warn other patrons who may have visited otherwise.
To this, Elliot — who told Eater he had already been kicked off the platform for correcting reviews he deemed wrong — responded: "Amazing! There is already a negative review of Grahamwich posted on Yelp even though we've yet to open. Further proves my point..." 
When Time Out restaurant critic Julia Kramer described his Grahamwich menu as "a dilettantish assortment of international sandwiches that reflect not just repeated failures of execution but a lack of care in their conception," Elliot once again took the high road, tweeting: "sweet, the line gets shorter by one less person." Thankfully, Elliot didn't step out of line with his comments this time.
What is Graham Elliot doing now?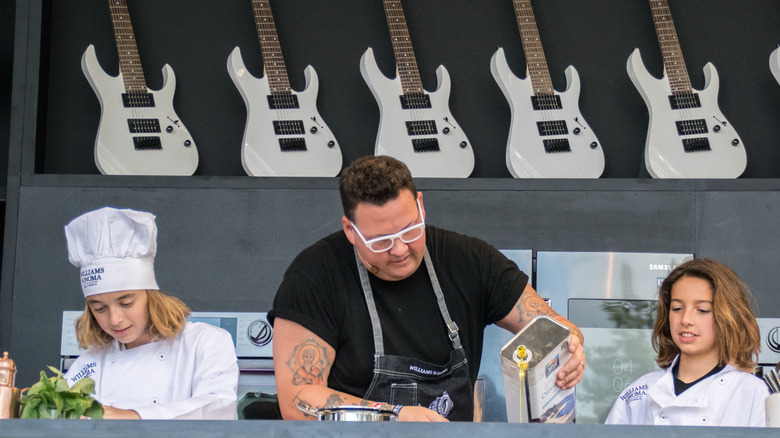 Ag Wilson/Shutterstock
Despite his restaurants all closing, Graham Elliot has proven that he is capable of picking himself up and dusting it all off — over and over again. In October 2022, Paper City reported that the celebrity chef would be joining Chef Felipe Armenta to make culinary magic at the Fort Worth steakhouse, The Duke, in Texas. Armenta told Paper City: "We have so many new restaurant openings. I thought it was time to bring on someone to oversee it all." He further shared that he would be working on the menu together with Elliot. 
Soon after, Star Telegram wrote that Elliot would be joining Armenta in his expansion of two other restaurants, Pacific Table and Tavern Bar & Grill. At the time, Pacific Table had already been crowned "The Best of Dallas Fort Worth" by Trip Advisor. Armenta had set his sights on an additional 10-restaurant expansion with Elliot by his side. The collaboration sounds like a great combination of being hands-on in the kitchen while still contributing to the overall makings of an empire. As the old adage goes, you only fail at 100% of the shots you don't take. Here's to hoping these next shots are some of the best for Elliot.