Southern-Style Buttermilk Cornbread Recipe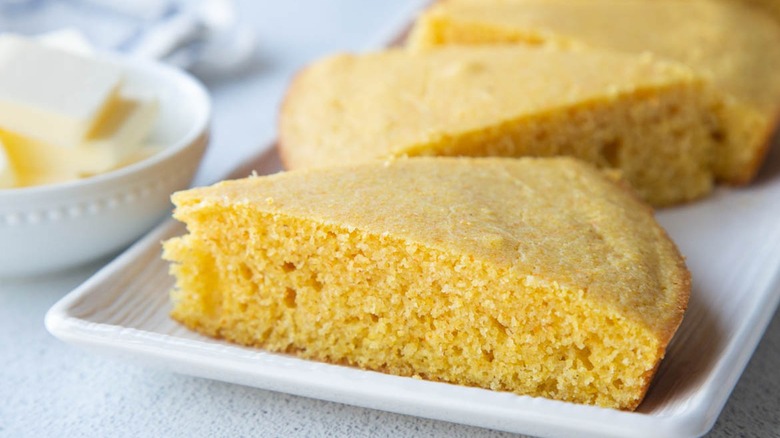 Kate Shungu/Mashed
There's something so comforting about freshly baked cornbread. Nothing says Southern hospitality like true Southern-style buttermilk cornbread made in a cast iron skillet. Recipe developer Kate Shungu brings us this flavorful recipe that comes together in under 30 minutes. Now, you can shower your family or guests with true comfort food without spending hours in the kitchen.
Shungu tells us, "Cornbread is my go-to when I need to round out dinner with a little something extra. It functions like dinner rolls for me, and goes with just about everything." If you are in need of a tasty starchy side, cornbread is a simple and tasty option. It's classically served with summer barbecue foods, but it can pair with a variety of dishes. Shungu says, "I love serving cornbread with bbq grilled chicken, baked beans, and grilled veggies in the warmer months or with soup and a salad during the cooler months."
Gather your ingredients for Southern-style buttermilk cornbread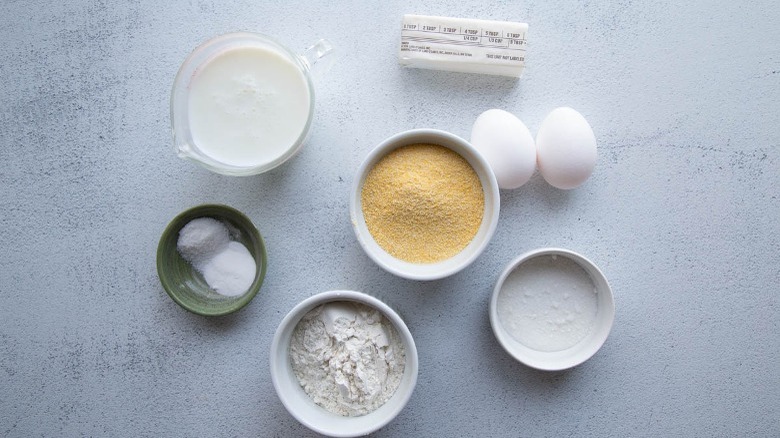 Kate Shungu/Mashed
To make this Southern-style buttermilk cornbread, you can start by gathering your ingredients. For this recipe, you will need cornmeal, flour, sugar, salt, baking soda, buttermilk, butter, and eggs.
Prepare pan and preheat oven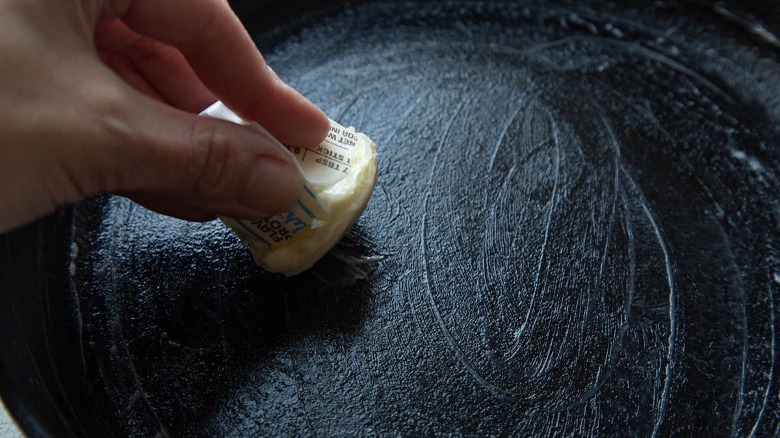 Kate Shungu/Mashed
First things first, get your oven preheated to 375 F. Then, prepare your 9-inch cake pan or 9-inch cast iron skillet with butter. Be sure to coat the bottom and sides very well to ensure the cornbread doesn't stick.
Mix up buttermilk batter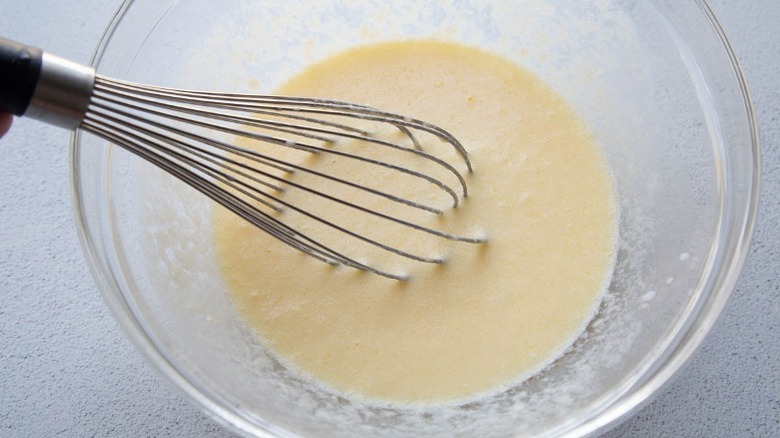 Kate Shungu/Mashed
Add the wet ingredients to a large bowl: buttermilk, butter and eggs. Whisk these ingredients well before adding in the dry ingredients: cornmeal, flour, sugar, salt, and baking soda. Stir the cornbread batter well, to ensure there are no lumps of flour.
Pour into pan and bake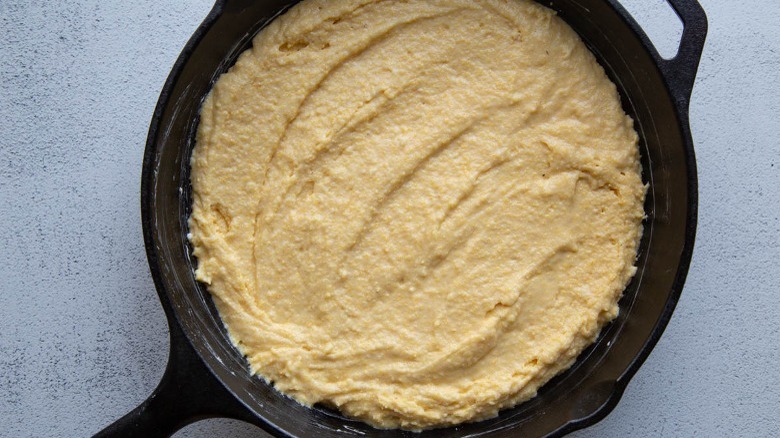 Kate Shungu/Mashed
Then, pour the batter into the prepared baking dish. Place in the preheated oven for 20 minutes. The cornbread should appear golden brown and should pass the toothpick test. Shungu suggests, "Leftovers can be frozen for a future dinner. I also like to cut the cornbread into cubes, toast the cubes in the oven, and serve with salad in place of croutons."
Southern-Style Buttermilk Cornbread Recipe
Make your own Southern-style buttermilk cornbread from scratch using this recipe that only requires eight ingredients and 35 minutes to make.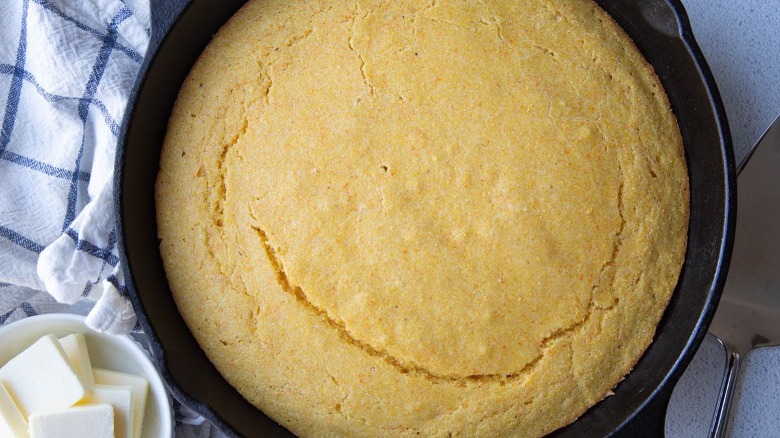 Ingredients
1 cup cornmeal
1 cup flour
2 tablespoons sugar
1 teaspoon salt
1 teaspoon baking soda
1 cup buttermilk
6 tablespoons butter, melted + a little more for greasing the pan
2 eggs
Directions
Preheat oven to 375 F. Rub a 9-inch cast iron pan (or a 9-inch cake pan) with butter, coating the bottom and the sides.
In a large bowl, whisk together the buttermilk, butter, and eggs. Stir in the cornmeal, flour, sugar, salt, and baking soda.
Pour the batter into the prepared pan. Bake for 20 minutes, or until the top is golden brown and a toothpick inserted into the center comes out clean.
Nutrition
| | |
| --- | --- |
| Calories per Serving | 246 |
| Total Fat | 10.4 g |
| Saturated Fat | 6.0 g |
| Trans Fat | 0.4 g |
| Cholesterol | 64.1 mg |
| | |
| --- | --- |
| Total Carbohydrates | 32.2 g |
| Dietary Fiber | 1.2 g |
| Total Sugars | 5.0 g |
| Sodium | 233.7 mg |
| Protein | 5.5 g |