Easy Baked Beans With Bacon Recipe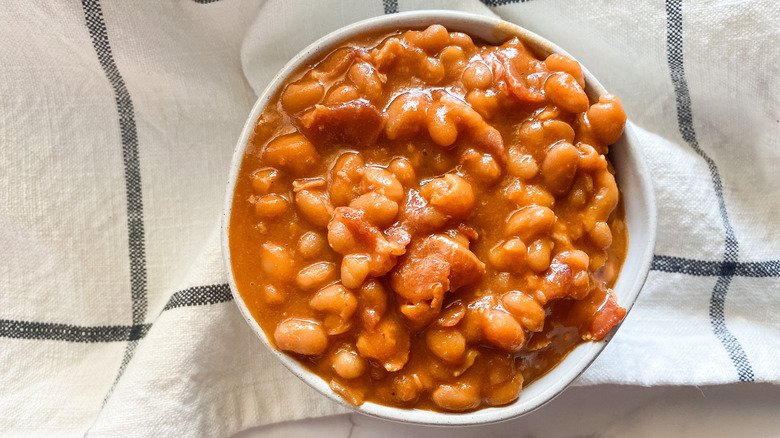 Kristen Carli/ Mashed
Let's be honest, is there anything that doesn't go with baked beans? According to Love Food, there are a few different theories as to where baked beans originated from. Some people believe that Native American tribes like the "Iroquois, Narragansett, and Penobscot" started this delicious trend, cooking beans with the addition of maple syrup and even venison in some cases. Many others think France is responsible for the dish, evolving from "cassoulet, a slow-cooked stew from southern France." No matter what the case, it's a side dish that easy to love.
The recipe, curated by Kristen Carli, is not only super simple to make, but it also requires just a few ingredients and a little prep time. In fact, the hardest part about this dish is waiting patiently for the beans to cook as the aroma fills your kitchen. Pair that with the added bacon, and you have yourself a side dish that will knock the socks off of anyone you chose to serve it to.
Carli shares that her favorite part about these easy baked beans is "that these are super easy! They take no time at all since you do not have to cook the beans from scratch." This is such an easy and yummy dish, you may have a hard time resisting eating beans every day.
Gather the ingredients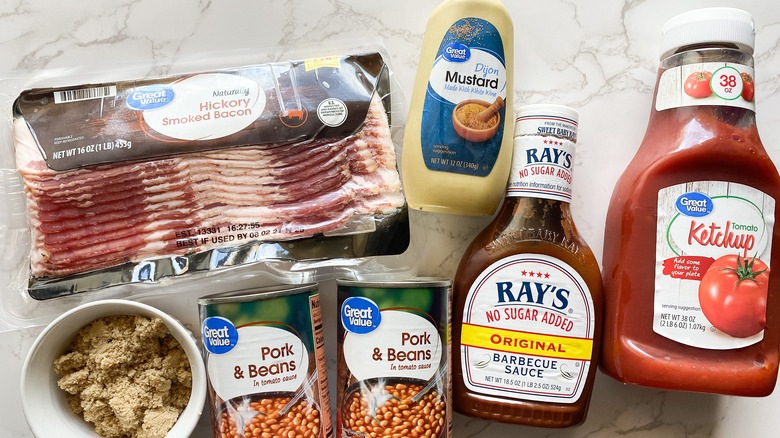 Kristen Carli/ Mashed
The first step in the process is to grab the ingredients that you'll need for your easy-baked beans with bacon. Luckily, there are only a few simple items that you need, and if you're lucky, you will already have some in your cupboard. The stars of the recipe are bacon and a few cans of pork and beans. You'll need a few more items, including ketchup, BBQ sauce, and dijon mustard in terms of sauces. Last but not least is brown sugar. Once you gather everything together, you may begin.
Prep the bacon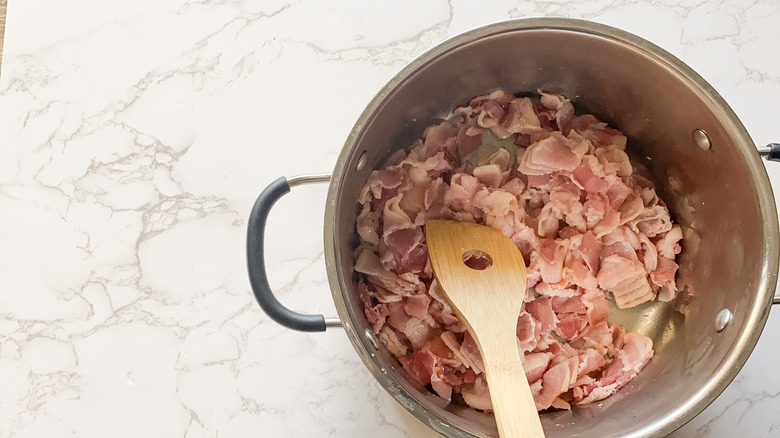 Kristen Carli/ Mashed
Get out a large stockpot and add chopped bacon. Carli shares that this "recipe is made for the stovetop so you do not need any special equipment," which is why it's preferred over a crockpot. Once you have the stockpot out, add all of the chopped bacon. Turn the dial of your stove to medium and cook the bacon for about 15 minutes. You'll know it's finished when it starts to crisp up. Crispy bacon is the best bacon! 
Add more to the pot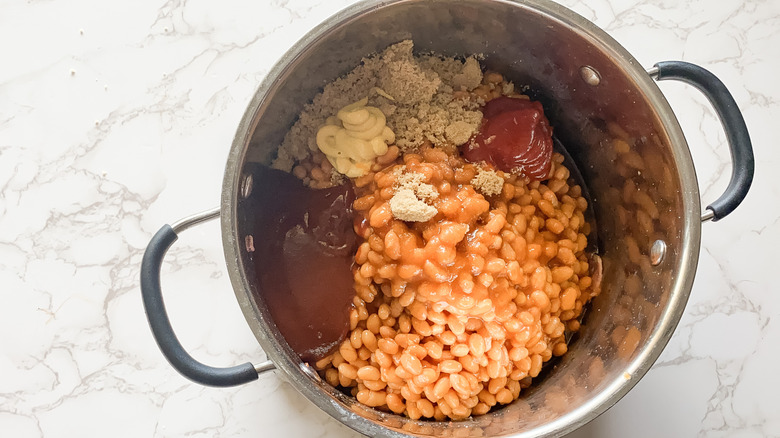 Kristen Carli/ Mashed
Once the bacon is nice and crispy, you can toss in the pork and beans. Then you can add the remaining ingredients, including BBQ sauce, brown sugar, and dijon mustard. It should look similar to the photo when you dump everything in. Be sure to stir everything to combine. This is important so all of the flavors are evenly distributed when the beans are cooking, so you get that amazing flavor in each bite.
Simmer and Serve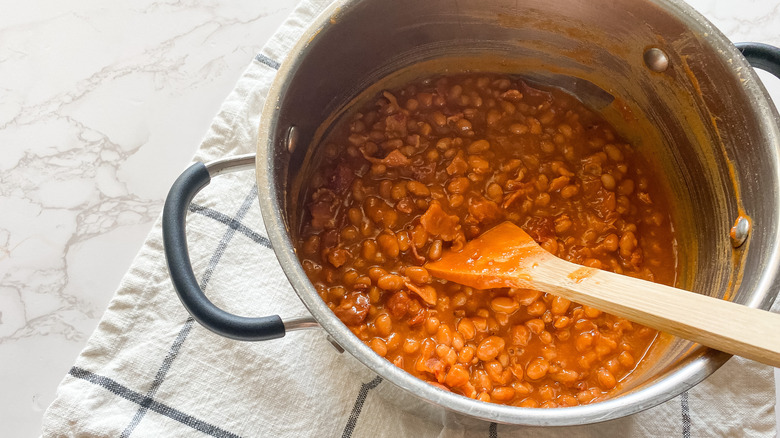 Kristen Carli/ Mashed
Once you have all the ingredients in your pot and mix them together, you can turn the temperature down and let it simmer. You can stir occasionally while it simmers. Set your timer for about 20 minutes, and once it goes off, your beans are ready to be served. You can plate these however you would like, or you can serve them in a bowl. 
As far as things that pair well with these excellent beans, the possibilities are truly endless. Carli suggests coleslaw and burgers as her top serving suggestion. 
Easy Baked Beans With Bacon Recipe
The recipe, curated by Kristen Carli, is not only super simple to make, but it also requires just a few ingredients and a little prep time.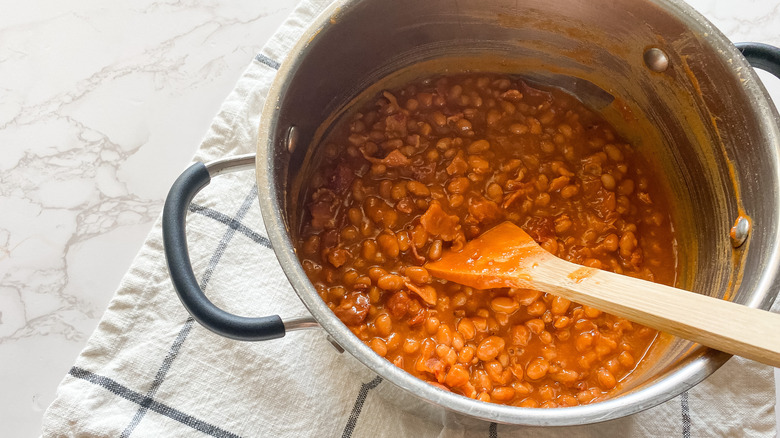 Ingredients
1 pound bacon, chopped
4 15-ounce cans pork and beans
¼ cup ketchup
½ cup BBQ sauce
½ cup brown sugar
2 tablespoons dijon mustard
Directions
In a large stock pot, add chopped bacon.
Cook over medium heat, until crispy, about 15 minutes.
Add pork and beans, ketchup, BBQ sauce, brown sugar, and mustard.
Stir to combine. Simmer for 20 minutes.
Nutrition
| | |
| --- | --- |
| Calories per Serving | 647 |
| Total Fat | 33.9 g |
| Saturated Fat | 11.1 g |
| Trans Fat | 0.1 g |
| Cholesterol | 131.3 mg |
| | |
| --- | --- |
| Total Carbohydrates | 43.7 g |
| Dietary Fiber | 7.0 g |
| Total Sugars | 11.7 g |
| Sodium | 757.3 mg |
| Protein | 42.8 g |