Giada De Laurentiis' Crispy Chicken Nuggets Skip The Toughest Step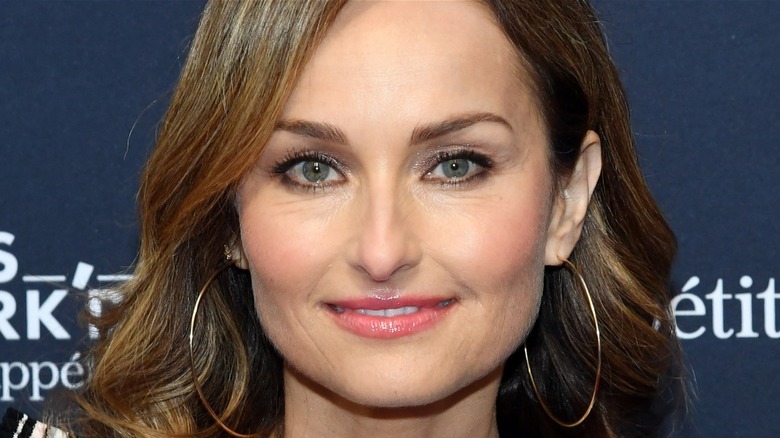 Ethan Miller/Getty
Giada De Laurentiis owes a lot to her mom, actress Veronica De Laurentiis, for pushing her to persevere through loneliness and irascible instructors to finish her Le Cordon Bleu culinary degree in Paris. Veronica, however, downplayed her own cooking skills, joking in an interview with The Scoop LA, "I am not a chef." 
Home cooks know that a chef's degree isn't necessary to create versatile and delicious meals and favorite dishes are honed over years of practice. Giada recently took to Twitter to share one such childhood dish that her mother made often: bocconcini, or homemade chicken nuggets. Giada tweets, "My mom used to make these all the time when I was a kid & she still makes them to this day!" 
With cheap, fast-food versions available, home cooks might understandably be reluctant to bother with a tedious breading process: several steps of dunking little chicken pieces into bowls of flour, egg, and breadcrumbs, with fingers crossed that the breading will actually stick. 
Veronica's bocconcini, however, is so easy. The recipe for bocconcini on Giada's website Giadzy reveals a very simple, fast approach to flour the chicken in just one step, done in a bowl or in a bag (like the Shake 'N Bake method.) The pieces are quickly coated and ready to fry.
The technique makes it easy to skip fast-food nuggets
The coating for the chicken nuggets is a blend of just flour and salt. Once the chicken pieces coat in a bowl or bag, they go straight into a hot pan with some olive oil to brown and cook through. 
Breadcrumbs still come into play here, to give the chicken nuggets that toasty, crispy texture. However, instead of fussing with them before cooking, Veronica De Laurentiis' throws the breadcrumbs straight into the hot pan with the chicken. There, breadcrumbs quickly brown and stick to the surface of the chicken. From start to finish, bocconcini are ready to eat in just 15 minutes. The De Laurentiis bocconcini are easy to customize, too. Giada adds lemon and rosemary to her chicken, but any favorite spice or seasoning blend can be used. 
This simple approach makes it easy for even the busiest families to skip the drive-thru and make homemade chicken nuggets that are infinitely better tasting. Serve them hot, with dipping sauce, of course!