Melissa Clark's Genius Lemon Tip For Restaurant-Worthy Chicken Soup
nesavinov/Shutterstock
Whether you're fighting a cold or craving the comfort of a warm broth, nothing hits the spot quite like a steaming bowl of chicken soup. It comes in dozens of varieties globally and is embraced as a delicious cure-all savored by the spoonful. While recipes usually include a lot of simmering, stirring, and waiting, cookbook author and food writer Melissa Clark has shared a hack that can cut down cooking time while adding an extra burst of flavor to the soup.
Clark's secret kills two birds with one stone. Not only does her trick create a tastier soup, but it will also give you an extra dinner. Clark featured two recipes in one on The Today Show by demonstrating how the leftovers from her first recipe, Roasted Chicken Thighs with Garlicky Cucumber Yogurt, could be transformed into Spicy Chicken Orzo Soup.
Her Mediterranean-inspired recipe for roasted chicken thighs is a keeper all on its own. Clark uses boneless, skinless thighs that she tosses with herbs and drizzles with olive oil before roasting in the oven. The chicken is finished with fresh lemon to complement the roasted chicken thighs and a refreshing cucumber yogurt sauce. However, the flavorful secret Clark uses earlier in the recipe carries over into the next day's chicken soup: roasting the chicken thighs with lemon wedges. Roasted lemons add a hint of acidity and a mellow sweetness to the dish. Then, the leftovers from this recipe become the flavor-filled building blocks for the next day's soup.
Leftover chicken doubles the flavor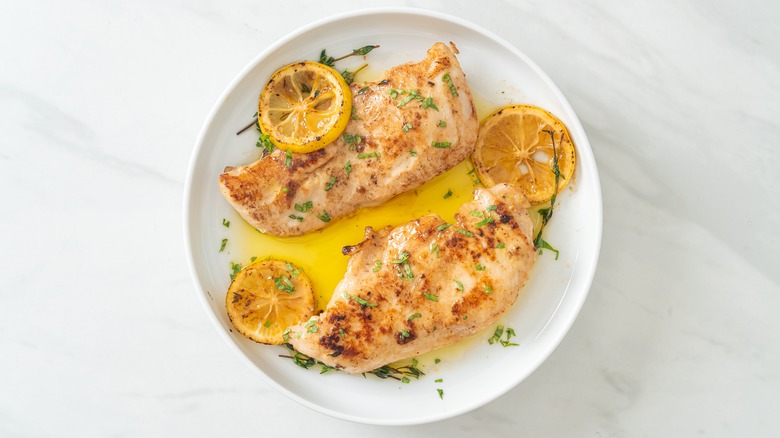 gowithstock/Shutterstock
When it comes to soups, sometimes simplicity is key. Keeping things down to a few carefully sourced and handled ingredients can make all the difference. As an author of 38 cookbooks and countless New York Times recipes, Melissa Clark has mastered turning on-hand ingredients into delicious wonders. You'll want to pay attention when she offers tips on turning a classic soup recipe into liquid gold.
With the first roasted chicken thighs recipe complete, Clark's recipe for Spicy Chicken Orzo Soup becomes so easy you'll hardly believe it. It starts with sautéing onions, garlic, and herbs before adding rich chicken stock. Then, the shredded leftover chicken thighs from the first recipe layer the first hit of lemon flavor into the soup. Next, spinach and cooked orzo are added. If orzo isn't your thing, you can substitute it for any noodle you prefer. Remember to add an extra squeeze of the roasted lemons to bring more last-minute brightness and sweetness to your zesty, flavor-packed soup.
Many have pointed out the underrated benefits of adding more acidity to our dishes in the form of lemon. Clark is one to highlight this ingredient's flavor-blasting perks, with countless lemon-centric popular recipes like lemon meringue pie, lemon bars, and caramelized lemon pasta to her name. As roasting, cooking, and preserving lemons only enhances their flavor further, this simple ingredient can take your cooking in many exciting directions.