Classic Chicken Stock Recipe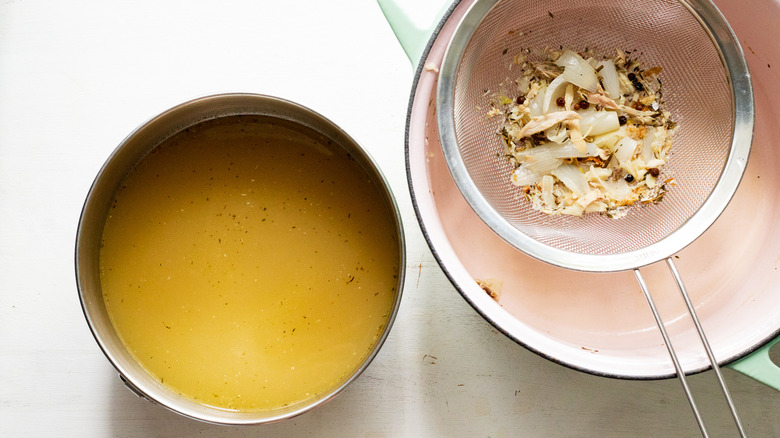 Sher Castellano/Mashed
There is a beautiful irony to homemade chicken stock: It can be crafted using what are arguably the least enticing ingredients in your kitchen (the remnants of a chicken carcass and a medley of vegetables that are turning the corner on freshness), yet it comes together into a delightfully flavorful liquid that can elevate dishes ranging from soups to braised meats to rice to glazed veggies to sauces and more.
This step-by-step guide to making a great classic chicken stock from recipe developer Sher Castellano will have you ready to simmer up a stock you'll be so happy to have on hand. And as stock freezes well, you can keep it as a versatile kitchen lifeline for up to six months. It's a great recipe for "any vegetables or aromatics on their way out," Castellano says, and chances are you have some of those. If you've also got a chicken on hand — maybe a rotisserie for tonight's dinner — then you should make some stock right away so you can use it any time.
Gather your ingredients for the chicken stock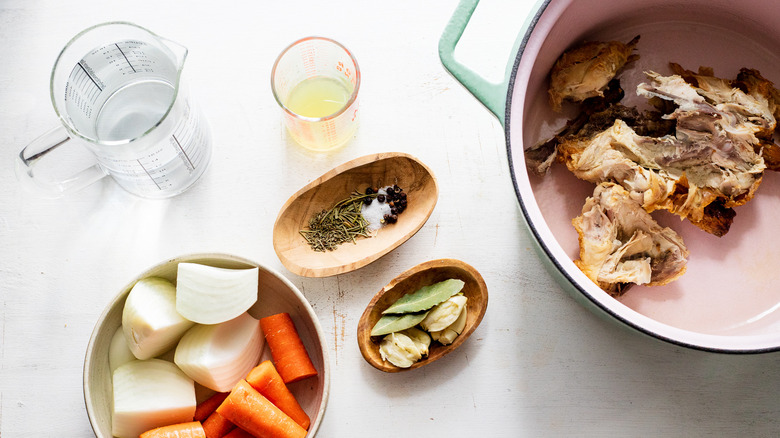 Sher Castellano/Mashed
Castellano's classic chicken stock calls for the leftover carcass of a rotisserie chicken — all the bones, gristle, and whatnot. You'll also need an onion, carrots, garlic cloves, dried bay leaves, dried thyme, dried rosemary, black peppercorns, fine sea salt, water, and lemon juice.
Castellano notes there's some wiggle room here. Don't have a lemon on hand? "Any acid works," she says. She also adds that "the chicken's seasoning can be anything, but keep in mind it could change the stock flavor." So if you purchased, say, a barbecue-spiced chicken, expect your final product to have some of those particular notes. Which hey, could be good!
Bring it all to a boil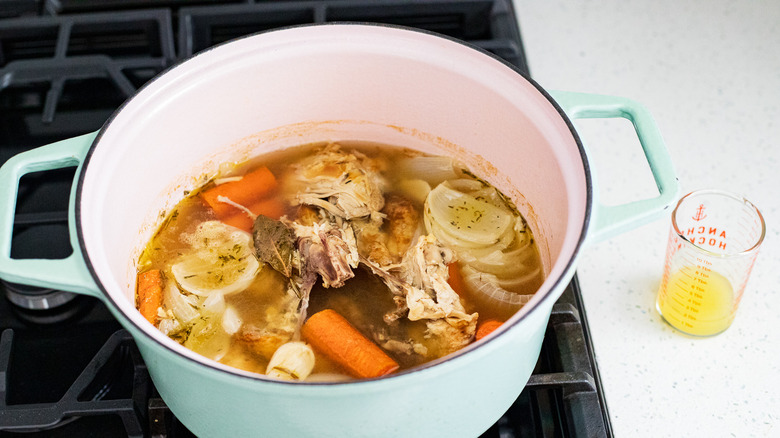 Sher Castellano/Mashed
Add everything but the lemon juice to a stock pot and place it on the stove over a high heat. Let it come to a boil. Once you're there, turn the heat down to low, cover the pot loosely with a lid (allowing steam to escape), and simmer the stock for 1 full hour.
Cool then strain the stock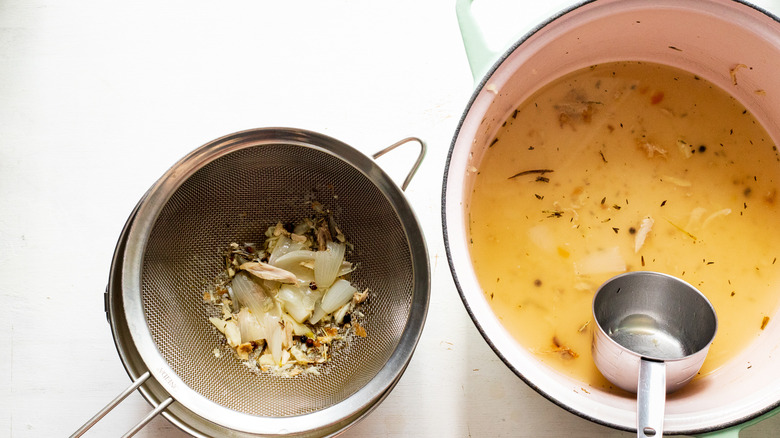 Sher Castellano/Mashed
Once the stock has simmered for an hour (and your house is smelling amazing), remove the pot from the heat and let it sit until it is cool enough to handle. Then, stir in the lemon juice (or other acid). Next, strain the stock through a fine mesh sieve, catching all the bits, and then ladle it into bags or containers. You can use it now, pop it in the fridge for a few days, or freeze it for up to 6 months.
The difference between stock and broth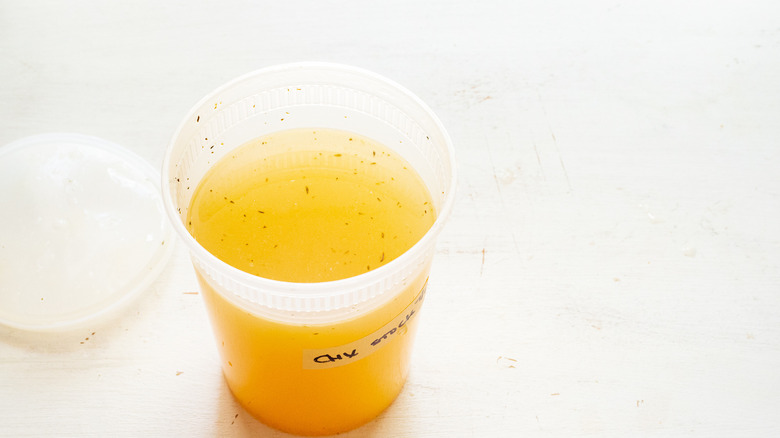 Sher Castellano/Mashed
Ever wondered if chicken stock and chicken broth are the same thing? Well, they're not — not quite. The difference between chicken broth and chicken stock comes down to the core ingredient: the chicken. Whereas a broth can be made with just the meat of the chicken, stock, like this one, requires the bones. As those bones simmer away, they release collagen, which contributes to its slightly thicker, more viscous texture. Stock also tends to be seasoned less aggressively than broth, which usually has a higher salt content. 
Classic Chicken Stock Recipe
Don't let that rotisserie chicken carcass go to waste! Use it, along with a handful of aromatics, to make a delicious and versatile chicken stock.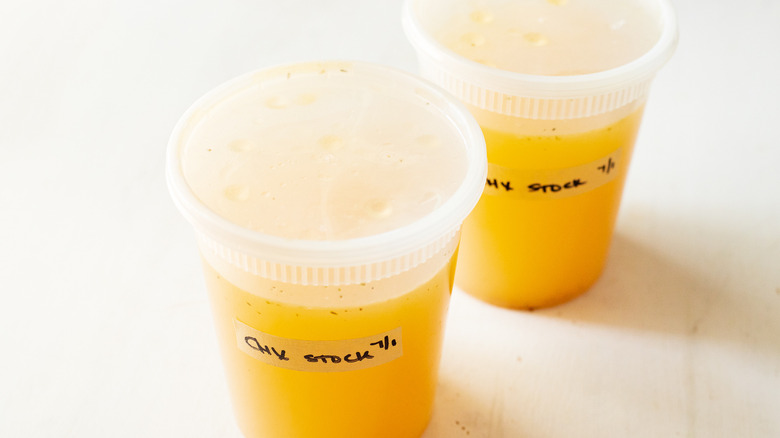 Ingredients
1 leftover carcass from a rotisserie chicken
1 medium onion, quartered
2 carrots, quartered
3 cloves garlic, smashed
2 dried bay leaves
¼ teaspoon dried thyme
½ teaspoon dried rosemary
¼ teaspoon black peppercorns
¼ teaspoon fine sea salt
8 cups water
2 tablespoons lemon juice
Directions
Add the chicken carcass, onion, carrots, garlic, bay leaves, thyme, rosemary, peppercorns, salt, and water to a to stock pot over high heat.
Bring the mixture to a boil, then turn the heat down to low.
Cover the pot loosely with a lid (allowing steam to escape), and simmer for 1 hour.
Remove the stock from the heat and let it sit until it is cool enough to handle.
Stir in the lemon juice.
Strain stock through a fine mesh sieve, then ladle into containers.
Store in the refrigerator or freeze for up to 6 months.
Nutrition
| | |
| --- | --- |
| Calories per Serving | 27 |
| Total Fat | 1.8 g |
| Saturated Fat | 0.5 g |
| Trans Fat | 0.0 g |
| Cholesterol | 9.0 mg |
| | |
| --- | --- |
| Total Carbohydrates | 0.3 g |
| Dietary Fiber | 0.1 g |
| Total Sugars | 0.1 g |
| Sodium | 31.2 mg |
| Protein | 2.3 g |