Instead Of Fast Food, Rome's Late-Night Munchie Spot Is A Bakery
If you were looking for proof that Americans love late-night snacks, you could find it easily by reviewing Taco Bell statistics by PlaceIQ. Apparently, the Tex-Mex restaurant sees notable spikes in business from 9 p.m. to 2 a.m., and trips to Taco Bell account for 20% of all late-night fast-food runs in the United States. Interestingly, though, this doesn't correlate with America's most-craved food category: chocolate (62%). Based on this information, it seems that residents of Rome have got it right, as they swap fast food for baked goods to satisfy their midnight hunger.
Open 24 hours a day, one Roman bakery, Il Maritozzaro, experiences its largest crowd pop in the hours that follow 11 p.m. (per Eater). Though the bakery's selection is plentiful, it's best known for what it's named for — the maritozzi. A maritozzi is a long stretch of dough, sometimes with cream or other embellishments, that's made with pine nuts, sugar, olive oil, raisins, and candied orange peel. And if the store's 4.5-star TripAdvisor rating is to be trusted, it seems like a good place to pick one up. Not far from Il Maritozzaro, you'll find Il Cornettone, a bakery that only closes from 3:30 a.m. to 6 a.m. daily. At this shop, the fluffy Italian cornetto takes the spotlight. Similar to a croissant, this filled dessert is light when compared to the French version, which is why owner Antonio Schina suggests you enjoy more than one.
These bakeries are often open late to prepare goods for restaurants the following morning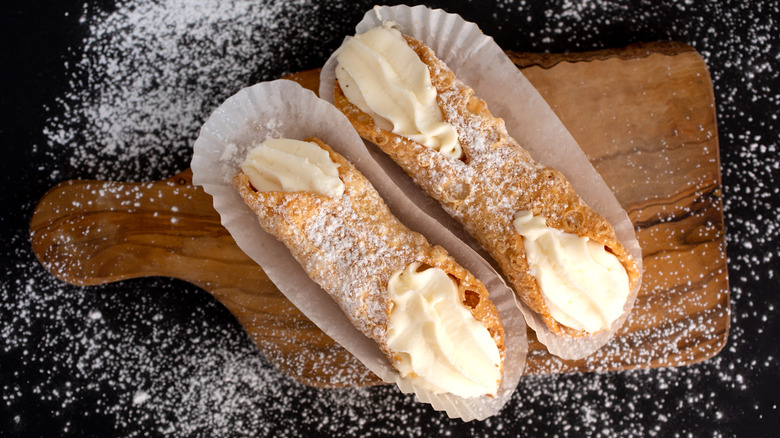 Pinkcandy/Shutterstock
The tradition of eating pastries in the wee hours of the morning isn't random for Romans. It's quite common for locals in the area to visit cornettari — which are bakeries with croissants and other goods — after a night of drinking. So, why are these shops open so late in the first place? As it turns out, some of them keep their doors open to prepare plenty of products for surrounding restaurants that will be serving them early the following morning. If you're aware of the best locations, you can get a taste of these goods hours before the rest of Rome wakes up.
Along with maritozzi and cornetto, cannoli are one of the most popular treats to grace the menu of Rome's bakeries. These sweet, rolled and fried pastry snacks are often loaded with ricotta cheese, but like maritozzi, they can be embellished with many ingredients, including chocolate. Although these goods were first invented 260 miles south in Sicily, authentic Italian cannoli have gained popularity as one of the best treats to enjoy in Rome.