Texas Funeral Cake Is Actually Chocolate Sheet Cake With European Origins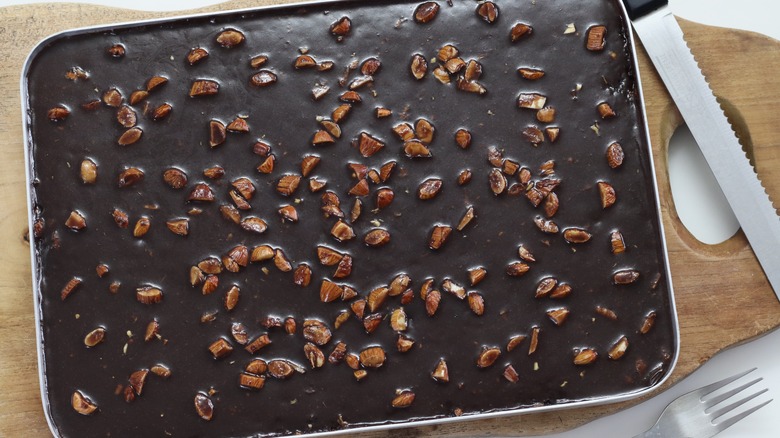 Trending Now/Shutterstock
Whether we're attending an event that involves celebrating or mourning, food is almost always an integral part of the occasion. A wedding reception generally offers a catered buffet-style meal, while a funeral might include a covered dish supper where everyone contributes an item. Guests will generally gather around long tables over a repast to share stories and honor the life of the departed.
Every state often has its own culinary traditions for such occurrences, like the Texas funeral cake, which as the name suggests, is commonly served at funeral potlucks in Texas. But the idea of this thin chocolate sheet cake – topped with fudge icing and usually covered with pecans — actually has its origins in Europe–Scandinavia to be exact. It's linked back to rural areas of Sweden, where it was referred to as "seed cake." The Swedish version resembled a cookie in texture as opposed to the Texas rendition, which is more texturally similar to a brownie.
Texas-sized comfort food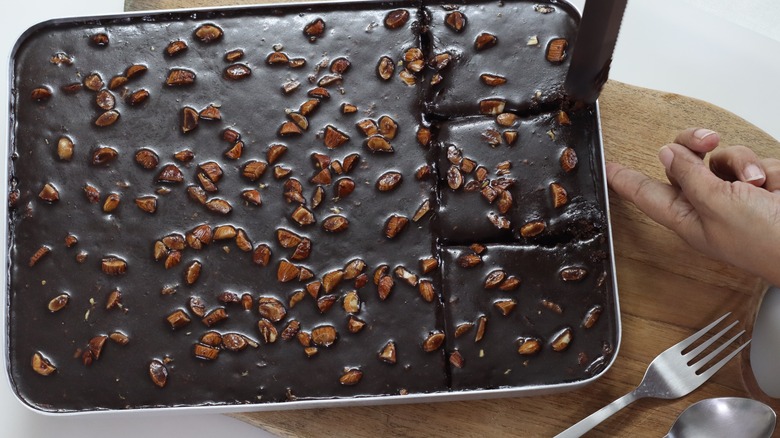 Trending Now/Shutterstock
In Sweden, seed cakes were a conventional staple of funerals, and were often wrapped in decorative black crepe paper and given to attendees to take home. The intention of both confections has been to provide familiar comfort food to those coping with a loss. Texas funeral cake is gooey, rich, and decadent, a treat that satisfies and brings a bit of solace during an unfortunate time.
The origins of the Texas funeral cake recipe are murky, but the Library of Congress noted that an early reference to a chocolate sheet cake appeared in a 1936 edition of The Galveston Daily News. Nearly 20 years later, another paper in Dallas cited a sheet cake recipe featuring buttermilk, pecans, and sweet, dark chocolate (via Texas Real Food). The latter became the standard, but there have been some variations since, including substituting walnuts for pecans or incorporating peanut butter or peppermint depending on the event and the season — it's also served at birthdays, church functions, and for certain holidays. 
But the most important reason for the cake's popularity at funerals may be that it's simply comfort food. You can easily bake a Texas funeral cake in bulk to feed big gatherings, delivering Texas-sized portions in someone's time of need.