Donatos Is Giving Away Free Menu Items Starting In May (But There's A Catch)
The beloved Ohio-based pizza chain, Donatos, has a new promotion going on to celebrate its 60-year anniversary. Donatos fans can get one free menu item every week, for nine weeks, the restaurant announced in a press release. The only catch is that this deal is for members only. You have to be a part of the restaurant's rewards program to get access to the offers. However, those interested in taking advantage of this deal can easily sign up on the Donatos website. 
The rewards program already allowed customers to earn points towards free or discounted items. During this limited-time celebration, customers will receive a "Freeward" in their account that is redeemable one time per week. The following week, they will receive another Freeward to try a different menu item. Donatos was founded on May 31, 1963 in Columbus, Ohio, but the Freewards will be available beginning May 1, 2023, at participating locations across the United States.
What is Donatos known for?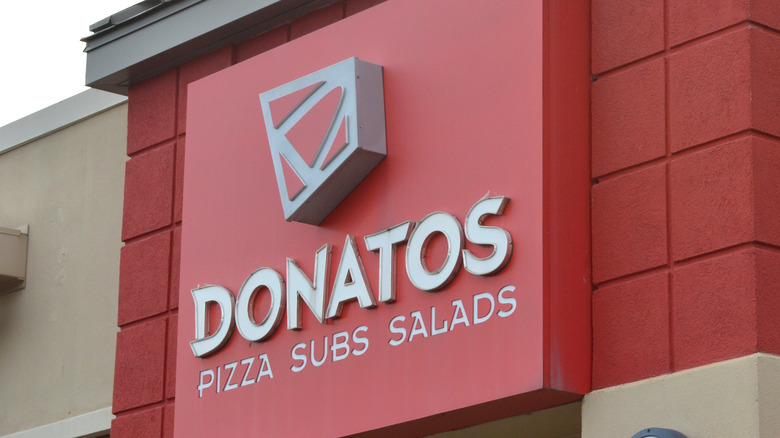 Eric Glenn/Shutterstock
Donatos has expanded far beyond its Ohio roots to more than 450 locations in 27 states. When Mashed wrote about major pizza chains, ranked worst to best, Donatos had a respectable ranking coming in at 10th place beating out some popular places like Pizza Hut, Domino's, and Papa John's.
Donatos has not yet hinted at what items the Freewards could be for, but the restaurant chain is definitely known for its thin crust, rectangle-sliced, pizza with an "edge-to-edge promise." Thicker and hand-tossed crust options are also available. Basically, pizza makers at this chain do not skimp on the toppings and want to ensure an even and plentiful distribution until the last bite. Famously, the large pepperoni pizza from Donatos has 100 slices of pepperoni. Donatos even has an equally loaded plant-based pepperoni pizza option. In addition to pizza, Donatos has other pizza shop mainstays like salads, subs, breadsticks, wings, and desserts. The exact free food options remain to be seen, but Donatos fans certainly have something to look forward to.