The Off-The-Beaten-Path New York City Restaurant That Buddha Lo Loves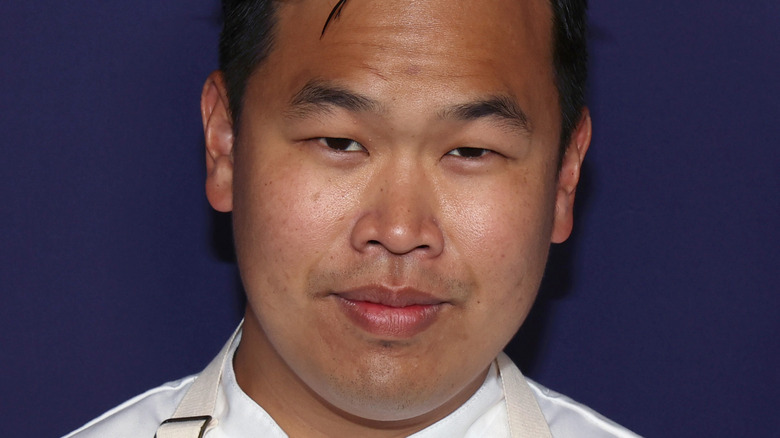 David Livingston/Getty Images
Buddha Lo's wife, Rebekah Pedler, knows how to find good food. (Maybe that's why she married him?) Pedler, who is the Pastry Sous Chef at Eleven Madison Park,  was part of the 2022 team that re-earned three Michelin stars with a plant-based menu. Just because Lo does the whole "Top Chef" thing (and does it good) doesn't mean that Pedler should be underestimated. For example, she seems to captain most of the pair's food-related adventures. In fact, when Mashed caught up with Lo shortly before the premiere of "Top Chef" Season 20, he credited his wife for his latest culinary lightbulb moment. 
"We actually just went to this other restaurant, which was tucked away in the middle of nowhere in Flushing [New York]. It's off the beaten path, but it's [a] Northern China sort of restaurant," he told us. "It's called Golden [Palace] Gourmet restaurant, and the food was phenomenal."  Pay attention — you might not find it in culinary where-tos and other write-ups in the mainstream press. Those who walk past the neighboring laundry mat into its Cherry Ave location and sit down on one of its wooden tables can feast on spicy beef shanks, dan dan noodles, deep-fried quail, braised pork feet, whole prawns in pepper sauce, and more.  The restaurant offers so many menu items that you might well miss the unusual vegetable dish that captivated Lo. 
Buddha Lo was inspired by a veggie dish at Golden Palace Gourmet
When Mashed talked with Buddha Lo, he recalled a dish at Golden Palace Gourmet that dazzled him. As he told it, he was particularly inspired by an eggplant and potato stir-fry dish. "Potatoes aren't usually a huge thing in Asian cookery, especially in stir-fries, so it was really interesting to see a stir-fried vegetable with crispy potatoes, and it was something a little chewy in it," he said.
Lo and Rebekah Pedler do not limit themselves to one kind of dining experience when they eat out. You don't need to have met the couple personally to know this. Lo and Pedler's Insta lives are proof enough. They've done diners and wine rooms. They've eaten Paul Bocuse in France; they've celebrated their anniversary at The Ritz in London. They've sat in restaurant corners waiting for Alain Ducasse. There's not much the two haven't sampled. So the fact that this Flushing restaurant stood out probably says a lot.