Guy Fieri's Meaty Secret Ingredient For His Signature Grilled Cheese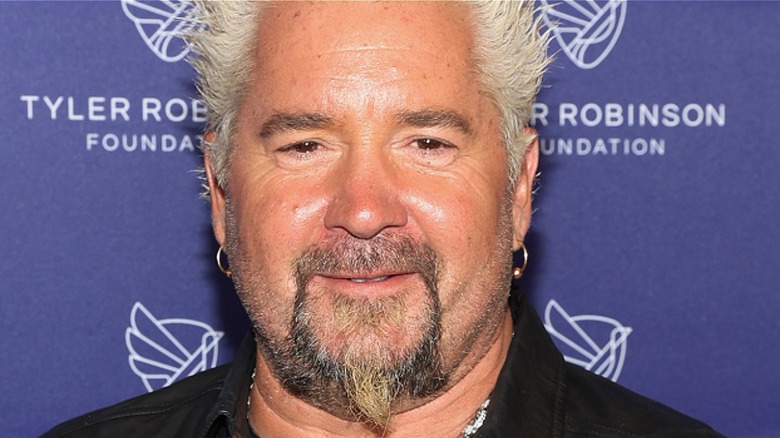 Jesse Grant/Getty
If you've ever perused the comments section of one of Guy Fieri's Instagram posts, you may have noticed several of his followers vying for a knuckle sandwich from the Food Network star. No, we're not talking about an actual fist to the face. In the Fieri fandom, a knuckle sandwich is the combination of the fist bump and sandwich emoji, which the Mayor of Flavortown will often send back to his fans when he logs on to the social media platform.
Being on the receiving end of one is undoubtedly quite an honor. But despite how unique the online interaction is, Fieri doesn't consider the virtual sandwich to be the most iconic sandwich in America. Rather, that title goes to the humble grilled cheese — and when you hear how the "Diner's, Drive-Ins, and Dives" host makes his version of the classic, you might understand why.
In honor of the sandwich's national holiday in 2021, the spiky-haired chef detailed the recipe for his signature grilled cheese with Insider, which features a meaty secret ingredient: Italian sausage. Fieri doesn't skimp on the cheese in his take on this handheld, either. Not only does he use two slices of provolone per sandwich, but he also loads it up with homemade macaroni and cheese. The ingredients all come together between two slices of King's Hawaiian bread and get toasted using a campfire sandwich maker. Then, finally, Fieri's "ultimate" grilled cheese sandwich is ready to enjoy.
Reviewers say Guy Fieri's grilled cheese is perfection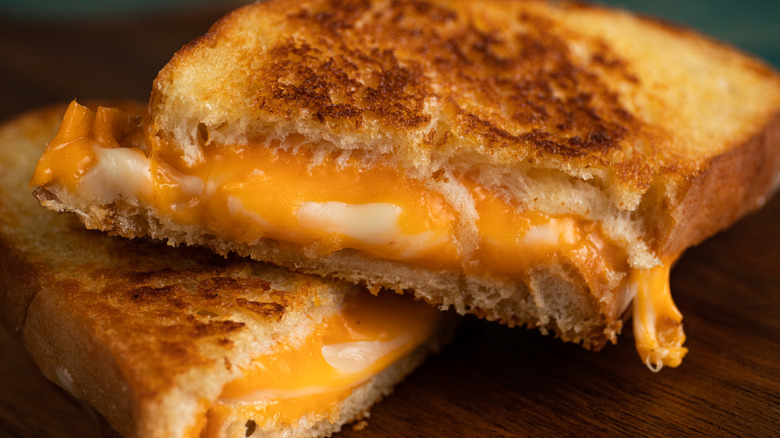 Jean Pierre Pinochet/Getty Images
From what we can tell, those who have tried Guy Fieri's "ultimate" grilled cheese sandwich have found it pretty worthy of a knuckle sandwich. "Fieri's sandwich is without a doubt one of the creamiest grilled cheese sandwiches I've ever had," gushed Insider's Anneta Konstantinides, who noted that a dash of hot sauce would make the sandwich "perfection." Mashable's Nicole Gallucci concurred, calling the sandwich "money" and awarding it a score of 10 out of 10.
Now, we would never de-throne Jeff Mauro from his position of "Sandwich King." However, we can't deny that Fieri knows how to transform your average sandwich into a decadent meal. In addition to his Italian sausage-packed grilled cheese, the chef revealed to Insider that he also makes spaghetti and meatball sandwiches by loading up the leftover pasta, mozzarella cheese, and tomato sauce on King's Hawaiian bread. He also beefs up the typical pastrami Reuben with a tater-tot hash and tops his chicken parm sammies with a handful of crispy pepperoni.
Though not everybody agrees with Fieri that a hot dog can be considered a sandwich, you must admit his apple pie hot dog recipe is one-of-a-kind.