Uniquely Nostalgic Candy On TikTok Is Having A Moment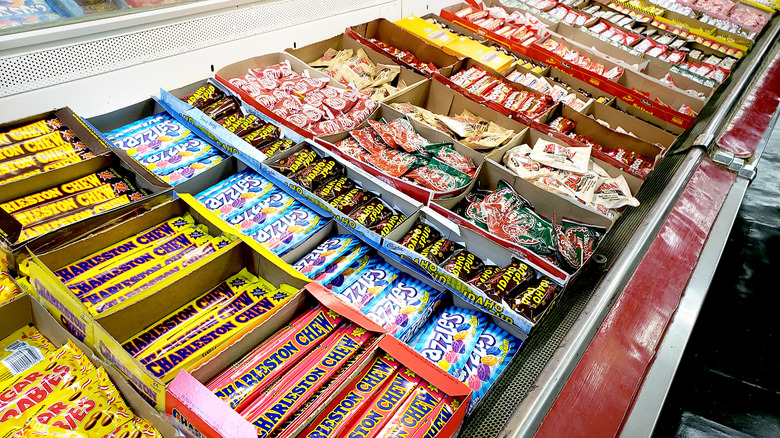 The Image Party/Shutterstock
The colorful, youthful nature of TikTok has always made it a natural home for candy-themed trends — whether that's candy-coated grapes reminiscent of Chinese street food or "candy salad," which is far less green than its name suggests. In the last year, the social media platform's sugar content has truly exploded, with videos tagged #candy now reaching over 48.3 billion views as of April 2023. Major creators include online candy stores, such as @candymeup and @thecandyclosetco, who have 13.7 million and 7.8 million likes across their candy-themed videos respectively. Their content usually involves taste tests, challenges, and packing customer orders on camera — tying into the booming genre of packing videos which have now, according to Wired, largely replaced unboxing videos as the dominant form of box-related ASMR content online.
Though the sweets you'll see when scrolling through Candytok hail from all generations, it seems that candy from the 80s, 90s, and earlier is having a major moment right now. There are Cow Tales and Charleston Chews, candy sticks and cigarettes, Ring Pops, and Gold Mine Bubblegum, just to name a few. Some videos involve people enjoying their old favorites and relishing in the nostalgia, while others feature Gen Z trying these candies for the first time. Candytok enthusiasts are also testing out new ways to enjoy these retro sweets — most commonly freeze-drying the candies to change their texture from gummy or chewy to crisp and crunchy.
Why is nostalgic candy so popular?
Why do we have such an appetite for these particular candies at the moment? Is there a reason that so many of us are craving the sweet treats from our youth? Well, it turns out there's an association between processing difficult circumstances and experiencing high levels of nostalgia. In an interview with the American Psychological Association, psychologist and professor Dr. Krystine Batcho explains that research has shown looking to the past can be helpful during uncertain times. "One of the most important aspects of being a healthy human being is having a sense that you are in control of things," she says. "When things start to change ... it's comforting to have a nostalgic feeling for the past that reminds us that although we don't know what the future is going to bring, what we do know is that we know who we have been and who we really are."
It makes sense then that our collective nostalgia has peaked during a period marked by the pandemic, rising living costs, and socioeconomic upheaval. This is further evidenced by TikTok's general fixation with content that fondly looks back in time — whether that's POV videos evoking memories of elementary school, or catapulting 80s songs back into the charts.
How food and memories are connected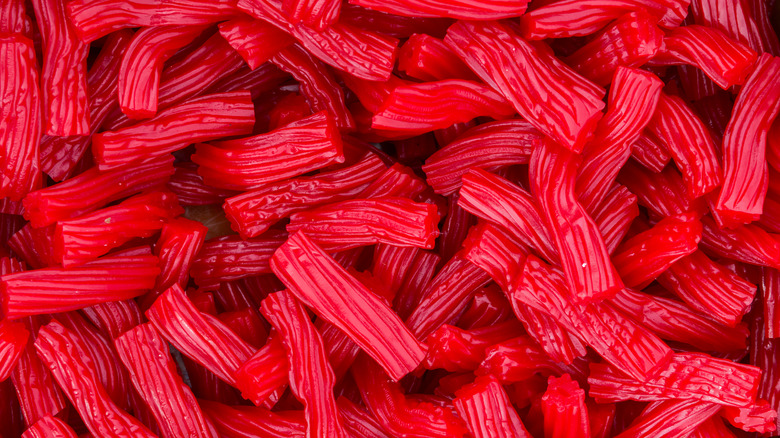 Olinda/Shutterstock
Food is an especially powerful form of connecting to one's past, because it involves smell — the most important sense involved in nostalgia. According to Health News, smelling things from our past triggers something called the Proust Phenomenon, which floods our brains with memories, both positive and negative. While we can't smell our fave retro candies through the screen, watching others interact with the vibrant colors and satisfying textures may entice us to get our hands on these sweets ourselves, where we'll surely smell and taste the familiar memories of our childhood. Mix this with the ASMR-heavy audio of many of Candytok's videos and it's easy to see why retro candy can be a major source of comfort for some people.
Science aside, there's also the sense of community that bonding over nostalgic candy encourages, which feels especially important when hard times are upon us. So while it might initially seem childish or over-the-top to scroll through endless videos of creators dumping gummies, sour strips, and Twizzlers into boxes, adding a little sweetness to our feeds doesn't seem to be doing any harm.