14 Restaurants That Always Make Their Own Fresh Bread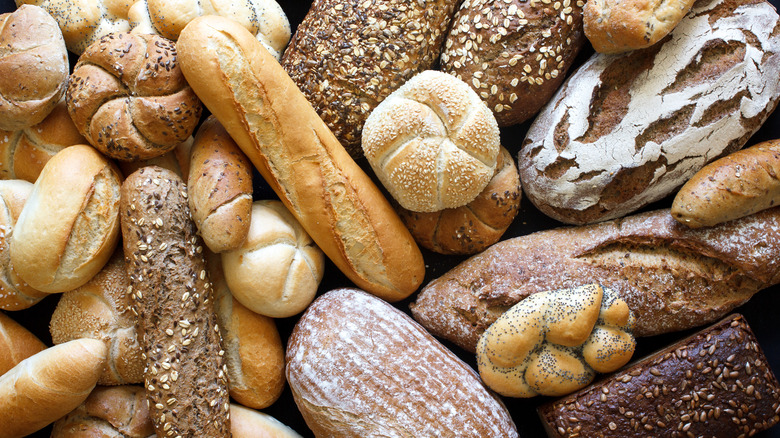 Etiennevoss/Getty Images
Freshly mowed grass, coffee brewing in the morning, and freshly baked bread — just a few of the greatest smells known to man. Freshly baked bread, in particular, is intensely powerful for human beings. It triggers feelings of well-being by prompting "odor-cued memories" that can bring just about any person back to their childhood. The smell of freshly-baked bread is so powerful supermarkets will even use it as a tool to get customers to shop more.
However, in today's fast-paced and highly-processed world, most people don't exactly expect to get fresh bread wherever they go — especially at chain restaurants that might have a reputation for highly-processed, frozen ingredients.
But as Bob Dylan said, "The times they are a-changin'." Several different restaurants and even fast food chains pride themselves on freshly baking their bread on a daily basis. These food establishments are leading the charge on a healthier, redefined perception of what food could (and should) be. So where exactly should you go to experience the powerful and delightful smell of freshly baked bread? Keep reading below to find out.
Boudin Bakery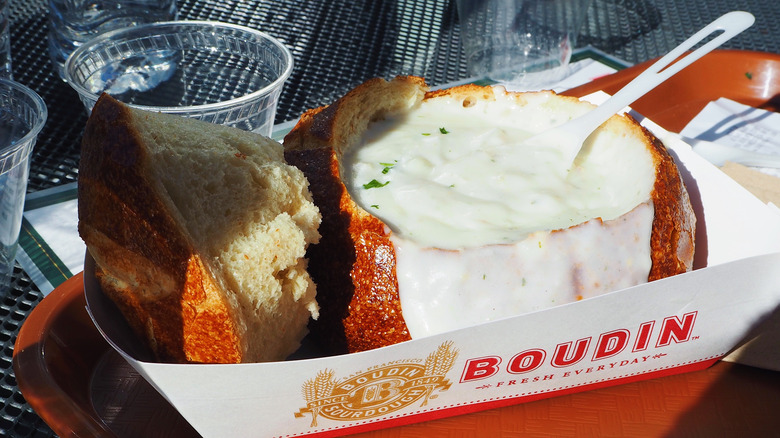 Jsita/Shutterstock
Boudin Bakery is a popular chain bakery in California that can trace its roots back to being San Francisco's oldest continuously operating business. Today, Boudin still uses the same mother dough that was cultivated from a gold miner's sourdough starter in 1849. Founder Isidore Boudin didn't need to strike gold to find a hidden treasure — he just needed water, salt, flour, and the legendary mother dough. Although sourdough was a popularly-made food among Gold Rush miners, Boudin came from a family of French bakers and used masterful techniques for his bread.
The rest is history. Ever since that fateful day in 1849, Boudin Bakery has continued to make its sourdough the same way Isidore did. Today, the restaurant still claims to be "The Original San Francisco Sourdough." It bakes its bread fresh every day in each of its chain locations.
If you go to Boudin Bakery, you can taste California history in every bite. You can find freshly baked bread all over its menu, from the soups in bread bowls to the sourdough pizzas, burgers, grilled cheeses, and breakfast sandwiches. Of course, you can simply opt to pick up one of its signature, freshly-baked sourdough loaves to take home as well.
Jersey Mike's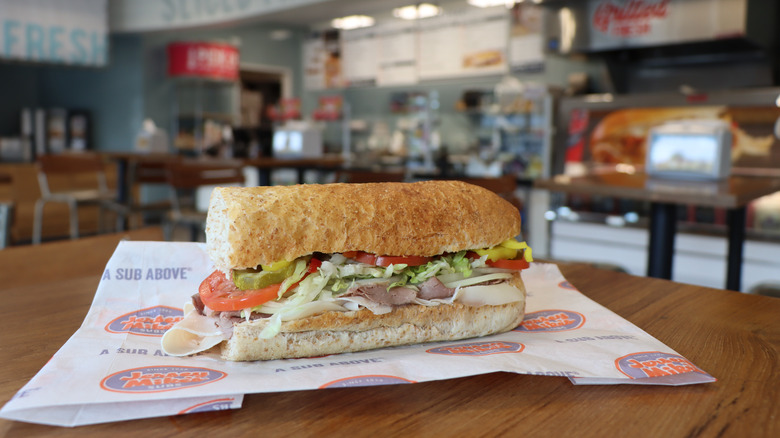 Deutschlandreform/Shutterstock
Back in 1956, a small shop called Mike's Subs opened up in the town of Point Pleasant, New Jersey. Although the area was popular for its sunny beaches and saltwater taffy, there was one other unique thing that had people coming back for more: Mike's submarine sandwich. The restaurant soon grew massively popular on that New Jersey boardwalk, but there was one other element customers loved — the experience of walking into the store. No matter who came in, Mike always remembered the names of his customers and their favorite orders.
Mike's dedication to his customers was apparent in every aspect of the store, including the food. Even after expanding off of the boardwalk and across the nation, Jersey Mike's made sure every ingredient was high-quality, from the meats to the cheeses to the vegetables to the spices. The best part? It bakes its bread fresh every single day. As of 2023, there are more than 2,400 Jersey Mike's locations in the United States. That means almost everyone can get a taste of an authentic submarine, just like the one on that legendary New Jersey boardwalk.
Fuddruckers
There are two things you probably won't forget about Fuddruckers: its name, and the fact that it claims to make the world's greatest hamburger. The nearly-obscene name, whether you believe it or not, was completely made up by founder Phil Romano based on a make-believe airline called Fudpucker World Airways that was supposed to be "The World's Only Steam-Powered Airline."
If a restaurant claims to have the world's greatest hamburger, you better believe it bakes its own bread in-house. Fuddruckers doesn't make that claim lightly. It makes it its mission to craft every single part of its burgers with the best quality ingredients, from the 100% USDA All-American premium-cut beef to the crisp lettuce and juicy tomatoes.
But as Fuddruckers says, "You don't put the World's Greatest Hamburger on the World's second greatest bun." When you walk into a Fuddruckers, you'll probably notice this burger chain smells like a bakery — probably because it's baking its buns fresh all day long. It prides its sesame-topped buns on having that fresh-from-the-oven taste. There aren't many fast food chains that have bread that melts in your mouth while having a crisp crust.
Don't feel bad if you're drooling. We are, too.
Subway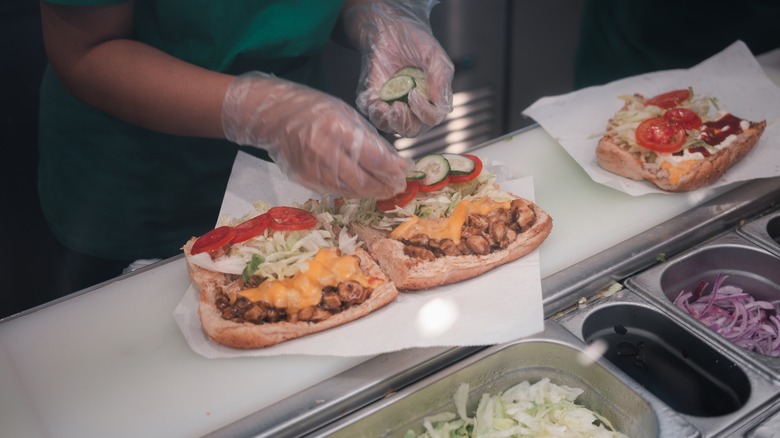 Dontree_M/Shutterstock
If we're talking about signature bread smells, Subway has to be near the top of the list. Just about everyone recognizes that one-of-a-kind, herby, bready scent that permeates the popular sandwich chain. According to Vice, the smell comes from a combination of baked ingredients, from the bread to the cheeses to the cookies.
But even with that signature smell and the fact that Subway's slogan is literally "Eat Fresh," some people still don't believe Subway makes its bread in-house. Although the dough is pre-delivered to Subway locations, the happy truth is Subway has been baking its bread in-house for more than three decades.
With over 37,000 locations in more than 100 countries, it's safe to say Subway is doing something right. Although people don't often equate freshness with fast food chains this big, Subway's food actually is pretty fresh. And if you don't believe that, at least we can all agree Subway smells really good.
Texas Roadhouse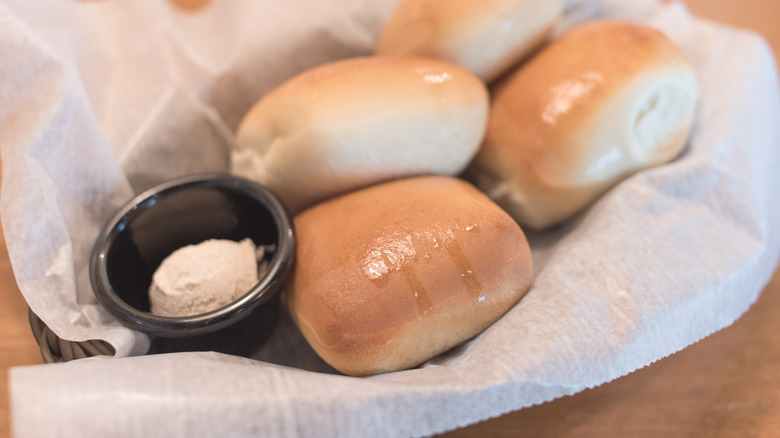 Colin Hui/Shutterstock
Did you know Texas Roadhouse didn't actually start in Texas? Although it can be found all over the United States now, the first one was opened in Indiana by Kent Taylor after he sketched his idea for a restaurant on the back of a cocktail napkin. Since then, the steakhouse has risen to prominence all over the country and even has 30 international locations.
Like most restaurants that become insanely successful, it's all in the details for Texas Roadhouse. The restaurant follows a mission of providing the highest-quality food for a great price. It makes sure even the smallest ingredients reach its standards, even the bacon bits, croutons, and dressings.
Although it has plenty of popular menu items, like the Cactus Blossom (a golden-fried onion), fried pickles, hand-cut steaks, and fall-off-the-bone ribs, the most unlikely star of its menu is the fresh-baked bread and honey cinnamon butter. According to the company's website, the rolls are baked fresh every five minutes, which means you get fresh ones no matter when you visit the restaurant.
The freshly baked rolls are popular, too. In a Reddit thread that asks "What restaurant has the best free bread," just about every person votes for Texas Roadhouse as number one. Some of them claim it's the cinnamon butter that makes them so good, but one commenter says "[The] butter is great but I'll eat those rolls by themselves. So f****** good!" It seems like Texas Roadhouse's dedication to "Legendary Food, Legendary Service" has paid off.
Panera Bread
One of the meteoric fast-casual restaurants that hit the scene in the early 2000s was Panera Bread. Its unique style of bringing bakery-café items to customers quickly and at a reasonable price took the country by storm. It offers sandwiches, soups, pasta, salads, and of course, freshly-baked items from its bakery.
Not many people know the store actually started as a cookie shop called Cookie Jar, though. After partners Ron Shaich and Louis Cane joined forces and expanded their bakery repertoire by purchasing the St. Louis Bread Company in 1993, they changed the name to Panera, which literally translates to "bread basket" in Latin.
Ever since the beginning, one of Panera's key values was baking fresh, artisan bread every single day. Workers arrive before the crack of dawn to make sure the fresh bread is ready for the breakfast rush. The company even goes to great lengths to make sure the restaurant isn't called a restaurant, but a bakery café (so everyone remembers it's working its butt off making bread daily). The work has paid off, as Panera is one of the first healthy options many Americans think of when they crave a healthy and heartwarming meal — but want it just as quickly as other fast food options.
Hopdoddy Burger Bar
Hopdoddy is a relatively new burger joint that hit the restaurant scene in 2010 in the up-and-coming city of Austin, Texas. The fast-casual restaurant took advantage of its momentum and opened 18 locations throughout four different states. It's created a loyal fanbase of Hopdoddy devotees along the way — and for good reason. The restaurant has garnered awards like "The Best Burger Joint in America" by Business Insider.
So what has caused this young burger shack to gain so much popularity? According to its website, it's "The Hopdoddy Difference." All of its food is prepared in-house with freshly sourced ingredients so its customers only get the best. It uses regenerative grass-fed, wagyu and heritage beef, wild-caught tuna, all-natural chicken, and premium-quality bacon. But one of the keys to Hopdoddy's fantastic burger is the freshly baked buns it serves alongside them. The company hand-bakes three different types of buns from scratch at every one of its restaurants.
Although the Austin-based burger joint faced challenges bringing its fresh-baked buns program to all of its new locations, it now bakes around 1,100 buns fresh in-store every single day. Seems like more burger joints could learn a thing or two from "The Hopdoddy Difference."
Corner Bakery
If the name of a restaurant has the word "bakery" in it, it should probably be expected to bake its bread fresh daily. Thankfully, Corner Bakery doesn't let us down there (incidentally, the restaurant was also founded on a corner). This well-known bakery was founded in downtown Chicago and grew in popularity because of its freshly baked sweets and artisan bread. That success led to sandwiches, which led to soups, which led to salads, and even led to scramblers.
Corner Bakery still bakes great bread on its premises at each of its 192 locations in the country, but the process has changed, according to Ric Scicchitano, senior vice president of food and beverage at Corner Bakery, who also happened to be the original baker at the Corner Bakery in Chicago. He says baking high-quality bread was easier to do at the first location, but became more of a challenge as it expanded. Instead, it par-bakes the bread at a different site, then finishes baking it on location — a technique popular with several similar chains.
Despite what you may think, the franchise does still bake its bread on its premises — and it still comes out great. The franchise prides itself on fantastic sandwiches, paninis, soups, and bakery sweets.
Red Lobster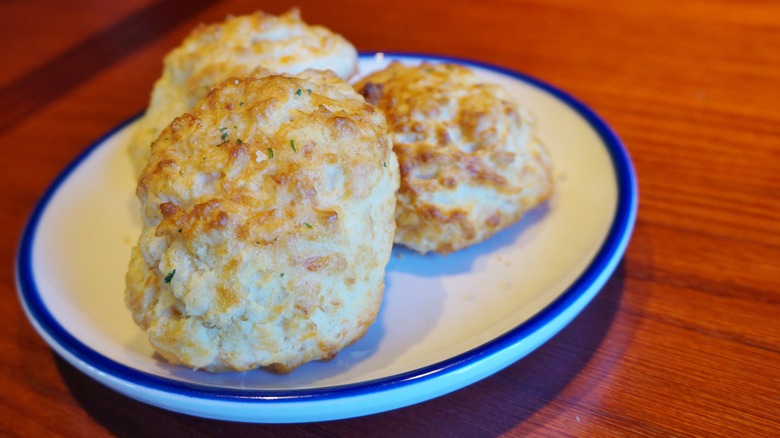 EQRoy/Shutterstock
When the words "Red Lobster" and "bread" are mentioned in the same sentence, only one thing comes to mind: Cheddar Bay Biscuits. Although the seafood chain isn't shy about admitting most of its fish does come frozen, most people swear by its biscuits. Famous comedian Tina Fey was even quoted in her book "Bossypants" saying, "There is no one of-woman-born who does not like Red Lobster cheddar biscuits. Anyone who claims otherwise is a liar and a Socialist."
Although the biscuit's Socialist-detecting skills may be in question, there's no doubt they're popular. But the question is: Are the biscuits made fresh in-house? And the answer is: Yes. According to an employee who explains the restaurant's process in a Reddit AMA, the restaurant has a dedicated worker whose sole duty is to create the dough mixture, roll them into balls, bake them, and brush them with garlic butter. The restaurant will sometimes bake them as often as every 15 minutes on a busy weekend.
Not many restaurant chains can say their biscuits are so popular that they released a frozen version for their loyal following to bake right at home. Now that's bread-y success.
Cracker Barrel
According to Cracker Barrel's website, the restaurant's "history has always been rooted in the warm hospitality and homestyle cooking that makes every location special. See how we made Cracker Barrel your home away from home." That's a pretty good way to sum up the restaurant chain — comforting home cooking.
The restaurant was first opened in 1969 on the side of Highway 109, and everything, including the cornbread, was made from scratch. Today, even after expanding to more than 660 stores, the franchise still devotes the same amount of care to everything on its menu to give its customers that homemade taste. For example, the restaurant slow-roasts its beef for 18 hours, dips and breads its fried chicken by hand, and makes its mashed potatoes and gravy from scratch.
Most importantly (for this article), it hand rolls its buttermilk biscuits from scratch every single day. The restaurant uses simple ingredients but ensures they are of the highest quality. The restaurant even created custom-made rolling pins and biscuit cutters to produce the perfect thickness, texture, and flakiness for every single biscuit. After, they're topped with a savory gravy, real butter, or fresh jam. If that isn't homey, we don't know what is.
Schlotzsky's
The history of another famous Austin-based restaurant chain starts with an incredibly big sandwich. Yes, you read that right. Big. In 1971, the founders of Schlotzsky's only had one thing on the menu — a massive, 8-inch muffuletta that crammed in three types of meat, cheeses, tomato, olives, lettuce, and dressing — all on freshly-baked sourdough. Best part? It only cost $2.95. Safe to say the sandwich became incredibly popular in the Austin area. To this day, the restaurant chain's slogan is still "It's a mouthful."
But that's not the reason why the restaurant is still so successful. It makes sure every element that goes into a bite of its sandwich is perfectly made — including the from-scratch baked bread. The restaurant is the first to admit your order might take a bit longer than expected when you order your favorite sandwich, pizza, or calzone because all of its bread was made that very morning (maybe that very moment).
If there are two things that will bring you success in the American food market, they are being big and being fresh. Schlotzky's nails both.
Logan's Roadhouse
Next on our list is yet another Southern-style steakhouse and home-cooking-style restaurant (starting to see a pattern?). The restaurant chain prides itself on its laidback "come as you are" attitude and exceptional customer service. According to the website, "There are no strangers at a Roadhouse, only friends."
But its rise to popularity isn't just because of its famous Southern hospitality. In 1991, a team member at a Logan's Roadhouse named Brenda created a recipe that forever changed the game for the chain: its famous yeast rolls. These rolls became a staple of the menu for the restaurant and were soon introduced as made-from-scratch buns for its burgers using the same recipe. You can find the same dedication to fantastic food on the rest of its menu as well, which includes steaks, burgers, sandwiches, pasta, barbecue, and desserts, as well.
But the yeast rolls are the true star of the show. If you take a quick peek at Breadit (a subreddit dedicated to bread), it's obvious Logan's Roadhouse is incredibly popular. Commenters leave several stories of coercing waitresses into giving them boxes of rolls, trying out copycat recipes to get that perfect taste, and even trying to get a job at the restaurant just to learn how to make the rolls. Now that's dedication.
Jimmy John's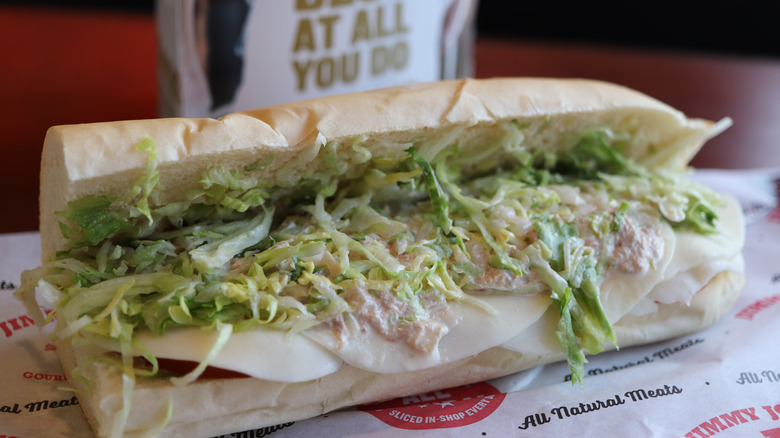 Deutschlandreform/Shutterstock
We've mentioned several sandwich shops in this article today, but we haven't yet reached "The Sandwich of Sandwiches." Enter Jimmy John's. The story starts with a man named Jimmy who had to choose between joining the military or opening his own business. He chose to make a sandwich shop that had four sandwiches on its menu. It featured hand-sliced meats and bread that was always freshly baked — and the rest is history.
Today, there are over 2,600 Jimmy John's in the United States, and those four original sandwiches, The Pepe, Totally Tuna, Turkey Tom, and Vito are still customer favorites all over the country.
To this day, the sandwich franchise always uses fresh vegetables, hand-sliced meats and cheeses, and most importantly, fresh-baked bread. In its own words, "We bake bread all day, every day, because stale bread isn't bread, it's ... croutons" (we can only wonder who it is taking a shot at). The company claims its French bread is never more than four hours old at any point in the day. This dedication to quality crowns Jimmy John's "The Sandwich of Sandwiches."
Cousins Subs
Cousins Subs was created by two cousins in 1972 (go figure). Bill Specht and Jim Sheppard opened the restaurant in Milwaukee to showcase their favorite submarine sandwich. Since the beginning, the owners believed in one thing — there is no substitute for quality. They left a lasting legacy that can be broken down into four simple words: "Better Bread, Better Subs."
Although the franchise has grown dramatically since its first shop in Milwaukee, including a large-scale rebranding initiative in recent years, the restaurant prides itself on still providing that same local, quality flavor the founders originally intended back in 1972. Part of how it does this is by working with more than 10 Wisconsin-based vendors to bring in locally-sourced ingredients to all of its franchises, including things like Wisconsin Cheese Curds and Sprecher Root Beer.
No matter how much the brand modernizes, it always stays true to its commitment to fresh bread. The restaurant bakes its bread every single day. According to Cousins Subs, its better bread is a signature offering of the restaurant and is one of the main reasons why its customers keep coming back for more. It's always admirable to see humble restaurants reach extraordinary heights, yet still keep their dedication to quality.