Is Avocado Tartare Just Extra Chunky Guacamole?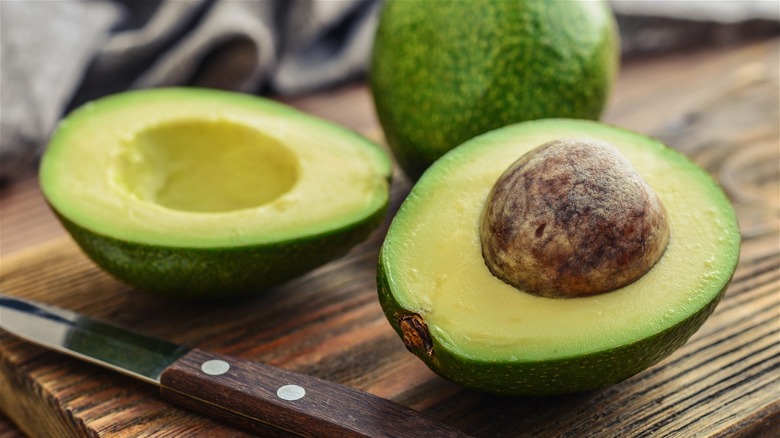 Tashka2000/Getty
So you're the vegan friend. We feel you. You get excited when your whole party agrees to share an appetizer, but sad when they all decide on the steak tartare. What about tuna tartare, asks a friend, but they just don't get it. You say thank you and start your quest into the vegan section of the menu. Luckily, there's one appetizer that seems as fresh as a tartare with no meat in it — avocado tartare.
This appetizer looks just like a tartare with its small, cake-like shape, but it's made with diced avocado instead of meat or seafood. Some people say it looks just like chunky guacamole, but guacamole includes different ingredients: It's traditionally made with mashed avocado, red onion, tomato, cilantro, and lemon. Plus, guacamole is often eaten with chips.
Avocado tartare has stronger flavors. A classic recipe includes capers, parsley, Worcestershire sauce, and olive oil. Instead of decorating the tartare with the usual egg yolk, avocado tartare is topped with Dijon mustard. This is all mixed with creamy, bulky, and rich avocado that's not in its ripest form. This vegan variant is served with your bread of preference, either sliced baguette or toast. Of course, a vegan tartare could also feature other flavors, such as the Asian-inspired dressing in Gordon Ramsay's tuna tartare recipe, with plenty of ginger and soy sauce. Cooking vegan recipes invites more creativity into the kitchen. In fact, sometimes vegan tartare doesn't include avocado at all.
Vegan tartare is more versatile than you might think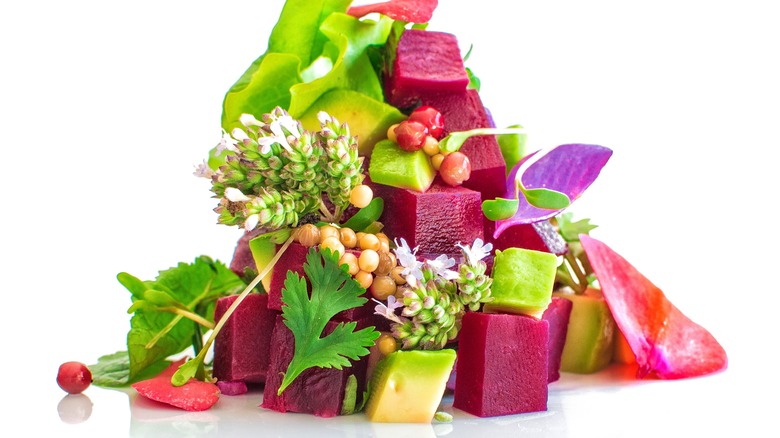 Can Inellioglu/Shutterstock
A tartare is always intended to be a fresh, low-carb, savory option to start a meal — and vegans are totally allowed to enjoy it, too. The key here is to play with the textures of several veggies and form a tartare's signature circular shape. For example, try using beetroot, tomatoes, peas, and carrots that have been marinated and shaved thin to evoke the flavors of smoked salmon. In a proper vegan tartare, each vegetable has its own layer and is seasoned with unique ingredients. You also have the liberty to garnish your vegan tartare with numerous toppings like crumbled vegan cheese or nuts, but a creamy dressing or a scoop of yogurt would also create a fun mix of textures when eaten with crunchy, toasted bread. 
Feel free to choose your favorite vegetables for this recipe, prepared however you personally enjoy. If you like the textures and flavors of roasted vegetables, try a version using roasted eggplant, capers, and olives. Add some fresh herbs to it to play with flavors, from thyme to mint. Fruits are also welcome to join the party: Consider adding juicy watermelon, melon, mango, or papaya to a tartare. Vegan tartare has endless recipes, it all depends on you.