What, Exactly, Happened To Coca-Cola's Coffee-Flavored Soda?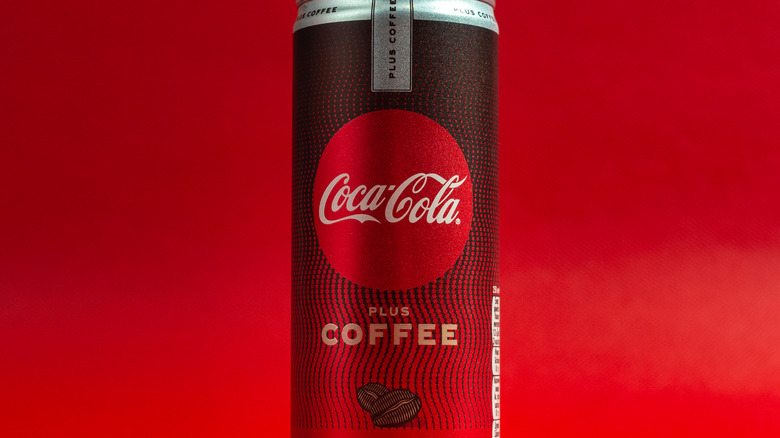 ElenaVah/Shutterstock
You may have seen it in the beverage aisle and wondered if your eyes were deceiving you, but yes, Coca-Cola with Coffee was real. "Was" is the operative word, as the beverage was discontinued in the U.S. in November (via Beverage News). It was introduced in 2021 in a trio of flavors: Dark Blend, Vanilla, and Caramel, plus two zero-sugar varieties, and a Mocha flavor. Made with Brazilian coffee extract, the beverage boasted more caffeine than a bottle of Coke but less than a cup of coffee, a good option for those who wanted a coffee-flavored energy boost without all the jitters.
The U.S. was well behind the rest of the world when it came to acquiring this taste. It was the 50th market to launch the product after it had already seen success since its 2018 debut in Japan. Extensive research indicated that the product would be a hit, with 80% of those who tried Coca-Cola with Coffee saying they would buy it, but actual sales lagged. As sales numbers continued to decline in early 2022, Coca-Cola with Coffee met the same fate as other beverages left behind, as Coca-Cola has continued to tighten its portfolio.
While Coca-Cola with Coffee can still be found in U.S. stores until stocks are depleted, it seems that consumers in Canada and beyond still haven't had their fill of this coffee-flavored beverage. But if you want a taste — without crossing any borders — here's how to make the beverage at home.
Make your own Coca-Cola with Coffee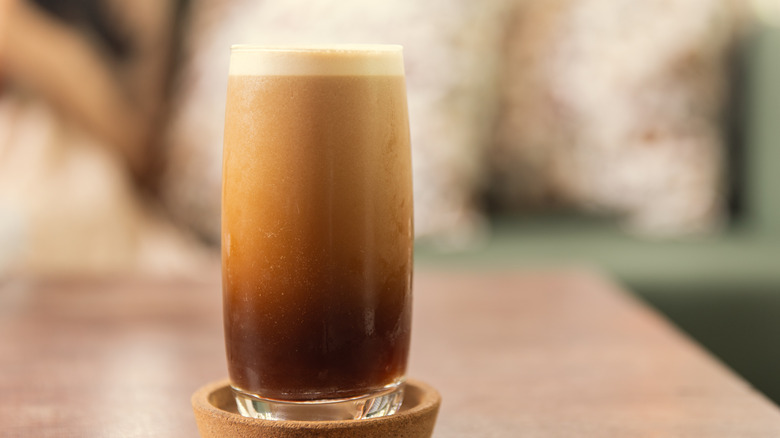 Quality Stock Arts/Shutterstock
It's not just as simple as mixing instant coffee and coke together. Making your own version of coffee and Coca-Cola requires an espresso machine and a steam wand. TikTok creator Ethan Rode makes his "Coca-Cola Aerocano" by steaming together equal parts espresso, water, and ice using a steam wand — similar to making nitro cold brew. This creates the creamy, frothy, cold base for your Coca-Cola coffee drink. After pouring your Aerocano mixture into a separate glass, you fill it up the rest of the way with Vanilla Coke.
Commenters thought that the combination was a match made in heaven, despite what the discontinued beverage numbers might tell you. One wrote: "Coca-Cola coffee is bomb glad people are realizing this." Rode calls his Coca-Cola Aerocano "the best take on coffee and Coca-Cola that has ever been done." Though others were quick to point out Coca-Cola's complicated and continuing relationship with Joe.
Some may remember the fate met by Coca-Cola Blak, a coffee-and-coke fusion introduced in 2006 that was pulled from markets after only 17 months. Many faulted the strong aftertaste, price, and branding behind the failure of the product, though execs insisted that it just wasn't the time for such a bold fusion of coffee and cola. Given this history, perhaps there's another coffee and Coke beverage line in our not-so-distant future. Maybe, next time, consumers will be ready.