Dunkin's Fan-Favorite Butter Pecan Swirl Is Not Going Anywhere (Finally)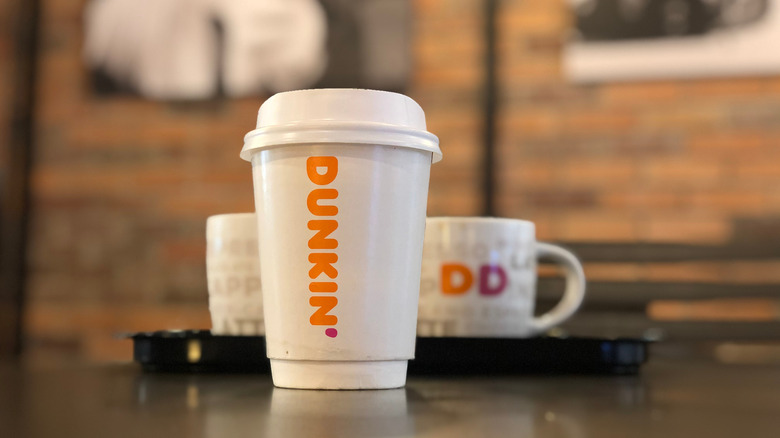 pancha.me/Shutterstock
Every year for a decade, Dunkin's Butter Pecan Swirl flavor — which the coffee company describes as having "notes of butter roasted pecan and sweet cream" — would appear for a short period of time before disappearing just as quickly. This April, the flavor returned as expected; but, this time, it unpacked its bags for good. 
According to Dunkin's Chief Marketing Officer, Jill McVicar Nelson, the famed flavor's newfound permanency is the outcome of numerous fan requests as well as its 10-year anniversary. Butter Pecan Swirl is one of Dunkin's most popular add-ons, coming in second only to pumpkin spice. 
This was reiterated when a presumed employee leaked the news to Reddit in the form of a poster before it was announced. "This is the best decision they've made in so long!" one commenter said of the addition. "I have been praying for butter pecan to be a [permanent] flavor for YEARS," wrote another. As the word made it through cyberspace, customers became even more hyped, leading Dunkin' to throw a unique contest in the flavor's honor.
Dunkin' to award 5 fans with free Butter Pecan Swirl
To further celebrate the return of Butter Pecan Swirl, Dunkin' held a Twitter competition to award fans with free coffee. "[W]rite us a twitter essay using #ButterPeContest on why butter pecan coming back is the best thing to ever happen, and 5 of you could win free butter pecan coffee for a year," the post read. From there, customers only had two days to think up their ode to butter pecan — though the short timeline didn't seem to hold back any diehard fans.
"I live by the Butter Pecan coffee and die by the Butter Pecan coffee," one Tweet partially read. Another referred to themselves and butter pecan as "a match made in heaven." "From the second I take my first flavorful sip of butter pecan, I am instantly reminded of the countless summer days that I've enjoyed with the crisp taste of Dunkin' in my cup," it continued.
As of now, we're unsure who the contest winners were. But if you're a fan of Butter Pecan Swirl, you might consider yourself a winner already.