Grilled Greek Chicken Recipe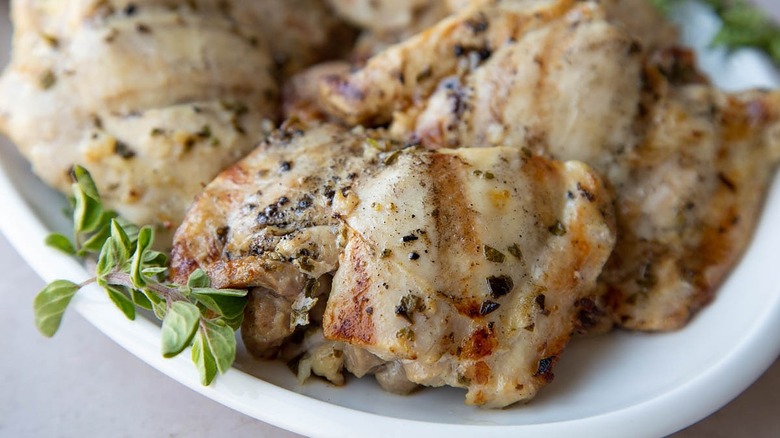 Kate Shungu/Mashed
We all love a nice simple recipe for busy summer days, and as recipe developer Kate Shungu asserts, "It just takes a few simple ingredients to add a lot of flavor to chicken thighs." In fact, apart from the chicken itself, you'll only need 5 ingredients for the Greek-inspired marinade. As Shungu says, "I love the combination of lemon and oregano for this dish," although she does feel that "fresh oregano adds a more peppery flavor to the chicken than dried oregano does."
If it's grilling weather where you live, Shungu calls this chicken "an easy weeknight meal that you can get started in the morning with the marinade and finish right before dinner [with] the grilling." If it's cold or raining or you just don't have access to outdoor cooking facilities where you live, though, she says the chicken can also be baked in the oven for 30 minutes at 400 F.
Gather the ingredients for the grilled Greek chicken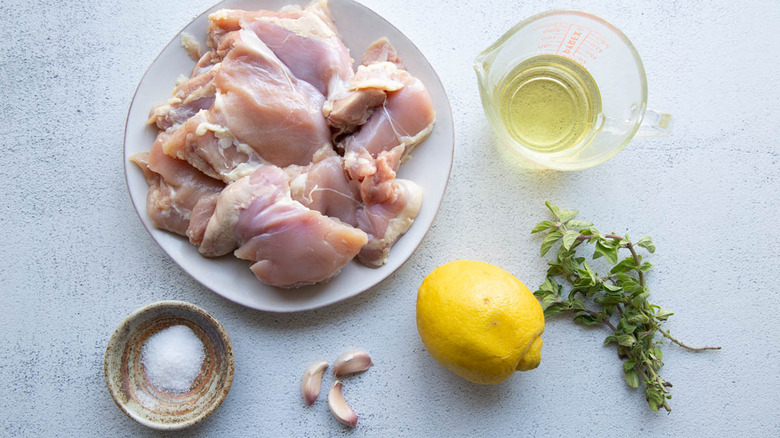 Kate Shungu/Mashed
Shungu makes this dish with chicken thighs but says you can use breasts if you prefer light meat. Besides the chicken, you will also need olive oil, fresh lemon juice, garlic, oregano, and salt for the marinade. That's it! Nice and easy, just the way we like it.
Marinate the chicken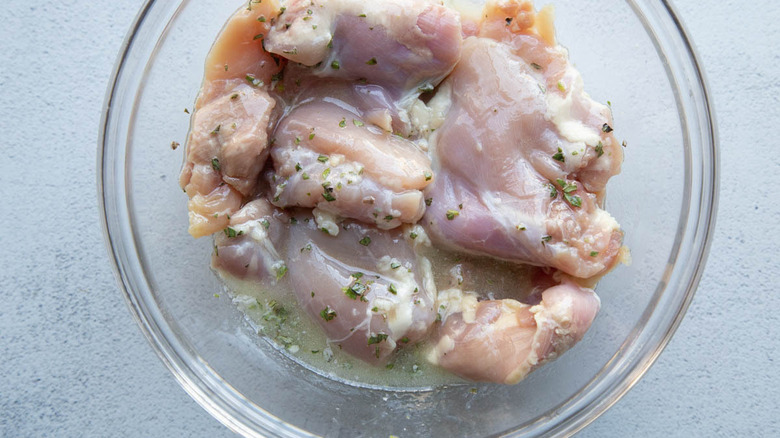 Kate Shungu/Mashed
Mix together the olive oil, lemon juice, minced garlic, oregano, and salt, then use this to coat the chicken. Cover the bowl or whatever other container you're using, then put it in the refrigerator for at least 1 hour. You can actually marinate the chicken for up to 6 hours if that works better for you.
Prepare the grill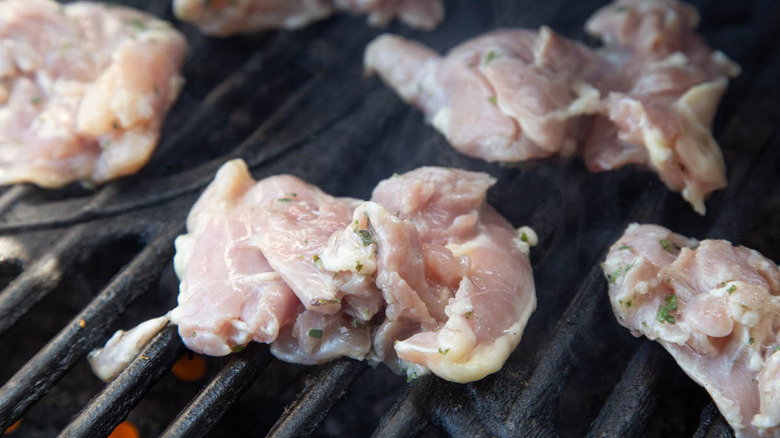 Kate Shungu/Mashed
Before you get to grilling, make sure the grill itself is clean. Should you be using the kind of grill that lets you set a temperature, preheat it to medium-high. If you're going old-school with a charcoal grill without all the bells and whistles, you'll need to let the briquettes heat up for 20 to 30 minutes to reach the optimum grilling temperature. Once the grill is hot enough, arrange the chicken pieces over the grates.
Cook the chicken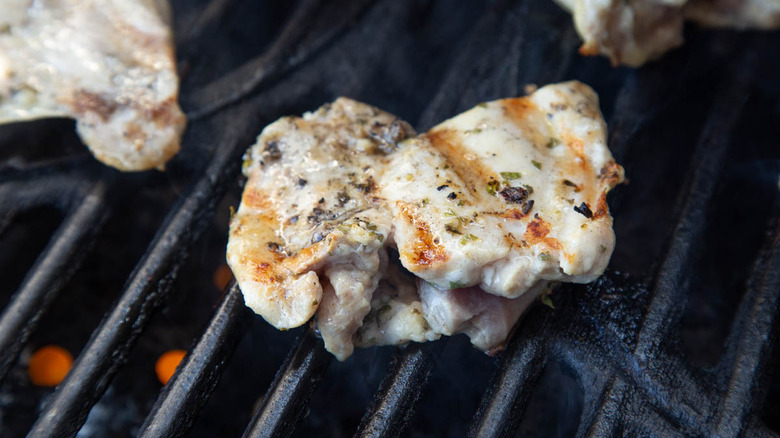 Kate Shungu/Mashed
Grill the chicken for 4 to 5 minutes, then turn each piece over. Cook it for another 4 to 5 minutes or until a meat thermometer inserted into the thickest part reads 165 F. If you've opted for chicken breasts instead of thighs, cook them for an additional 2 to 3 minutes per side.
The chicken can, of course, be eaten right away, or it can be refrigerated and then eaten cold. Shungu says the chicken is "great straight from the fridge, on top of a salad" and also suggests using it to make a Mediterranean-inspired rice bowl with tomatoes, olives, hummus, and/or other Greek or Middle Eastern-style ingredients. (Fun fact about hummus: It's actually not as popular in Greece as you might think, but you need not let that stop you from combining it with this Greek-style chicken.) If a rice bowl doesn't appeal, here are a few more ideas about what to do with leftover chicken.
Grilled Greek Chicken Recipe
This grilled Greek chicken comes together in a breeze - ideal for those busy weeknights.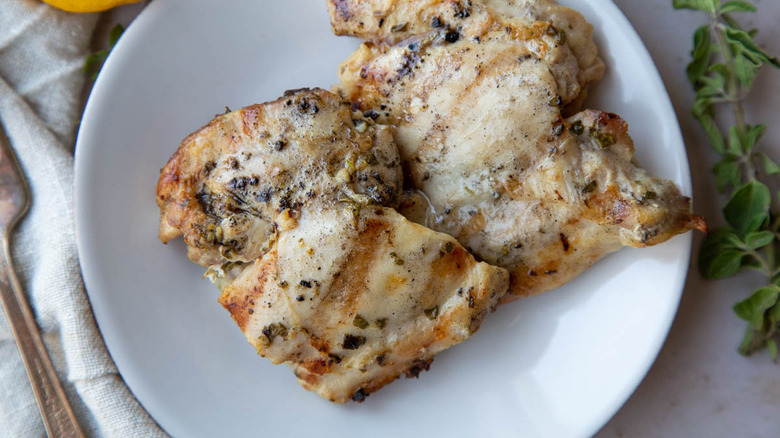 Ingredients
‌¼ cup olive oil
¼ cup fresh lemon juice
3 cloves garlic, minced
1 tablespoon finely-chopped fresh oregano or 1 ½ teaspoons dried oregano
1 teaspoon salt
1 ½ pounds boneless, skinless chicken thighs
‌
Directions
Combine the olive oil, lemon juice, garlic, oregano, and salt.
Coat the chicken with the marinade, then cover it and refrigerate it for 1-6 hours.
‌Preheat the grill to medium-high heat.
Grill the chicken for 4-5 minutes on one side. Turn the chicken over and cook it for another 4-5 minutes, or until it reaches an internal temperature of 165 F.
Serve the chicken right away, or store it in the fridge to serve cold with a salad.
Nutrition
| | |
| --- | --- |
| Calories per Serving | 334 |
| Total Fat | 20.6 g |
| Saturated Fat | 3.8 g |
| Trans Fat | 0.0 g |
| Cholesterol | 159.9 mg |
| | |
| --- | --- |
| Total Carbohydrates | 2.3 g |
| Dietary Fiber | 0.4 g |
| Total Sugars | 0.4 g |
| Sodium | 469.4 mg |
| Protein | 33.8 g |