Easy Leftover Chicken Recipes You Have To Try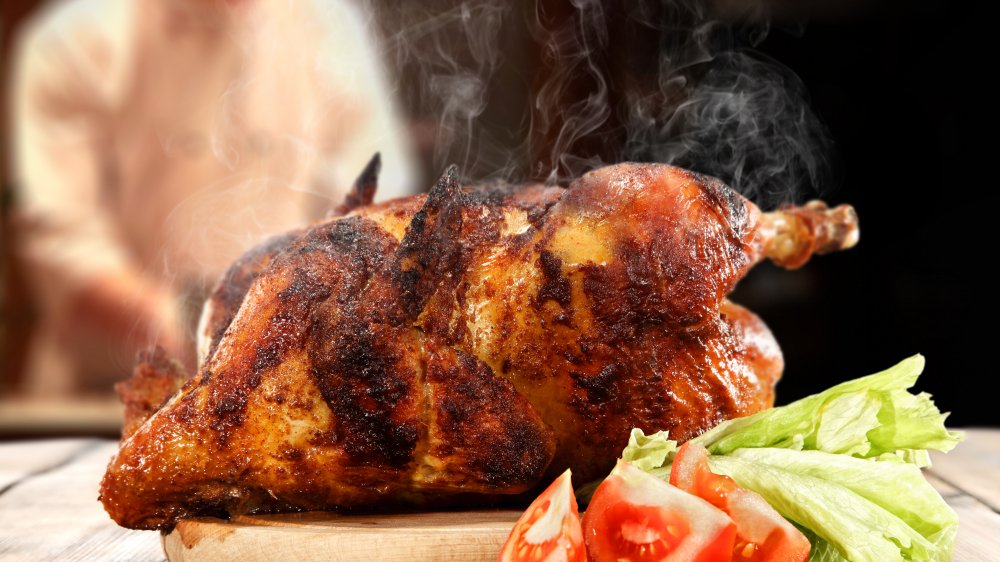 Shutterstock
It's always been said: Beef, it's what's for dinner! But in 2014, the Huffington Post reported that for the first time in more than a century, chicken had become more popular than beef. Americans were getting away from red meat and opting for healthier sources of protein, and that was good news for us, bad news for chickens.
Fortunately, chicken is an extremely versatile meat, and it's great whether you're roasting a whole one, or slicing up some chicken breasts for sandwiches. But there's always some leftovers, right? Especially when you're making a whole roast. And sure, you can pick at it when you wander into the kitchen in the middle of the night, but you should also know that there's a ton of next-day meals you can make with those chicken leftovers. Not only are they so good you won't be thinking of them as "leftovers," but there are a lot of ideas that are super easy! Let's talk about how you can get out of that rut, come up with something different your family will love, and make sure there's absolutely no waste.
Chicken pot pie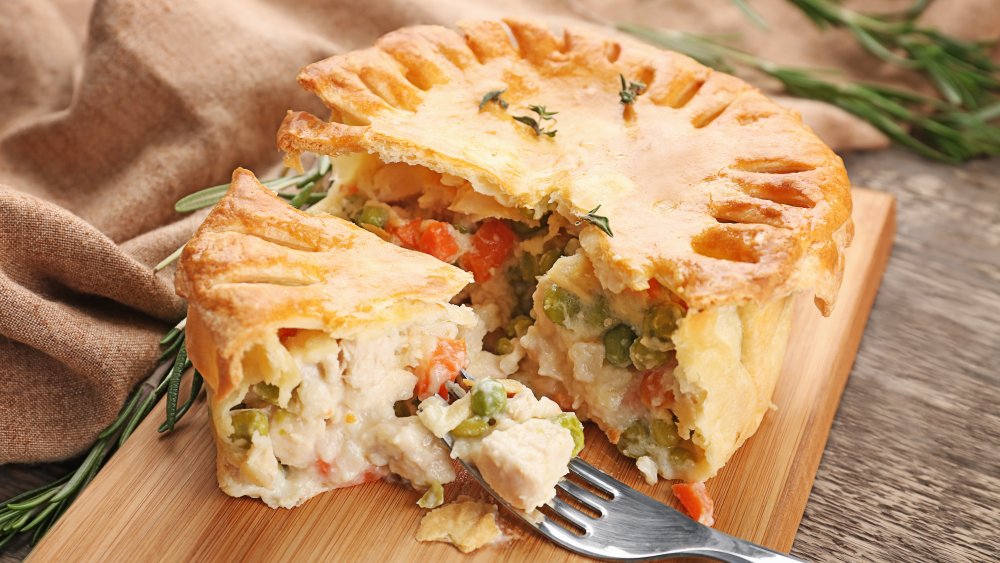 Shutterstock
Next time you pick up some chicken for dinner, be sure to pick up some pre-made pie crusts for the following day. Chicken pot pie is a super easy dish you can make with white or dark meat that's leftover, and as a bonus, you can use up any leftover vegetables, too. Carrots, corn, peas, beans... throw them in!
There are plenty of ways you can make your own scratch-made chicken pot pie filling. But if you want easy — like, "Had to work late, kids have sports' practice, and homework," easy — you can do that, too. Use pre-made pie crusts for the top and bottom (or replace the top with quick Bisquick-style biscuits), and for the filling, just use a can of cream of chicken or cream of mushroom soup. Mix in your cubed chicken, veggies, make your pie, and bake until it's golden brown. Not only is the prep quick, but you'll have minimal dishes to do at the end of the meal. That all makes this hot-and-hearty meal a bit of comfort food that you might just find on your regular meal rotation.
Chicken & egg-fried rice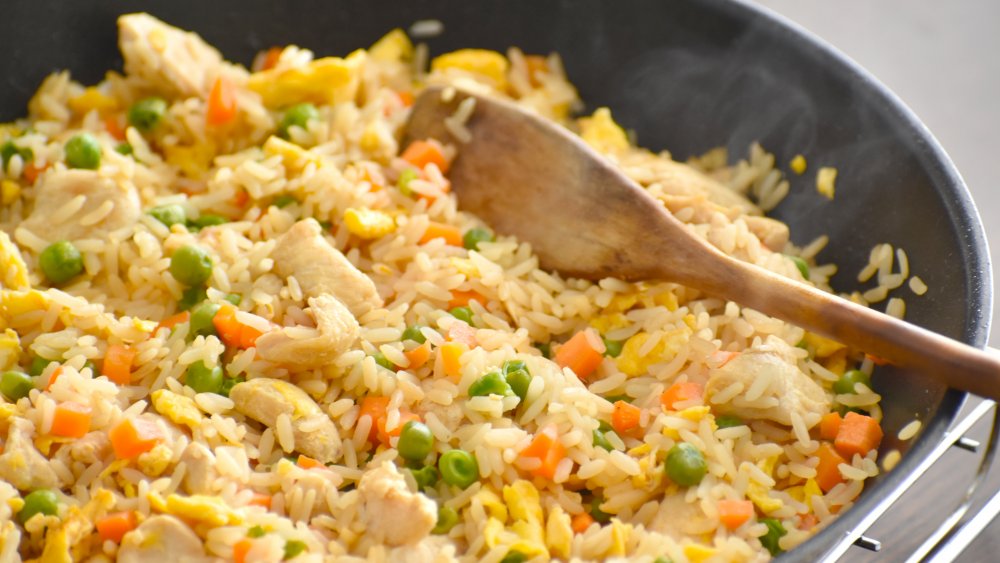 Shutterstock
Order out for Chinese, and it's a safe bet you never forget the chicken and egg-fried rice, right? It's actually super easy to make at home, and if you have some leftover white meat from the previous day's chicken dinner, this is a great way to use it — especially if you're wondering what you're going to do with your leftover chicken if there really isn't that much.
And yes, it's easy! Just scramble a few eggs, and cook until they're almost done. Transfer that to another bowl, then fry up your vegetables — whatever you like! And here's the great part — if you happened to make too much rice the night before with that original chicken dish, leftover rice is perfect for fried rice. It's going to have a firmness that fresh rice won't. 
Throw your leftover rice (or fresh rice) in your fried vegetables, add the egg back in, and throw in your diced or shredded pieces of leftover chicken, stirring until it's warmed through. And there you have it: chicken egg-fried rice, with no waste!
Chicken poutine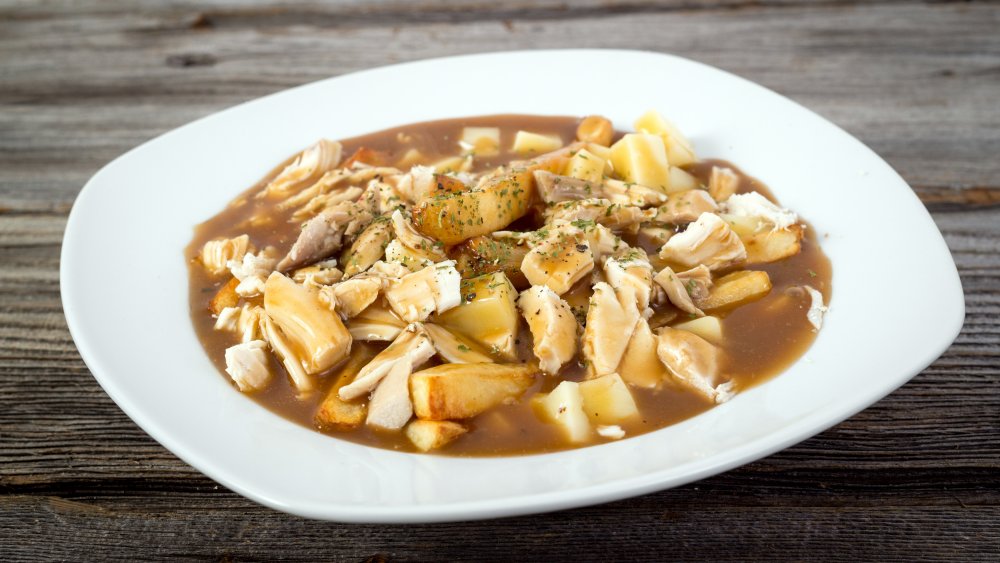 Shutterstock
Sometimes, you're not craving something super-healthy. Sometimes, you just want something that's going to fill you up. That's going to be a tasty dinner that hey, you might regret it in hindsight, but there's definitely no regrets when you're eating it.
Some nights are just poutine nights.
Poutine is a French-Canadian dish that's honestly one of the best things ever invented. It first popped up in the 1950s, and while there's debate over who can take credit for this national dish, it's not debated that it's delicious.
At its most basic, it's a plate of fries topped with cheese curds and covered with gravy. That's it! But because it's so simple, that means there's plenty of ways to mix it up: and this is where our leftover chicken comes in. There's no additional prep work necessary — just shred or dice your leftover chicken, and add it to your cheesy fries, and cover with gravy. We know, right?
Chicken-stuffed peppers (sweet or hot)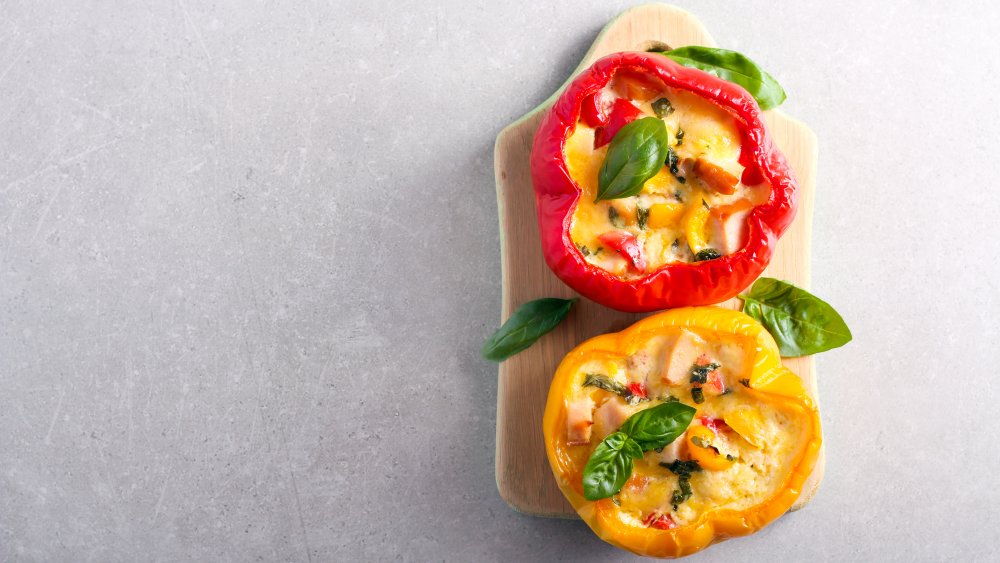 Shutterstock
If you're looking for something healthy, fun, and versatile, how about using that leftover chicken for stuffed peppers?
There's no end to the combinations you can make with this idea, starting with the peppers. Sure, you can opt for green, red, or yellow sweet peppers, but how about banana peppers? Or, if you've got just a bit of chicken, make this into a side by using jalapenos. Just cut your peppers in half, clean them out, and line them up in a baking tray.
Now, what to fill them with? Mix and pre-cook your filling, and here's where it gets fun. How about chicken, hot sauce, and butter? Oh, we did say healthy, didn't we? Try taco seasoning, chicken, rice, corn, and beans for a Mexican-inspired filling, then top them with shredded cheese and salsa. Or, try chicken, spinach, and cheese. Chicken, rice and bacon? Or what about egg and chicken, for an omelette-in-a-pepper? There's no end to the combinations you can create. This, too, is a great way to use up not only your leftover chicken, but whatever else you might have sitting around in the fridge. Get creative!
Chicken curry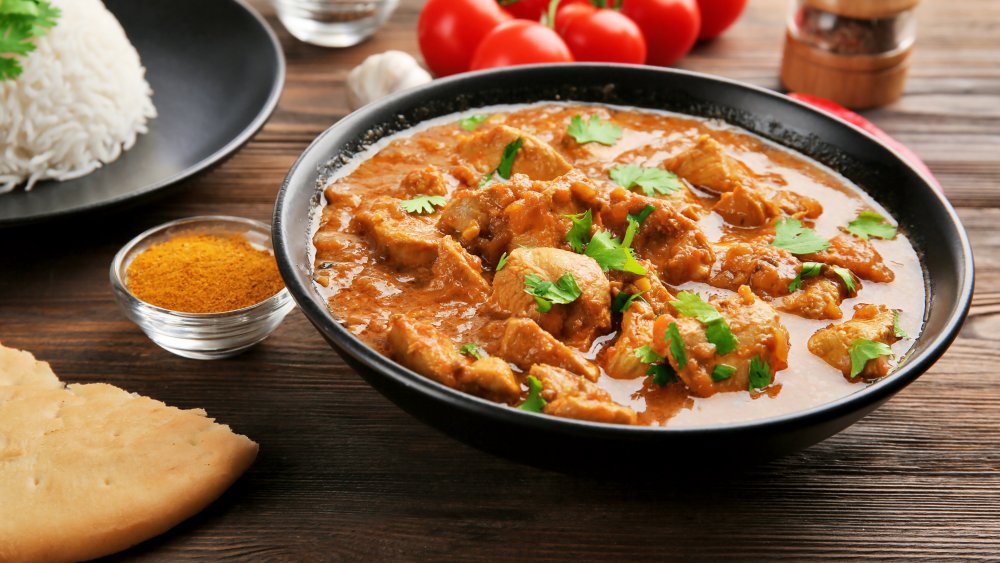 Shutterstock
Chicken curry is absolutely delicious, so when you're picking up your chicken at the grocery store, make sure you also pick up a pack of naan bread and some curry powder!
It's super easy to make from scratch, and it only takes a single pan. Add your chicken, some chopped tomatoes, curry powder, ginger, garlic, onions, and — if you like — throw in some finely diced hot peppers for extra heat. Then, thicken with Greek yogurt, and you're done!
If you're looking for something even easier, just pick up a jar of the sauce at the grocery store. If you've never given it a second glance, you absolutely should — there's a wide variety of sauces, so there's something there for you even if you're not a fan of spicy foods. (If you're looking for something mild, grab Biryani or Korma, and if you want something spicy, get Jalfrezi or Madras... and if you're super brave, go for the Vindaloo.) 
Serve with rice or just in a bowl with some naan, and you'll find it's the perfect hot meal for a cold and dreary day.
Chicken sweet potatoes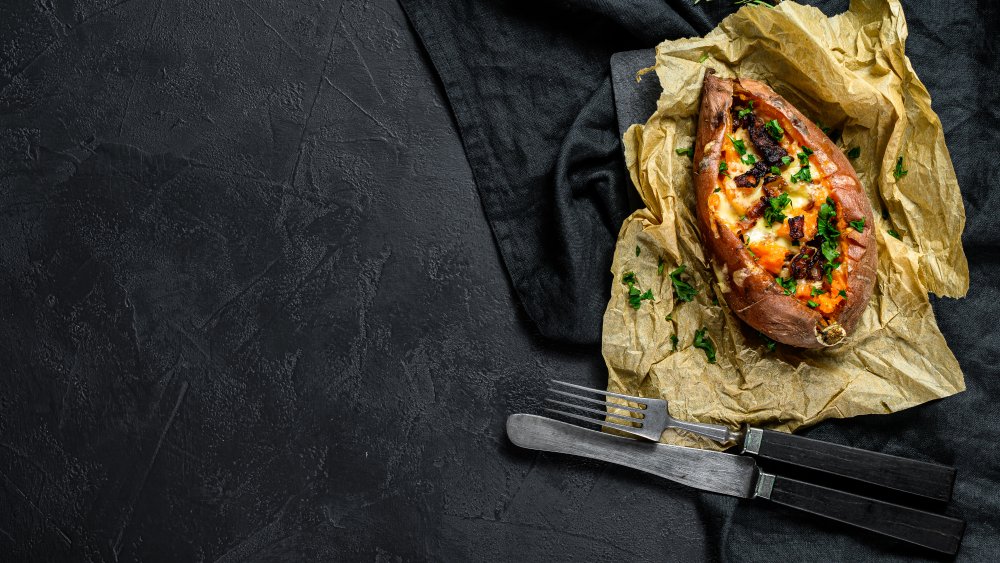 Shutterstock
Gone are the days where a full dinner was a meat and two sides; who says potatoes can't be your main course? They're essentially a blank canvas that you can do absolutely anything with. And if you regularly skip over sweet potatoes, you're making a huge mistake. Not only are they extremely good for you — Healthline says they're full of vitamins and minerals, promote gut health, contribute to a healthy immune system, and support eye health, while (possibly) helping to protect you against certain cancers — but they'll bring a completely unique flavor to the dinner table.
You've had twice-baked potatoes before, right? How about twice-baked sweet potatoes? The principle is the same: bake until tender, slice them in half, and remove the inside. Use that to mix up something fun, and here's where your leftover chicken comes in. Mix your sweet potato with shredded chicken, onion, and — if you like — finely diced hot peppers. Scoop back into your potato skins, cover with cheese, and bake until the cheese is melted. Add some BBQ sauce, sour cream, or sprinkle with bacon, and you've got a whole meal with sweet potatoes as the star. 
Chicken omelette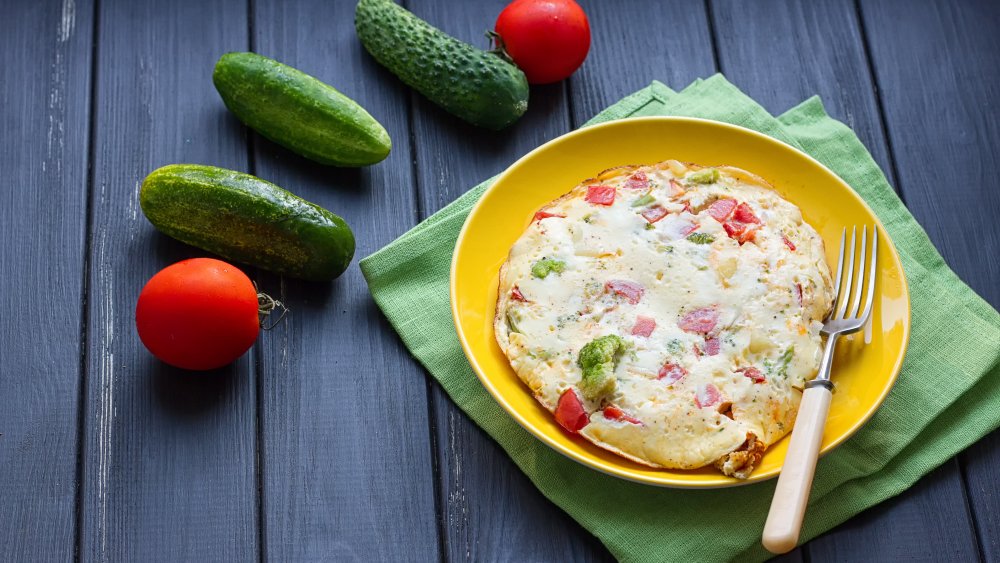 Shutterstock
Omelettes aren't just for breakfast, and let's be honest: sometimes breakfast food is the best when it's for dinner. No matter what time you're having one, add some shredded or diced chicken to your omelette for an extra protein boost and some serious added flavor. 
This is one idea that's incredibly versatile, and whatever you have in your fridge, you can make it work. Add some onions, hot peppers, and cheese to that omelette along with your chicken, top with salsa, and make something Mexican-inspired. Or, go ultra healthy and make that an egg white omelette filled with sweet peppers, tomatoes, broccoli, and mushrooms. Or go for some Asian flavors, and add a sprinkling of coconut, coconut milk, bean sprouts, and top with some sweet chili sauce. Melt some cheese over the top, drizzle with hot sauce, and get a serving or two of vegetables while you're using up your leftover chicken. Oh — and don't forget, everything's better with bacon!
Chicken chili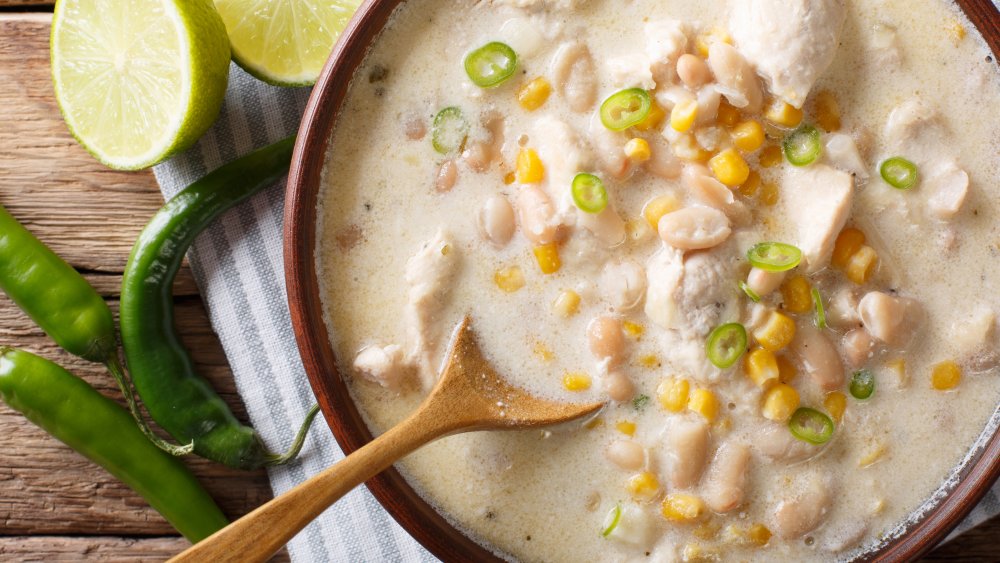 Shutterstock
If you have a lot of chicken leftover, this is one dish that's easy, delicious, and brilliant not just because it'll use up all your leftover chicken, but it'll also freeze well if you're not going to finish it all the following night. The only thing better than an easy meal, after all, is an easy meal that you can easily turn into a few easy meals.
There's also no end to the possibilities: you can substitute chicken for beef in your favorite chili recipe, and it'll still work perfectly with a spicy tomato base and kidney beans. But all that leftover chicken also makes a brilliant white bean chili — just add all your chili seasonings, along with white beans, Swiss chard, parsley, fennel, chicken stock, and make sure you have some Parmesan on hand for serving. 
Or, turn it into a Mexican chili with the help of some poblano peppers, rice, corn, and cilantro; top with fried tortilla strips and some sour cream, and you've got a delicious meal you'll be happy to find in the freezer again.
White chicken lasagna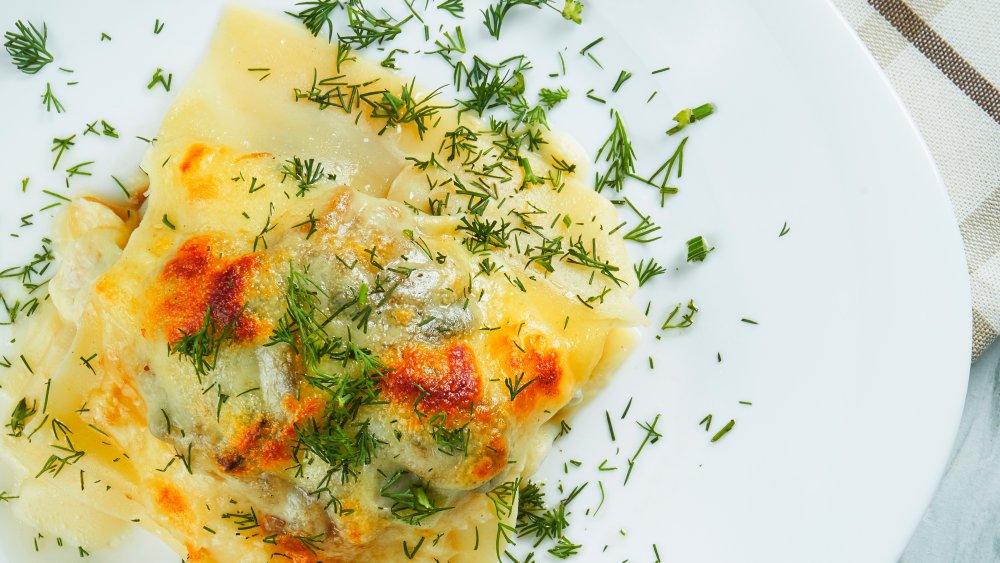 Shutterstock
Lasagna is good, but it's one of those dishes that you usually have to make a lot of, and by the time you're done with it, you're good for a while. But if you have some leftover chicken you need to get rid of, you can use that in a delicious alternative to a more traditional lasagna.
In this version, you're going to layer your lasagna noodles with chicken, pre-cooked bacon, cheese, and a bechamel sauce. Sounds delicious, right? You can also opt to add things like mushrooms, peppers, and onions, if you like.
If the white sauce isn't your thing, you can also just take your favorite, stand-by lasagna recipe and swap in shredded chicken. And don't worry if you don't finish it — it'll freeze quite well, and be ready for another day. We could all use a few more ready-to-go meals in the freezer, that's for sure.
Chicken and cabbage stir fry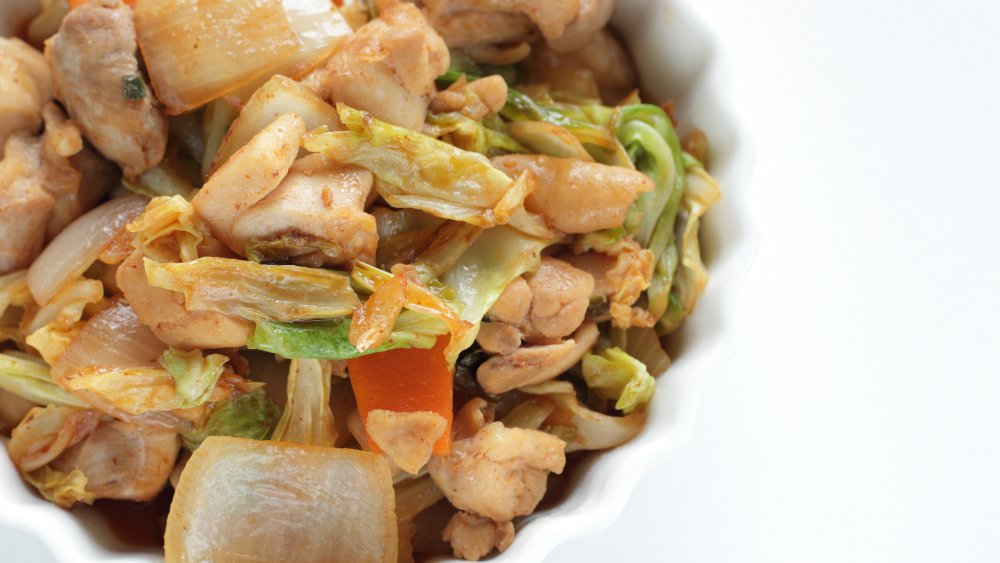 Shutterstock
Cabbage is one of the vegetables that you probably know you should have more often, but... well, it's cabbage. It all depends on how you cook it, though, and if you've only had it boiled, try it as a stir-fry. It's going to change it into a texture you'll actually like, and bonus? You'll agree this one is healthy, too.
Just chop your cabbage, and add it to a frying pan with a bit of butter. Keep an eye on it and keep tossing it until it starts to fry, and in the meantime, take your leftover chicken and either chop, dice, or shred it. Once the cabbage starts to cook, add your chicken and whatever else you feel like. Throw in some diced peppers, garlic, onion, season with paprika, add some slices of hot peppers — the chicken and cabbage is a brilliant template for adding just a bit of spice — just be careful not to overcook it. This one is quick, easy, and good for you!
Chicken and grits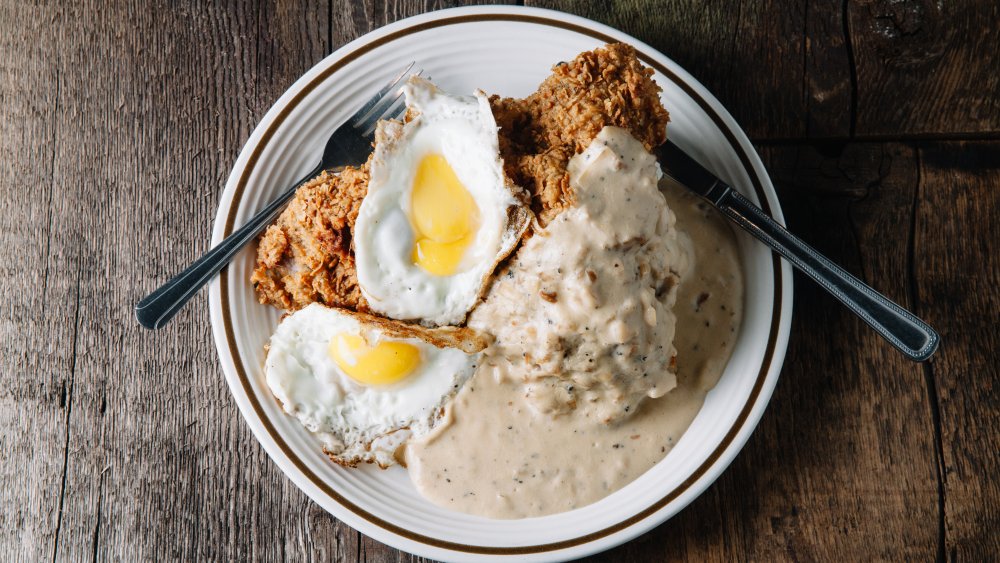 Shutterstock
Grits is the very definition of comfort food, and it's great on a chilly morning, afternoon, or evening. It's also versatile, and a great way to dress up some leftover chicken.
Just whip up a batch of grits, add some Parmesan cheese, and plop it on the plate. Shred, chop, or dice your leftover chicken, add in some chicken broth and some Creole or Mexican seasonings, and add some flour to thicken. Add mushrooms, if you like, or chopped onions — then spoon over the grits, and you're golden. And if you happen to have some leftover fried chicken, this might be the best way (aside from cold, of course!) to re-purpose those leftovers into a whole new meal. 
Spice it up if you like, serve alongside a sour cream-based sauce, or add a fried egg. Really, the rather neutral flavor of the grits will go nicely with whatever flavors you decide to add to your chicken — or, whatever flavors it already has. Hot-and-spicy chicken flavored with wing sauce and grits? Sign us up!
Chicken pierogies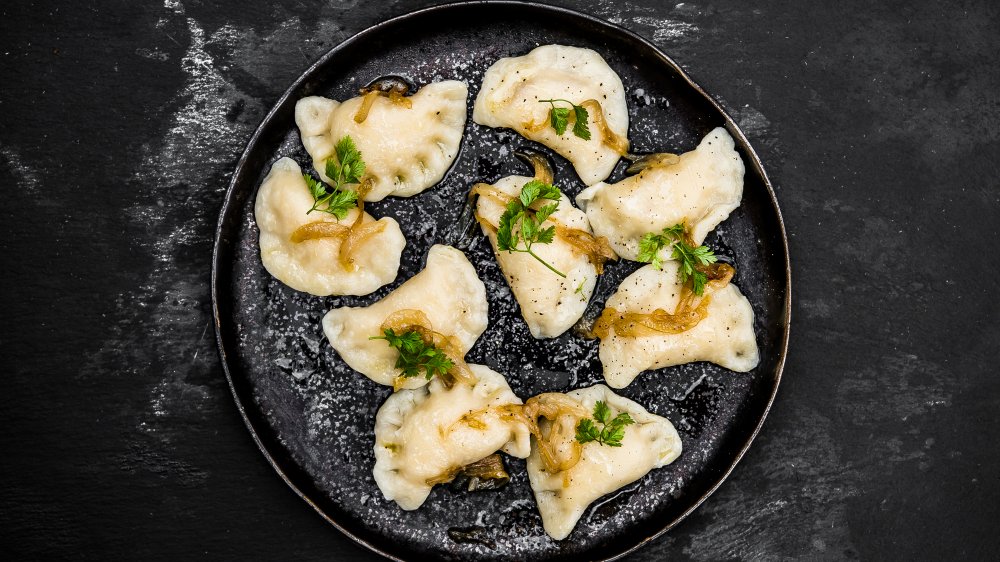 Shutterstock
Pierogies are one of those things that you tend to forget how good they are. You can definitely make your own, but that can be time consuming... and we're not here to talk about time consuming. So, we're going to talk about how to make those frozen pierogies even better.
Frozen pierogies need to be boiled first, so do that according to the package directions. You're not just going to serve them, though, you're going to throw them into a frying pan with a bit of butter. Add some chopped onion, and saute. The edges of the pierogies are going to start turning brown, and here's where you toss in your shredded or chopped leftover chicken. Once the chicken is mostly warm, add some cheese, and let the cheese melt over it all. Scoop, garnish with fresh chopped chives, and serve with a side of sour cream. Not a bad way to use leftovers and dress up a bag of frozen pierogies, right?
Chicken stock is more versatile than you think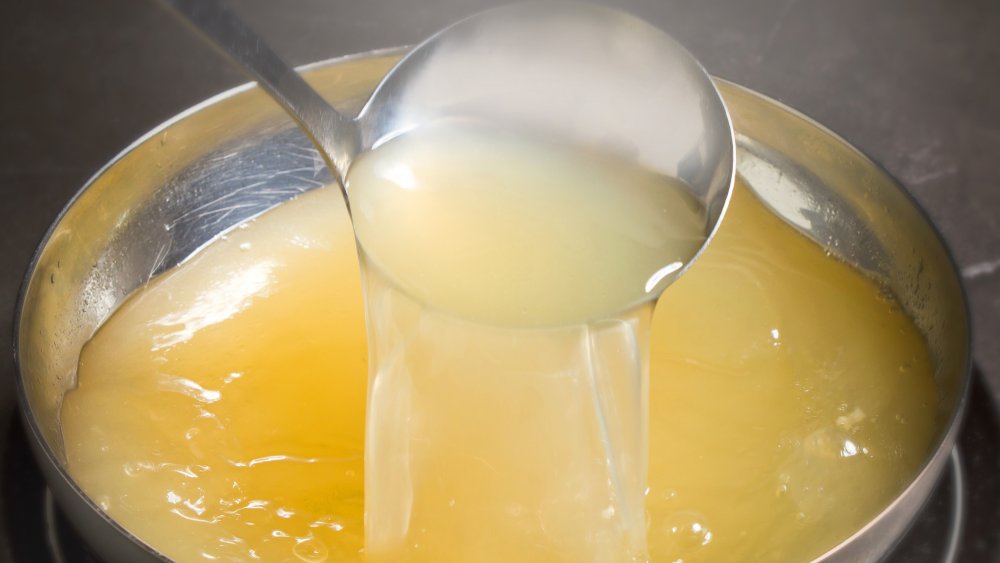 Shutterstock
Does your family prefer white meat or dark? If it's the former, it can be a challenge to come up with something to do with the leftover dark meat. Fortunately, there's a delicious answer: use it to make stock!
Say you have the remnants of a roast chicken dinner. Pop the entire carcass into a large pot, along with your dark meat leftovers. Cover with water, add vegetables and spices to season (opt for things like celery, carrots, onion, garlic, and black pepper), then bring to a boil. Let it simmer for a few hours, and when it's done, you'll just have to do two things: skim the fat off the top, and run it through a strainer. That's it! Now you have stock for any number of meals, from soup to rice dishes to casseroles and mashed potatoes.
So, why use dark meat? It's going to add more fat to your stock, but you're skimming much of that off anyway. More importantly, it's going to add a whole new depth of flavor, and you'll taste it in any dish you make with it.
Chicken dog treats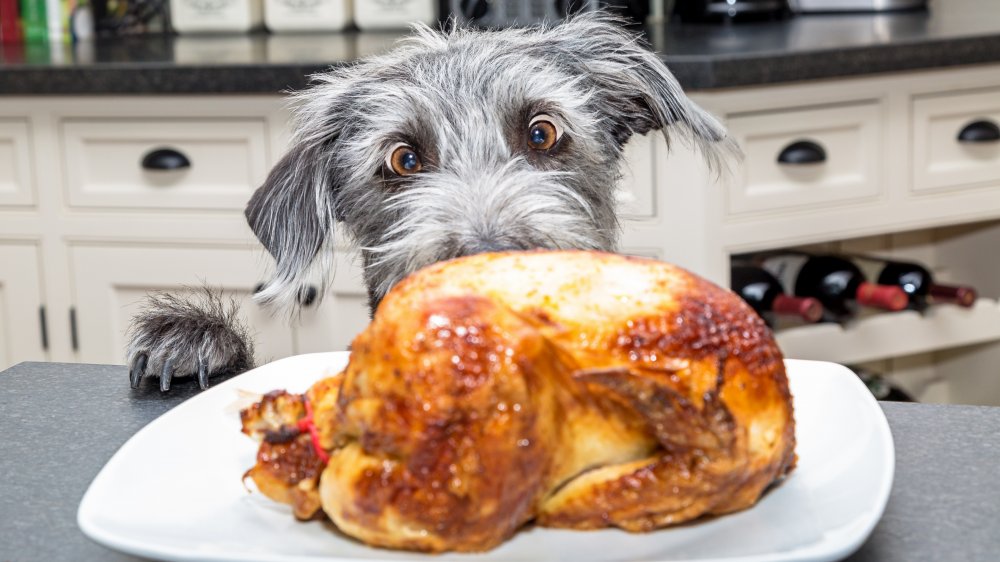 Shutterstock
All this cooking and all this activity in the kitchen, Fido is probably looking at you with some sad, hungry eyes, right? We can't leave him out!
If you're not feeling your leftover chicken — or, if there's only a little leftover, and it's not enough to stretch into another meal — why not treat your favorite pupper? (As long as the chicken wasn't cooked with anything that's going to upset their digestive tract, that is!)
Just chop up your leftover chicken, and add it to a bowl with some wheat flour, an egg, a few spoonfuls of Greek yogurt, and enough water to turn the mix into a sticky batter. Spoon them onto a baking tray, pop them in the oven, and in about 15 minutes you'll have some freshly baked treats that'll make your dog feel absolutely included in all the foodie fun. You can definitely add any of their favorite flavors to this, too: add in a bit of pumpkin, a shredded carrot, or mash up a banana. Pups will love them, and nothing will go to waste.