Fritos Flamin' Hot Bar-B-Q Review: Get Them While They're Hot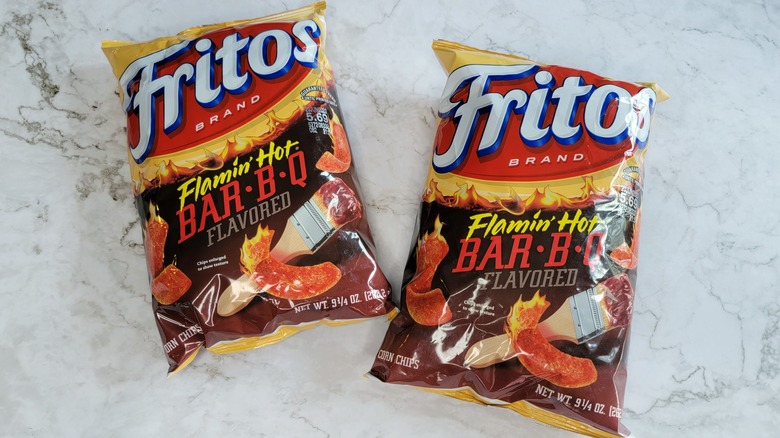 Brandon Schultz/Mashed
Fritos has been stocking American cabinets for over 80 years, offering the perfect wheat-free crunch to snackers since long before most of us knew about celiac disease or gluten-free diets. And while it may be true that the creator of Fritos didn't eat his own product, plenty of the rest of us certainly do, delighting in its simple splendor. Though we enjoy the unfussiness of the classic Fritos corn chip, we also appreciate the handful of additional varieties, especially those with bolder flavors.
Bar-B-Q Fritos returned in the fall of 2022 as a permanent member of the flavor lineup, but the Fritos brand isn't stopping there. If you love Fritos, barbecue flavor snacks, and a spicy bite, Frito pie is no longer the closest you can get to combining all three: Flamin' Hot Bar-B-Q Fritos is now available. Blending the sweet tang of barbecue with a healthy dose of heat, Flamin' Hot Bar-B-Q brings the current Fritos chip collection to 10 varieties, uniting the flavor profiles of its other offerings into one bold bag. In case you haven't gotten your hands on your own yet, we tried Fritos' new Flamin' Hot Bar-B-Q ourselves, and here's what you need to know.
What's in Flamin' Hot Bar-B-Q Fritos?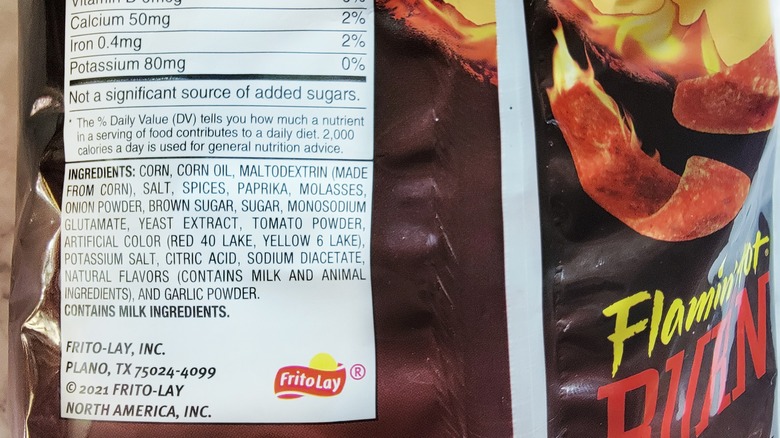 Brandon Schultz/Mashed
The original Fritos may have fewer ingredients than you think. Clocking in at an impressive three whole ingredients, the product notably lacks the artificial stuff junking up so many snacks today. Unsurprisingly, Flamin' Hot Bar-B-Q Fritos contains some artificial coloring to achieve the fiery red coating that will cover your fingers as much as it coats each corn chip. Otherwise, there's not much more than corn, corn products, and largely natural seasoning ingredients in each bag.
It's worth noting that Flamin' Hot Bar-B-Q Fritos contains milk as part of the natural flavoring ingredients, so lactose-intolerant and vegan snackers will have to skip this bag. It also contains unspecified animal ingredients among the flavorings, so vegetarians will have to take a pass, as well. For the rest, if you're content to consume red 40 lake (slightly different from red dye 40) there isn't much to fuss about in a bag of Flamin' Hot Bar-B-Q Fritos. Go ahead and dig in with joyfully little worry about questionable ingredients.
How much does a bag cost?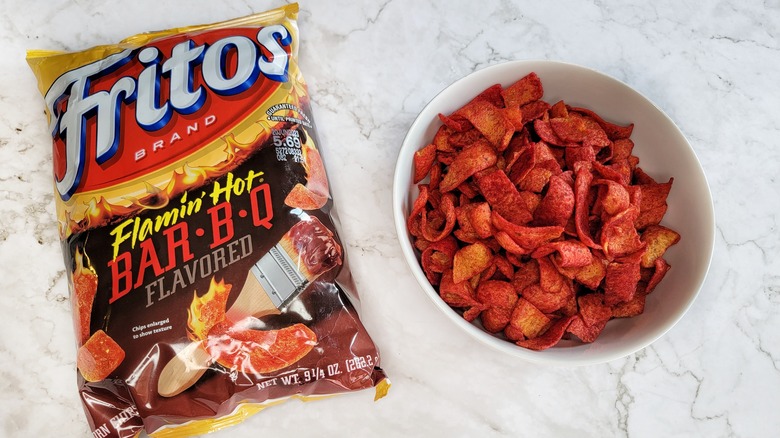 Brandon Schultz/Mashed
Like most snacks, the price of Flamin' Hot Bar-B-Q Fritos varies depending on your exact location and where you're shopping. The suggested retail price of this 9.25-ounce bag of fired-up corn chips is $5.69, and you'll generally find supermarkets and convenience stores selling them for that or slightly less. Of course, you can score a bag at Walmart for even less, ringing up under $4.50, as of May 2023.
As always, you're sure to find absurd prices for novelty snacks on private re-sale sites like eBay. Flamin' Hot Bar-B-Q Fritos have already appeared for at least $10 per bag, but there's little reason to pay this much. Though new, the flavor is hardly difficult to find for now. You can easily pick it up at shops selling assorted snacks or online without forking over a Hamilton for the privilege. For that expense, you should be able to snag two bags, which you'll probably want to do once you have a taste. Smaller bags are also available for less: A 3.5-ounce bag has a suggested retail price of $2.49, while the 1-ounce portion is listed at 50 cents.
Where and when are Flamin' Hot Bar-B-Q Fritos available?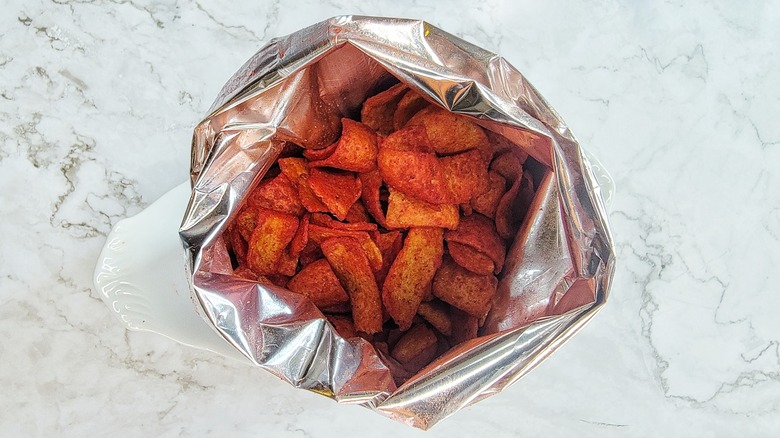 Brandon Schultz/Mashed
Flamin' Hot Bar-B-Q Fritos were released on April 24, 2023, as a limited-time-only flavor, which sadly means these chips won't be around forever. Currently, the Frito-Lay company expects this special flavor to be available until mid-June, but Flamin' Hot Bar-B-Q will only be on shelves while supplies last. If social media causes a run on these corn chips as it did with Patti LaBelle's popular sweet potato pies, they may not be around even as long as that, and eBay will be having the last laugh after all.
Regarding geographic availability, Flamin' Hot Bar-B-Q Fritos is available in all American regions. You can find it in grocery stores, convenience stores, and anywhere popular brands of snacks are regularly sold. As we've seen earlier, ordering online is almost always an option, both from mega-retailers like Walmart and from e-tailers like Amazon and eBay, for consumers in more remote areas.
How does the chips compare to other Fritos?
Brandon Schultz/Mashed
Fritos is known as a satisfyingly salty snack, so you're probably wondering if that salt content still comes through in Flamin' Hot Bar-B-Q Fritos. It does. Compared to the original corn chips, suffice it to say none of that sodium kick is overpowered by the tang or heat of this limited-time-only variety. Perhaps that's why the sodium content is slightly higher than in its unadorned counterpart.
There are two other specifically spicy flavors in the current Fritos lineup — chili cheese and spicy jalapeño — with the latter available only as a Scoops! dipping chip. Flamin' Hot Bar-B-Q Fritos is noticeably spicier than the two, with a heat that's both more immediately apparent and longer lasting. Still, it's not going to make your eyes water or your nose run, so it's accessible to almost anyone who appreciates some level of spiciness from a snack.
Aside from varying sodium contents and shape offerings, the only other true flavor variety in the permanent flavor collection is honey BBQ, which is one of only two Fritos chips currently available in the Flavor Twists shape. This is certainly sweeter than Flamin' Hot Bar-B-Q, and still the best Fritos variety for customers aiming for a sweet and salty combo. Deciding between the two is more a matter of whether you prefer the sweetness or the tang of barbecue. 
What's the nutritional value of Flamin' Hot Bar-B-Q Fritos?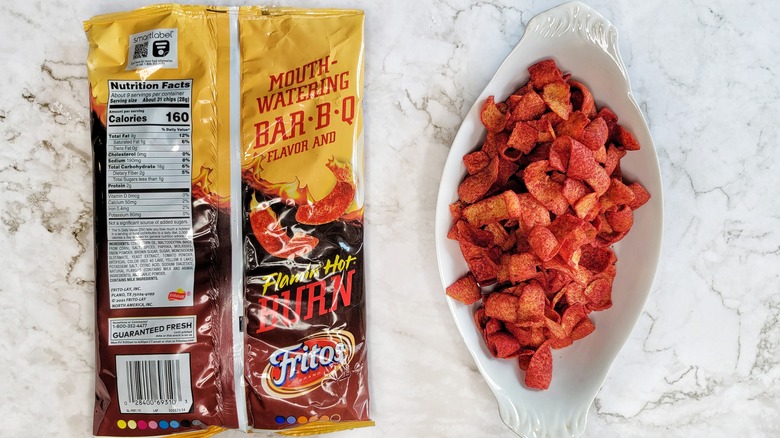 Brandon Schultz/Mashed
Look, this is a legit snacky snack not a bag of baby carrots, so we hope you already understand that no one's picking up a bag of Fritos for significant nutritional value. Still, it's best to make informed decisions, especially when snacking, so let's examine the nutrition label of Flamin' Hot Bar-B-Q Fritos so we know exactly what we're getting into.
The headline here is that there are only 160 calories in a serving, but we're going to leap ahead to reality and inform you that the full (small-ish) 9.25-ounce bag contains nine of those servings for a grand total of 1,440 calories. It's certainly possible you'll wipe out the bag in one shot if you're a serious snacker. A single serving contains 9 grams of fat, which is 12% of the recommended daily allowance for a 2,000-calorie diet, including 1 gram of saturated fat. Sixteen grams of total carbs will set you back 6% of your daily recommended intake per serving, and 190 milligrams of sodium account for 8%. The plus side here is that added sugars amount to less than 1 gram, and there's a slight protein component of 2 grams. You'll pick up a bit of calcium and iron from a handful of Flamin' Hot Bar-B-Q Fritos, too.
How do we feel about Flamin' Hot Bar-B-Q Fritos?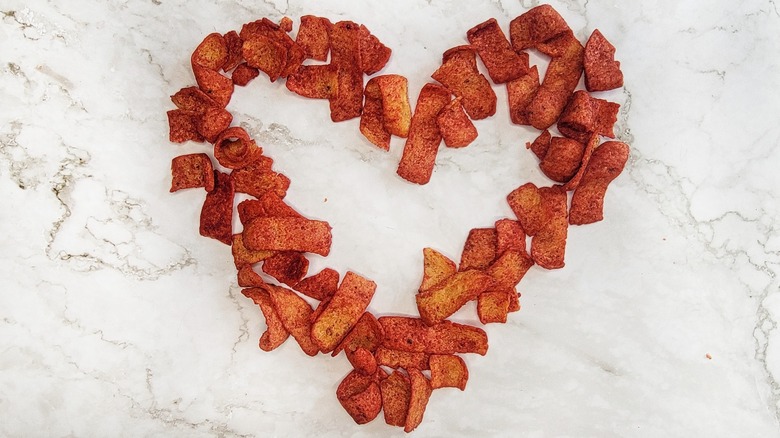 Brandon Schultz/Mashed
You may have already gathered from our generally positive comments, but we're into it. Though we probably wouldn't call these corn chips "flamin' hot" ourselves, they do pack a nice punch of heat that doesn't leave the mouth or throat dry nor overpower the other flavors. We particularly appreciate that the barbecue component still shines beneath the spicy notes, and we're especially fond of the salty satisfaction each chip continues to deliver. These are Fritos after all, and we'd hate to lose that signature corn chip component, no matter how delicious the additional flavors may be.
Our one complaint with Flamin' Hot Bar-B-Q Fritos is that the red coating does get just about everywhere, so this isn't an easy snack to enjoy on the go. The same holds if you're trying to snack in bed with white sheets or while wearing a white robe. Please don't try it. But if you're just chilling on a dark-colored sofa looking for a salty, spicy, tangy crunch and you have plenty of paper towels nearby, dig in. These corn chips are delicious and they're only around for a couple of short months, so don't put off your snacking. Now's the time.