Slow Cooker Beef Stock Recipe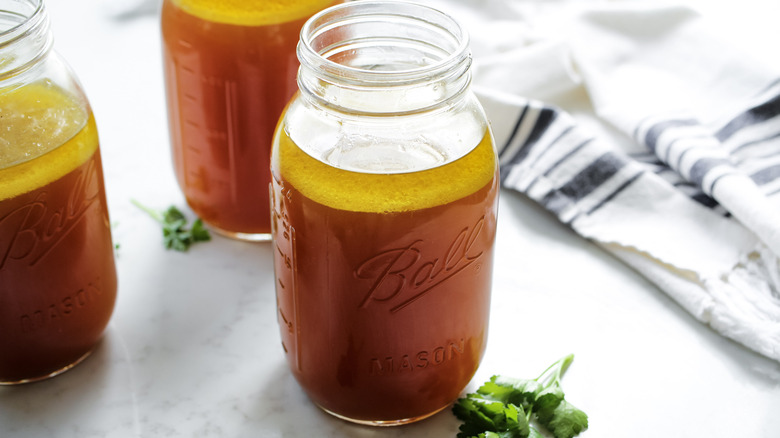 Feta Topalu/Mashed
Stock, whether it be beef, chicken, vegetable, or even fish stock, is crucial to any functional kitchen. The savory cooking liquids are the foundations for countless dishes, from simple sauces to more complex soups and stews. Many people go the store-bought route when sourcing stock, getting it by the carton-full to always have on hand when throwing together a meal. While store-bought stock provides great convenience, nothing beats the savory richness of homemade stock — which, thanks to this recipe from developer Feta Topalu, comes together more easily than you might think.
This particular recipe yields beef stock, which is an incredibly versatile ingredient for both amateur home cooks and professional chefs alike. "Homemade beef stock is versatile in any kitchen, whether making stew, using it in sauces, French onion dishes, or in so many different kinds of recipes," Topalu says. "It adds another level of flavor that no spice can do. I love using stock to cook rice, quinoa, and in one-pot recipes." This recipe does have a pretty lengthy ingredient list, and you will need a little patience as it simmers in the slow cooker, but once you give this homemade beef stock recipe a chance, you'll never go back to those store-bought cartons.
Gather the ingredients for slow cooker beef stock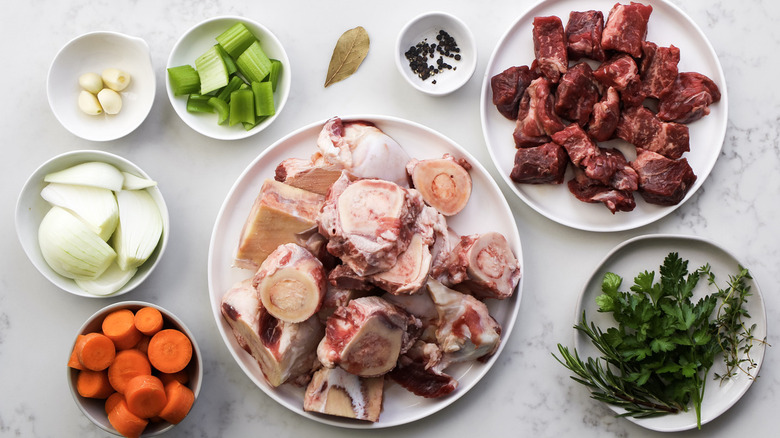 Feta Topalu/Mashed
To get an ultra-rich, beefy flavor in this stock, you'll need both beef stew meat and marrow bones. Then, to balance out some of that richness, you'll need some vegetables including onion, carrots, celery, and garlic. Finally, you'll also need a bit of olive oil, black peppercorns, fresh rosemary, parsley, and thyme sprigs, and a bay leaf. 
Roast the marrow bones, stew meat, onion, and carrots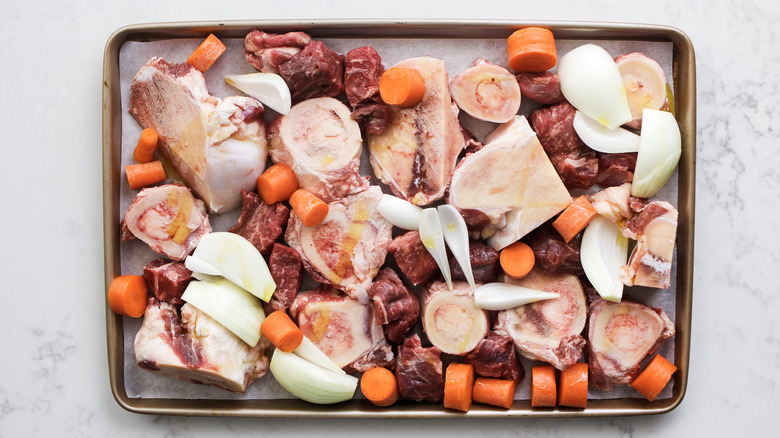 Feta Topalu/Mashed
Before we get to the slow cooker portion of this recipe, you'll start by doing some roasting, so get the oven preheating to 400 F. Grab a large baking sheet and arrange the marrow bones, pieces of stew meat, onion quarters, and carrot chunks evenly across it, trying to avoid any overlap. Drizzle on the olive oil then pop the sheet into the oven, allowing these ingredients to roast for 45 minutes. "The bones, stew meat, and a few vegetables are roasted in first in the oven prior to being cooked in the slow cooker, this brings a much richer flavor to the stock," Topalu explains. 
Load up the slow cooker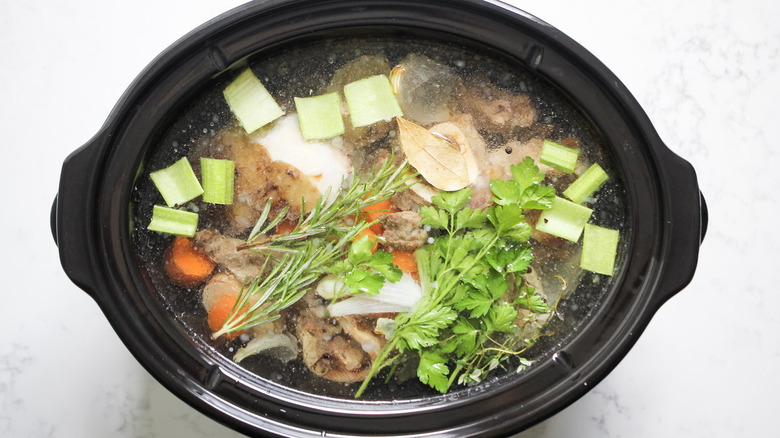 Feta Topalu/Mashed
Once the meat and veggies have roasted, remove them from the oven and transport them directly to the slow cooker, along with all other ingredients. Fill the slow cooker up with water — the amount will vary here, depending on the size of your pot. Just make sure that you add enough water to cover all of the ingredients (it's okay if the herbs float a bit and don't fully submerge in the water). Then, turn the slow cooker on to its lowest setting, allowing the ingredients to cook for at least 8 hours, but up to a full 24 hours. 
Strain out the stock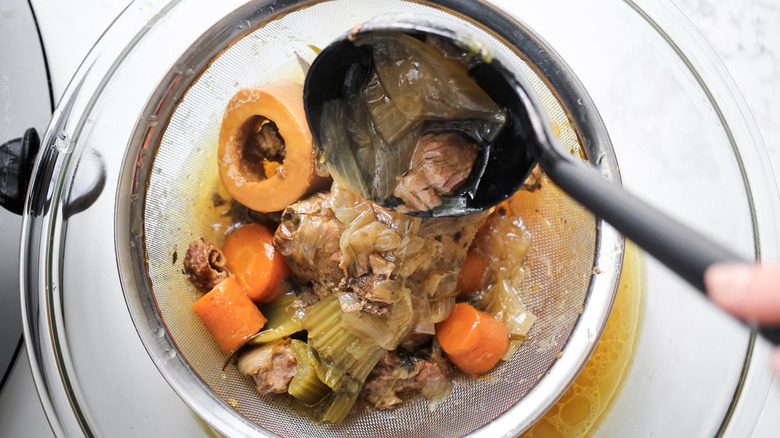 Feta Topalu/Mashed
After the ingredients have been slow-cooked for at least 8 hours, you're ready to strain out the stock. Place a mesh strainer over a large bowl and use a ladle to transfer the contents of the slow cooker, ensuring that every last drop of liquid makes it into the bowl. Discard the solids caught in the strainer, then transfer the liquid, AKA the stock, into jars. Allow the stock to cool down at room temperature for 30 minutes. 
Use, refrigerate, or freeze the stock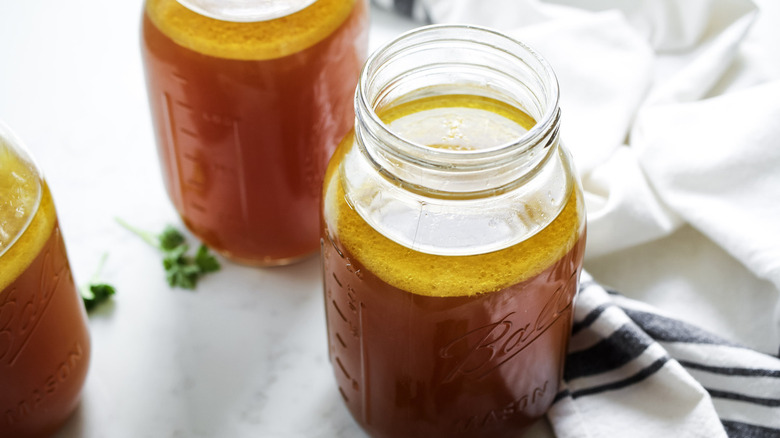 Feta Topalu/Mashed
Just like that, you're homemade beef stock is ready to use. You have a few options: use the stock, refrigerate it for up to 5 days, or freeze it for up to three months. "The best way to freeze stock is to place it into a freezer-friendly, air-tight container, leaving about 2 inches of room from the top for liquid to expand," Topalu explains. "Cover with plastic wrap and place the lid on but don't secure it." Then, place the jar upright in the freezer, and once the stock is frozen, remove the plastic wrap and tightly secure the lid. Once you're ready to use the stock from frozen, allow it to defrost in the refrigerator overnight.
You may also notice a layer of fat form at the top of the stock once it's settled — this is totally normal, and you can even make use of the fat. "The fat layer that surfaces to the top once the stock is cooled can be left alone and used with the stock or discarded," says Topalu. "Another option is to set it aside and use it for sautéing." 
Slow Cooker Beef Stock Recipe
Use your slow cooker to make this stock that's great as the base for soup or to cook with.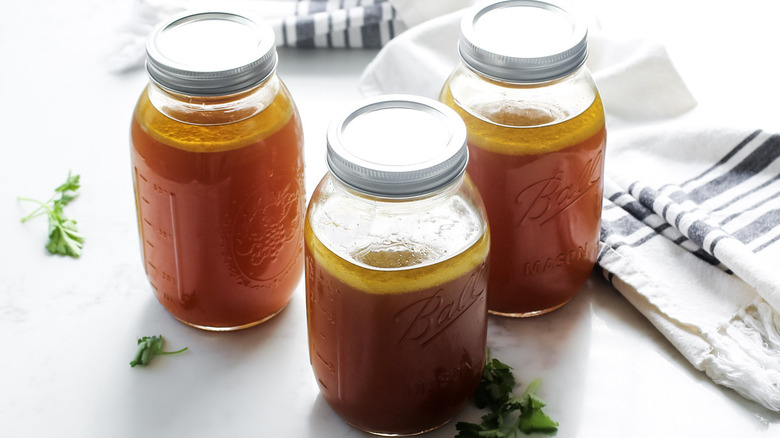 Ingredients
4 pounds beef marrow bones
1 pound stew meat
1 yellow onion, quartered
2 carrots, cut into 1-inch pieces
2 tablespoons olive oil
1 celery stalk, cut into 2-inch pieces
4 whole garlic cloves, peeled
½ teaspoon black peppercorns
2 sprigs rosemary
5 sprigs fresh parsley
5 sprigs fresh thyme
1 bay leaf
Directions
Preheat the oven to 400 F.
Arrange the beef marrow bones, stew meat, onion, and carrots onto a baking sheet or roasting pan lined with parchment paper or foil. Drizzle with 2 tablespoons of olive oil. Roast for 45 minutes.
Place the roasted bones, stew meat, onion, carrot, celery, garlic, peppercorns, rosemary, parsley, thyme, and bay leaf into the slow cooker. Add filtered water to the slow cooker to completely cover the bones and vegetables.
Set the dial on the low setting and cook for 8 to 24 hours.
Place a fine mesh strainer over a large bowl. Strain the stock using a ladle. Discard the solids.
Transfer the stock to airtight containers or jars. Let it cool for 30 minutes. Refrigerate up to 5 days or freeze for up to 3 months. Discard the fat layer on top once set, optional.
Nutrition
| | |
| --- | --- |
| Calories per Serving | 169 |
| Total Fat | 17.7 g |
| Saturated Fat | 0.1 g |
| Trans Fat | 0.0 g |
| Cholesterol | 2.9 mg |
| | |
| --- | --- |
| Total Carbohydrates | 0.4 g |
| Dietary Fiber | 0.1 g |
| Total Sugars | 0.1 g |
| Sodium | 4.9 mg |
| Protein | 1.1 g |