Goldfish Are Returning With An Old Fan-Favorite For The Summer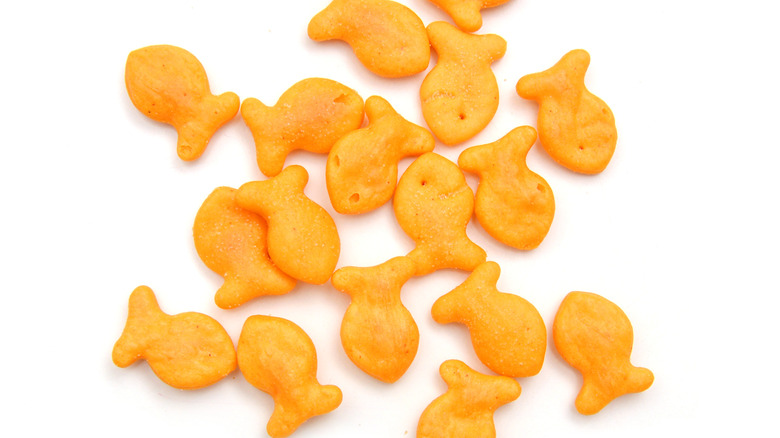 Hong Vo/Shutterstock
The snack that smiles back is looking to make a splash this summer with the return of Old Bay-seasoned Goldfish. Old Bay seasoning is known for adding a flavor bomb to chicken, vegetables, popcorn, and most notably, crabs. Even though Goldfish doesn't contain any real fish, the pairing seems like a match made in heaven for the fish-shaped salty cheese crackers. 
The Old Bay-flavored Goldfish first became available to the public in 2022 and was met with such love and enthusiasm from customers, it's making a comeback. Old Bay Goldfish will return to retail shelves in time for summer, but fans have a chance to purchase early released packs on May 9.
Fans that would like a chance to vie for the two 6.6 oz bags, can go to mccormick.com/goldfish on May 9 for an opportunity to purchase the two-pack for $7.38. When the Old Bay Goldfish was released last year, they sold out in only a few hours. To make the rollout even more special, Goldfish has teamed up with '90s singer, Lisa Loeb to re-release her hit single, "Stay (I Miss You)," but using fan's tweets as the lyrics. The revamped song is called "Stay (We Missed You OLD BAY Goldfish)" and is sure to resonate with fans who can't wait to see the Goldfish and Old Bay collab return.
Goldfish has more unique flavors
It shouldn't be too shocking that Goldfish would partner with Old Bay since people have been adding the seasoning to saltine crackers for years. Likewise, many people like the combo of oyster crackers and Old Bay seasoning together. There are several recipes online for making your own crackers, should you find yourself craving them before the Goldfish hit shelves. The Goldfish Old Bay flavor is far from the only unique flavor combination that Goldfish has tried in the past.
In 2021, Goldfish released its Frank's RedHot-inspired cracker that brought the heat. Goldfish also has a line of sweet crackers, in flavors like fudge brownie and vanilla cupcake. Old Bay seasoning has also expanded outside of the traditional seasoning realm and even has its own flavored vodka. While the first thing that may come to mind would be a savory Bloody Mary, Old Bay has recipes for everything from strawberry margaritas to Bellinis. If you're drinking, you should be snacking, and we have a feeling the Old Bay-flavored Goldfish will be a great snacking partner.