We Tried 18 Lemon Lime Soda Brands & This Was The Best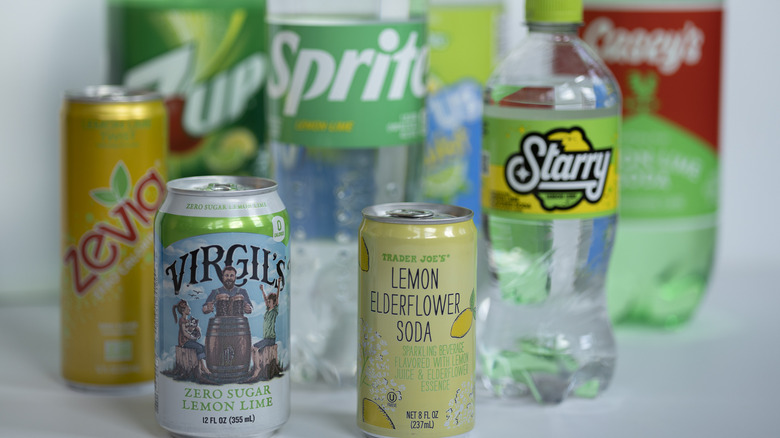 S.G. Howe/Mashed
What does pure bliss sound like? The crack and hiss of opening up a crisp lemon lime soda, of course. The bubbly sensation, the bright citrusy taste, the tangy sweetness ... lemon lime soft drinks are the ultimate refreshing pick-me-up, and fortunately there is no shortage of lemon lime soda brands out there. But how do they taste? Are there options when you want lemon or lime sodas, and maybe a bit of flavor variety? 
You're in luck because we seek to answer burning grocery store questions such as these. We curated a list of sodas that are lemon, lime, and lemon lime to decide once and for all which citrusy sipper ranks above all others. 
Our testers have a preferred lemon lime soda brand, so in order to avoid a bias in our ranking based on personal preference, we performed a blind sampling. Each soda was poured into a plastic cup with the brand written on the bottom. The testers sampled each lemon lime soft drank and created a preemptive ranking from one to 18, then tasted each soda a second time to fine-tune the ranking. Only after all ranks were locked in were the brands of each sample revealed to the testers. 
18. Health-Ade Lemon Lime Prebiotic Pop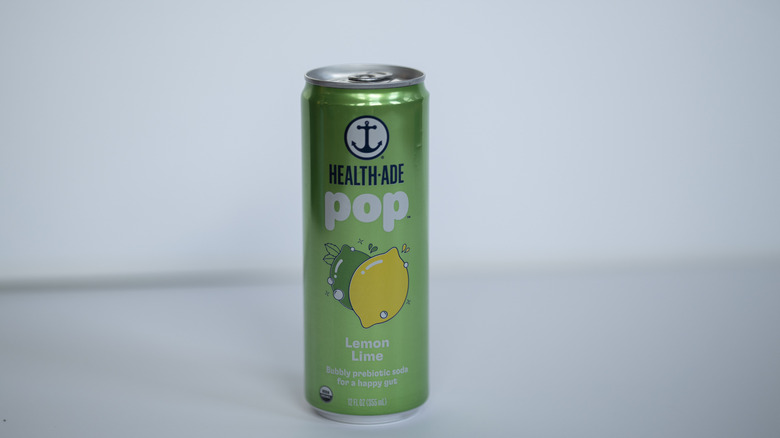 S.G. Howe/Mashed
The concept of prebiotic- or probiotic-loaded snacks and sodas is admirable; you can't deny the theoretical benefit of getting some gut-supporting goodness in while you're munching and sipping. But the idea in practice is much less cut and dry — take, for example, Health-Ade Pop, which is described as a "functional soda alternative" loaded with prebiotics. Not only is this lemon lime soda far more expensive than traditional sodas — almost $20 for an 8-pack — but also looking beyond the incredibly different taste and texture of this soda compared with traditional lemon lime pops is impossible. 
Granted, if getting prebiotics into your diet is an absolute priority, you're probably able to look past these things. But in ranking lemon lime sodas based on their taste and enjoyability, Health-Ade Pop sadly could not climb out of the bottom rank. There was a strong sour taste of fermentation, like kombucha, although this is not a kombucha product. There was also hardly any carbonation, which took away that crispy sensation that makes lemon lime soda so appealing. The other prebiotic soda in our ranking delivered a better flavor and much more satisfying texture.
17. Zevia Lemon Lime Twist Zero Calorie Soda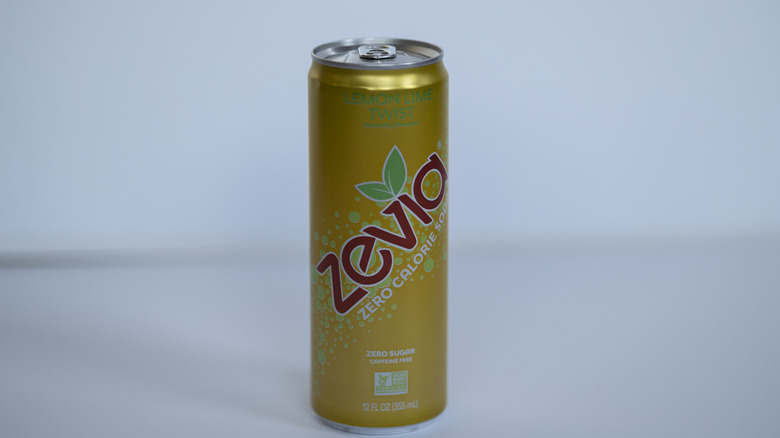 S.G. Howe/Mashed
Zevia's zero-calorie sodas are an extremely popular alternative to traditional soft drinks. The brand offers an extensive flavor lineup, including root beer and ginger beer. Enjoying Zevia's calorie-, sugar-, and artificial sweetener-free drinks comes with one hurdle: You have to like the taste of stevia. This natural additive is at least 30 times sweeter than sugar , but it becomes as much as 300 times sweeter than sugar after it's been purified. And Zevia itself says that its sodas are sweetened with "highly purified" stevia. 
In our blind taste test, Zevia's lemon lime soda was immediately identified as one not sweetened with regular sugar. It was an overbearingly saccharine taste, with a lingering bitterness afterward. Interestingly, stevia is known to activate both the sweet and bitter taste buds on your tongue, which is why so many people find this sweetener to be unpleasant. Zevia narrowly gets away with offering enjoyable sodas in other flavors — mostly its regular cola — but we'll pass on its lemon lime variety.
16. Squirt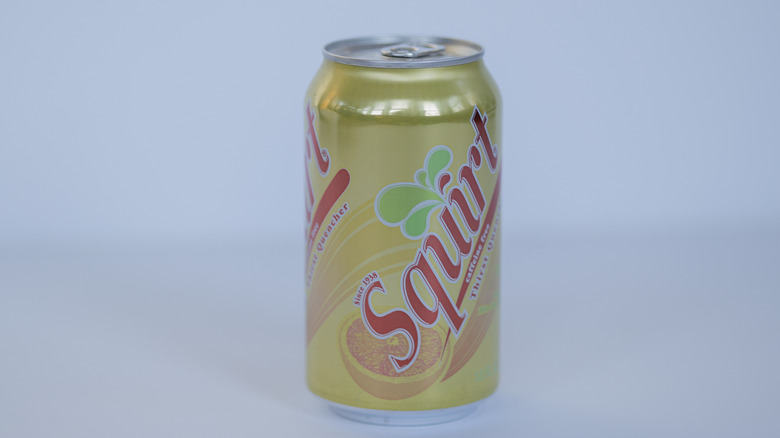 S.G. Howe/Mashed
Squirt was definitely the most mediocre of the major citrus soda brands on our list. Original Squirt is technically a grapefruit soda, but its taste is a close enough member of the lemon lime family to still be considered here. We didn't taste much of any grapefruit at all in this drink. There was a faint lime-y flavor with a vague citrus sweetness as well as an undefinable aftertaste. 
Between true lemon lime sodas like Sprite and citrus adjacent options like Mountain Dew, there are just too many far more memorable citrusy sodas than Squirt. This one is more memorable for its strangely flavorless sweetness and lack of refreshingly sharp carbonation. However, if you ever see a splash of bright red in the Squirt section of the soda aisle, you should definitely give Squirt Ruby Red a try. This flavor combines the same citrusy base with a berry infusion. 
15. Hy-Vee Lemon Lime Soda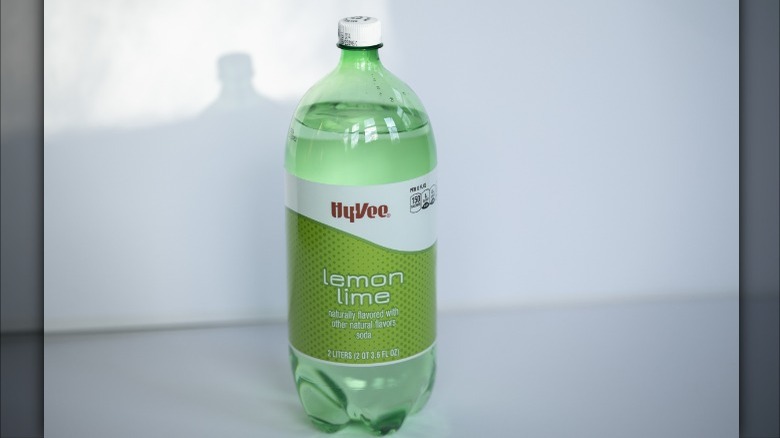 S.G. Howe/Mashed
In a lot of instances, store brands can pull their own weight against name brands. There are tons of examples where opting for an in-house brand to save a few bucks won't sacrifice taste, from mac and cheese from Walmart's Great Value to chopped salad kits from Target's Good and Gather. Unfortunately for the extremely popular midwestern grocery chain Hy-Vee, the same can't be said of its in-house lemon lime soda. Let the drab, uninspired packaging of this soda be an indicator of its taste; Hy-Vee's lemon lime soda was pretty forgettable and mediocre. 
The citrus taste didn't pack as much of a punch as other brands — even other store brands — did. This brand's soda was also noticeably less carbonated than its competitors, which detracted from the bubbly texture you expect from a soft drink. Even though store brand products tend to be less expensive, we'd pony up the dough for a name-brand soda if the options were between that and Hy-Vee.
14. Poppi Ginger Lime Prebiotic Soda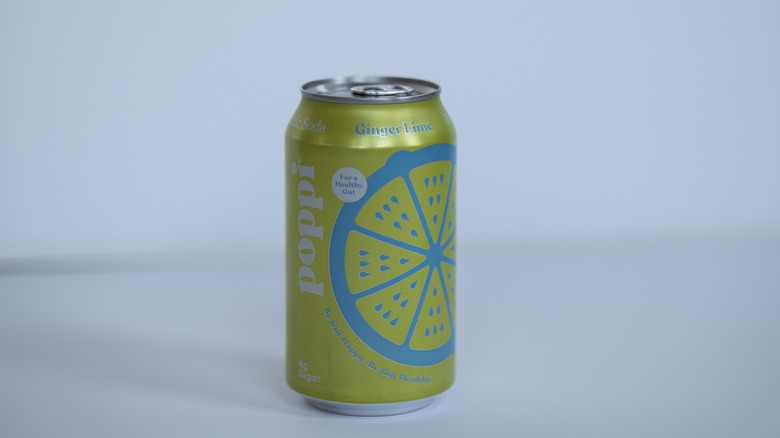 S.G. Howe/Mashed
Poppi is one of the other prebiotic sodas on our lemon lime soft drink ranking. We chose this flavor, ginger lime, to offer an alternative for soda drinkers who don't care for the often overwhelming taste of lemon. And we were pleasantly surprised to find that, while still worlds apart from traditional lemon lime sodas in taste, this prebiotic drink was infinitely better than the other one in our ranking. 
The Poppi soda didn't have that same sour fermented taste and was much more bubbly — the way a soda should be. Plus, the ginger and lime were a fabulously interesting flavor combination that stands out from all of the regular lemon lime sodas. We would have loved a stronger ginger taste, but this was still delicious. No one will mistake Poppi for a traditional lemon lime soda, but if you are trying to make more health conscious decisions about the beverages you consume, it is a tasty soda alternative with a nice boost of support for your gut. 
13. Virgil's Zero Sugar Lemon Lime Soda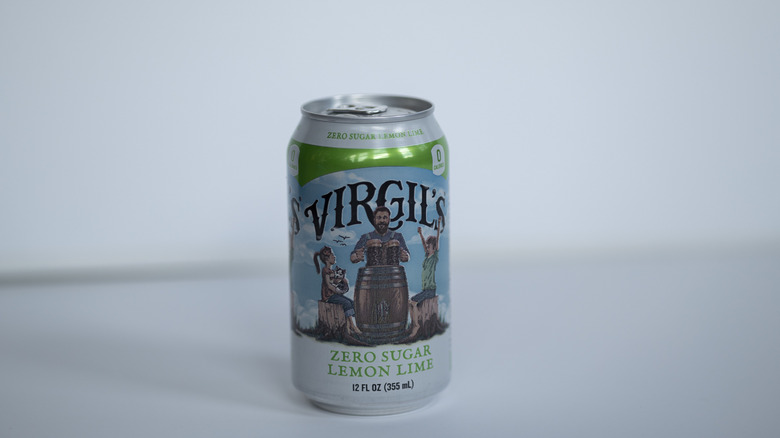 S.G. Howe/Mashed
Virgil's is a craft soda brand that you are likely to see in local specialty grocery stores. Unfortunately, we were unable to locate Virgil's regular lemon lime soda, but the zero-sugar version was included in our blind ranking. As far as zero-sugar lemon lime soft drinks go, there were just many more enjoyable options than Virgil's. 
The Virgil's zero-sugar lemon lime soda is naturally sweetened with a blend of stevia, erythritol, and monk fruit. This blend created a flavor too distinctly different from traditional lemon lime soda; it was clear right off the bat that we were tasting something with an alternative sweetener. Erythritol and stevia, in particular, are much sweeter than regular sugar and often have different aftertastes. Virgil's may get points for health consciousness, but we found the zero-sugar options from the major lemon lime soda brands to be far more enjoyable. 
12. Starry Zero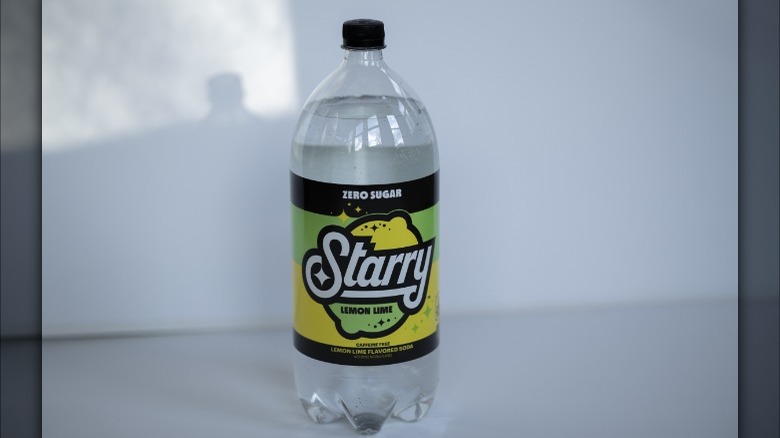 S.G. Howe/Mashed
Starry was the worst performing major lemon lime soda brand name in the zero-sugar department. This soda was pretty unpleasant from the jump; it had a thick, syrupy taste and overwhelming sweetness consistent with poor use of aspartame. Aspartame-sweetened lemon lime sodas from other major brands were far more enjoyable. 
There was an opportunity for Starry Zero Sugar to redeem itself with a crisp, refreshing carbonation texture, but unfortunately this brand was an underperformer in that category as well. Overall, this blind ranking showed once and for all that among the holy trinity of lemon lime soda brands — Starry (formerly Sierra Mist), 7-Up, and Sprite — Starry is the weakest option in terms of carbonation and overall flavor. The regular version of Starry sweetened with sugar does offer some redemption, but it's still not enough to tip the scales in favor of the PepsiCo version of lemon lime soda.
11. Trader Joe's Lemon Elderflower Soda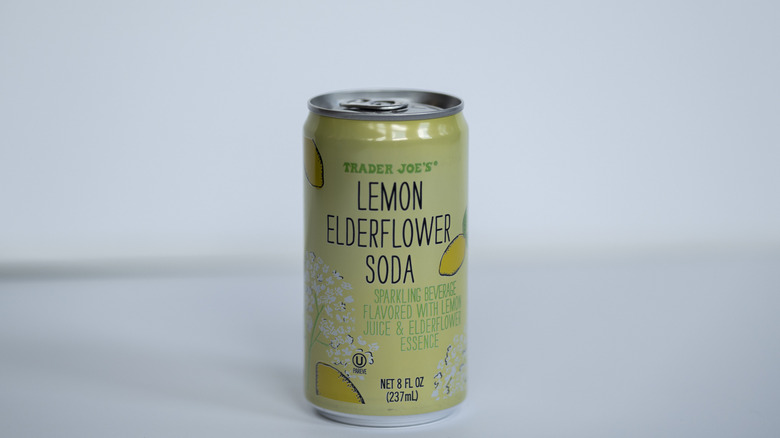 S.G. Howe/Mashed
We were very hopeful that the lemon elderflower soda from Trader Joe's would be a tasty, lemony alternative for people who don't care for lime flavor — and TJ's did mostly deliver on that. The can describes this soda as one "flavored with lemon juice and elderflower essence," and the reason that this Trader Joe's option couldn't quite make it into the top half of the rankings is that it uses way more lemon juice than we anticipated. It uses so much lemon juice that it tastes more like a canned lemonade than a lemon soda. 
Because of the natural tartness of lemon juice, the elderflower flavor was fighting an uphill battle to stay detectable at all. It was noticeable if we concentrated, but it was still disappointingly faint. Overall, it's a very appealing soda flavor and would shoot up in the ranks with a few small tweaks to the recipe.
10. Fit Soda Sparkling Citrus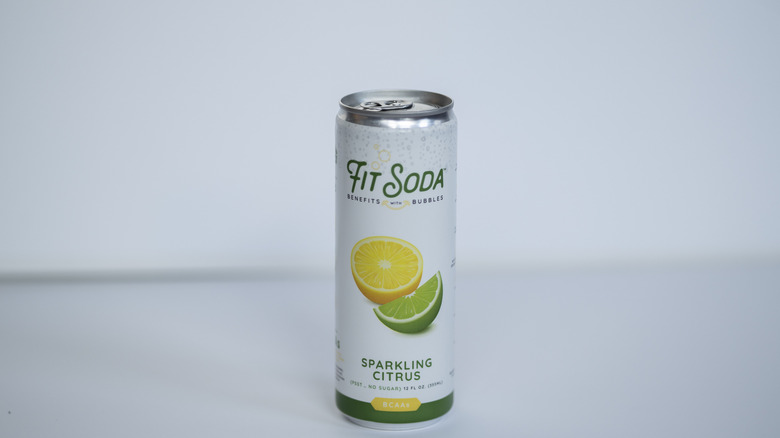 S.G. Howe/Mashed
We've arrived at the best performing so-called health soda in this ranking of lemon lime soft drinks. Fit Soda's "Benefits with Bubbles" comes in a variety of flavors, including orange creamsicle, root beer vanilla float, and black cherry cola. This soda is made with BCAAs, or branched-chain amino acids, a substance considered to be great for overall good health, including the support of muscles and the liver and prevention of fatigue. 
Unlike with the prebiotic sodas, the taste of this BCAA lemon lime soda doesn't seem to be affected by the added substances. The Fit Soda was still light and airy with a pleasing amount of carbonation. But despite its sweetness, there wasn't as strong of a satisfying citrus twang in this soda, and that weaker flavor is why Fit Soda fell to the middle ranks of this list. Fit Soda is sweetened with sucralose, according to the product packaging, which is an artificial sweetener commonly referred to as Splenda. 
9. 7-Up Zero Sugar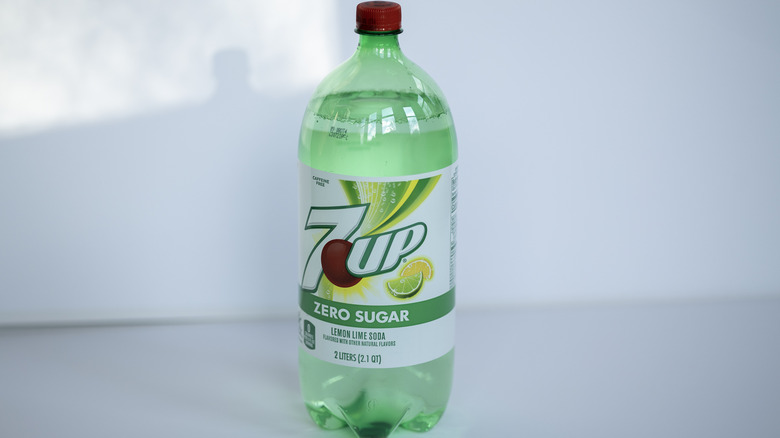 S.G. Howe/Mashed
The zero-sugar version of 7-Up was distinctly more pleasant than the zero-sugar version of Starry, despite both beverages being sweetened with aspartame instead of cane sugar. Neither was close to being passed off as a traditional soda, but the syrupy, oversweet flavor of Starry's sugar-free lemon lime soda wasn't prevalent in 7-Up's version with no sugar. It was still sweeter than the traditional 7-Up in the way you expect from artificially sweetened sodas.
We did find this soda to taste more strongly of lime than lemon, while the reverse is true of Starry and Sprite. So 7-Up Zero Sugar is the best option for soda drinkers who prefer lime and want to cut sugar out of their diet. There is still a higher-ranking sugar-free lemon lime soda on this list, though, that beat out the zero-sugar 7-Up due to its stronger carbonation and even more palatable aspartame taste. 
8. Casey's General Store Lemon Lime Soda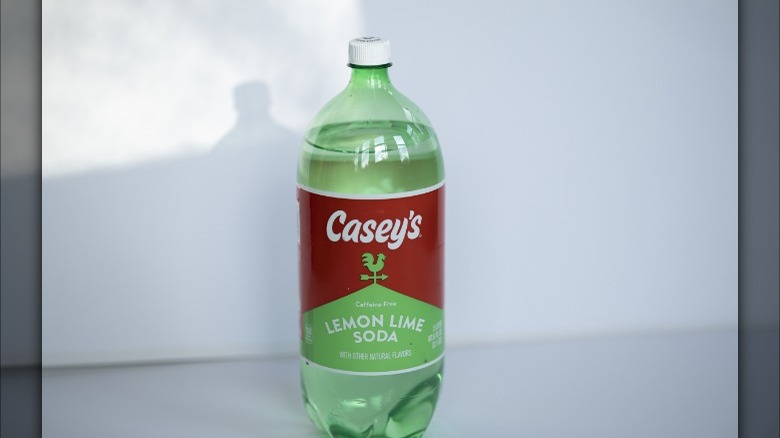 S.G. Howe/Mashed
Like many shoppers, we take the opportunity to save a few bucks on groceries wherever we can. One of the fastest and easiest ways to do that is by opting for store-brand products wherever possible. But sometimes, like with this lemon lime soda from Casey's General Store, the off-brand product just can't quite compete with its on-brand contenders. The Casey's brand lemon lime soda was just disappointing in carbonation level — while better than Hy-Vee, it was way flatter than on-brand sodas plus a few of the off-brand sodas. Flavor-wise, there was nothing special here either; Casey's General Store's lemon lime variety was a bit bland and underflavored. 
However, this is still a solidly average soda, and if you wanted to save money on soft drinks, you could probably get acclimated to the taste of this Casey's soda and forget that it doesn't measure up when compared with on-brand options. 
7. Twist Up Lemon Lime Soda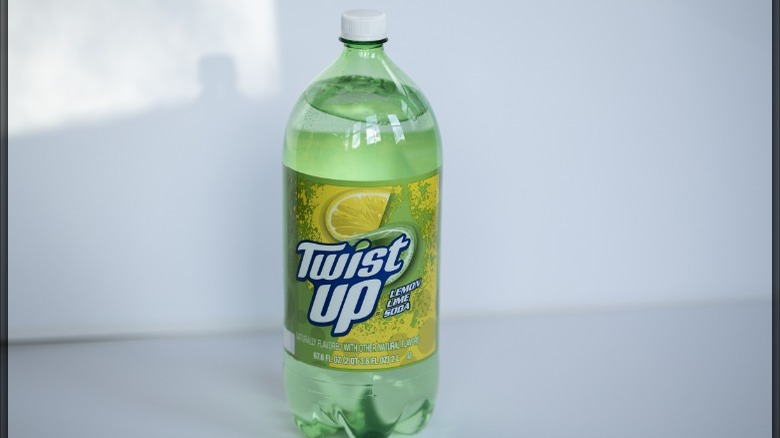 S.G. Howe/Mashed
Twist Up lemon lime soda is the off-brand option provided by Walmart's Great Value brand. It was one of our favorite off-brand sodas included in this blind ranking. Being just a hair less intense flavor-wise than a competitor, Walmart narrowly missed out on being our crowd favorite for store brand lemon lime soft drinks.
Twist Up is an overall very well rounded soda with a flavorful, tangy citrus taste and great bubbly carbonation. We'd actually consider it to be tied with Starry for sixth place, except Twist Up is a tiny bit less carbonated if you really want to split hairs. This soda is quite a bit sweeter than the higher-ranking options on this list. It has 40 grams of sugar per 12-ounce serving, according to Walmart. That added sweetness may explain why the citrus flavor isn't as punchy in Twist Up; it's overpowered by sugar.
6. Starry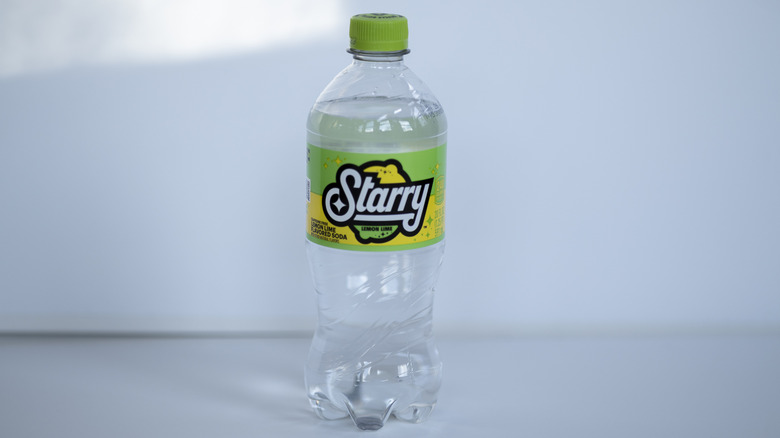 S.G. Howe/Mashed
The least favorite major lemon lime soda brand in our blind sampling was Starry, formerly Sierra Mist, the option from PepsiCo. Starry was a bit too sweet for our palates, compared with Sprite and 7-Up. According to PepsiCo, this soft drink is marginally sweeter with 39 grams of sugar per 12-ounce serving compared with 38 grams of sugar in the two major competitors. Starry packed a nice punch in carbonation, but it lagged behind in flavor. 
If you want a milder lemon lime taste, Starry may be the option for you among the major brands, but otherwise we just don't see much of a compelling argument to pick this soda over Sprite or 7-Up. Starry also did seem slightly less carbonated than those two, so if you have a lower tolerance for the bubbles, that would be another reason to stick to Starry. But in our testing, it isn't as flavorful and comes with a bit too much sweetness for some soda drinkers. 
5. Olipop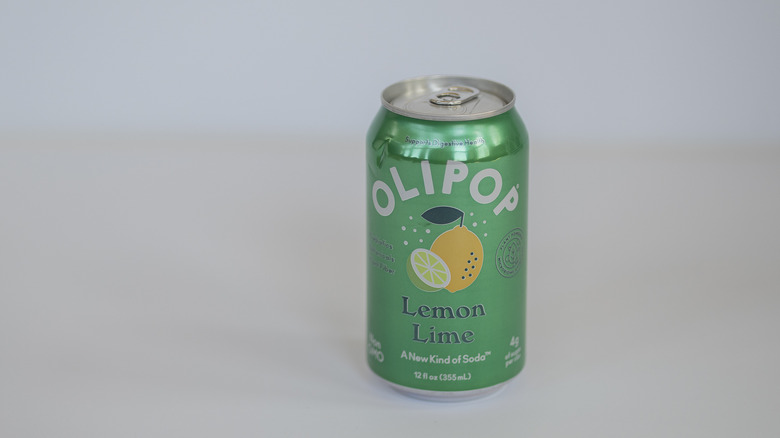 S.G. Howe/Mashed
Olipop blew the other functional lemon lime sodas out of the water. Despite being packed with prebiotics and 9 grams of dietary plant fiber, you wouldn't be able to distinguish the Olipop from other non-health sodas by taste alone. Olipop is sweet and refreshing with a lively citrus flavor, and it doesn't share any of the flavor complaints we had with the lower-ranking health sodas. 
Unfortunately, Olipop was still a bit disappointing with the carbonation. Like with the other prebiotic soft drinks, the lack of bubbles was a bummer. There was enough for just a tiny bit of that crisp carbonation texture, but not nearly as much as traditional sodas. Granted, carbonation is a bit of a villain in some regards, with its history of causing acid reflux, stomach pain, and other gastrointestinal distress, so maybe the muted bubbles is just another way that Olipop soda is meant to support good health. 
4. Citrus Twist Lemon Lime Soda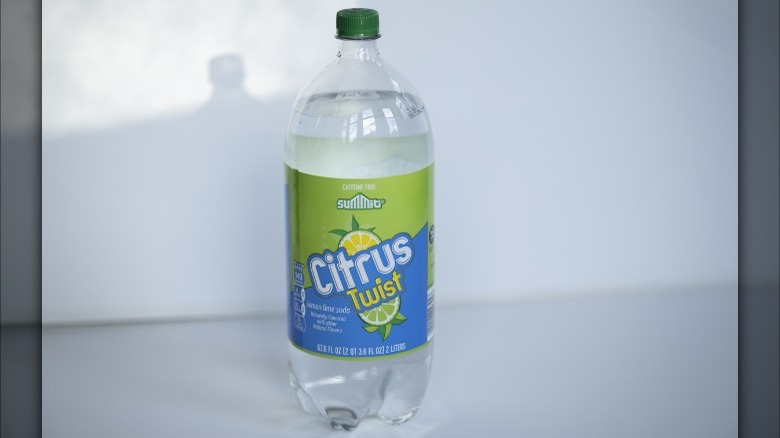 S.G. Howe/Mashed
This store-brand underdog, Summit Citrus Twist, is available at Aldi. Its bright, citrusy taste and crisp carbonation made Citrus Twist the closest off-brand dupe to major lemon lime soda brands. We would call Citrus Twist a slightly less bubbly version of Sprite; the same vibrant lemon lime flavors are there with an excellent balance of the two. If we were making mixed drinks with a lemon lime soda, we'd choose Citrus Twist over even Sprite or 7-Up. It's way more affordable and competes with the heavy hitters for taste. However, the lack of bubbly crispness is just noticeable enough that we'd prefer an on-brand soda for sipping.
This is an interesting contradiction to the public opinion of Aldi's Summit soda; in 2020, we reported that most customers find Aldi's in-house brand soft drinks to be miles away from the taste of name-brand sodas. And while that is likely true of off- and on-brand colas where there are usually top secret proprietary recipes at play, we didn't find that to be the case with the lemon lime soft drink. However, it remains the consensus that Aldi's store brand sodas fall flat — literally — in carbonation compared with brand name competitors. 
3. Sprite Zero Sugar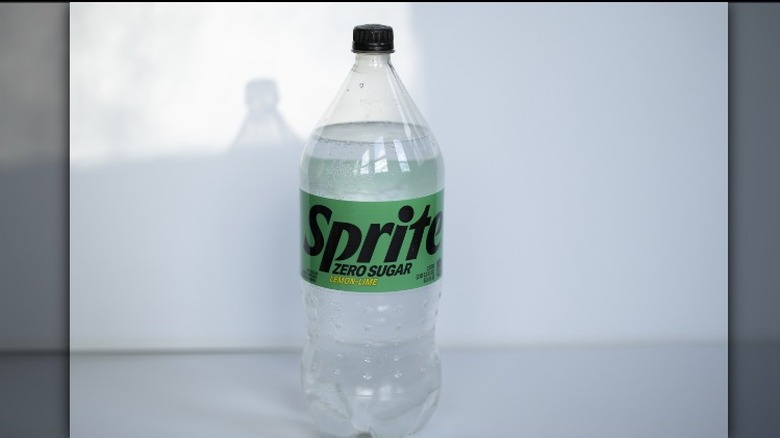 S.G. Howe/Mashed
Sprite Zero Sugar was the best performing zero-sugar soda in our lineup. Zero-sugar sodas can sometimes be difficult to enjoy depending on the sweetener used in place of the sugar; some sweeteners have bizarre aftertastes, others may have health effects like headaches, and often they are hundreds of times sweeter than actual sugar. When we sampled the Sprite Zero Sugar, we could tell immediately that it was a zero-sugar soda, but it was still surprisingly pleasant. 
There was no nasty aftertaste, and the artificial sweetener — which is a mix of Ace-K and aspartame, according to the Coca-Cola Company — didn't taste overbearingly syrupy like many other zero-sugar lemon lime sodas do. Plus, the Sprite Zero Sugar lemon lime soda has a very refreshing crispiness to it, which could have negated any unpleasant sweetness from the artificial sweetener. Some soda drinkers will never opt for zero-sugar soft drinks, but if this is a must for you, Sprite Zero Sugar is our top ranking lemon lime soda without sugar.
2. 7-Up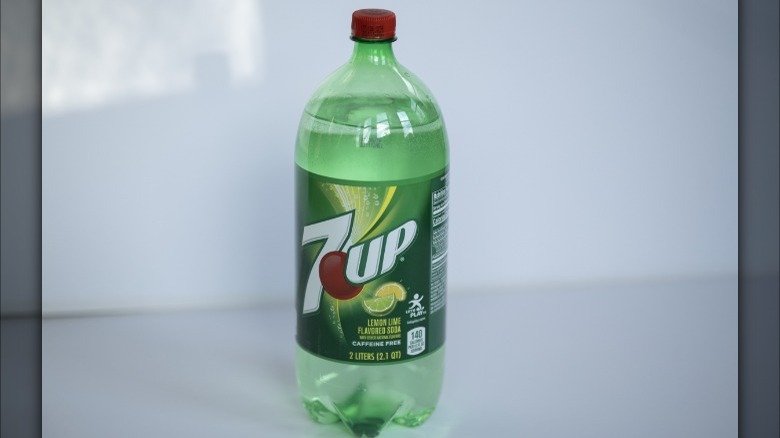 S.G. Howe/Mashed
Is it unexpected that the top two sodas in our blind taste test are the leading lemon lime soda flavors? We suspected that Sprite would definitely be among the highest rankings but were surprised to reveal that 7-Up was nipping at its heels. 7-Up was easily more satisfying than the preceding brands for its more crispy carbonation and balanced level of sweetness, but there was one thing in our notes about 7-Up that we didn't see coming: This was the only soda, besides the ginger lime prebiotic soda, that put the lime flavor at the forefront over lemon. The former seems all too often overshadowed by the latter in lemon lime sodas, so the sample of 7-Up shot up in the rankings when it seemed to be more of a lime lemon soda than a lemon lime one.
Some soda drinkers think that 7-Up is less sugary than Sprite, but according to nutrition facts from each brand, both sodas have 38 grams of sugar per 12-ounce serving. However, since 7-Up has a weaker carbonation than Sprite, there is less to detract from the sugariness, which gives the impression of a sweeter soda.
1. Sprite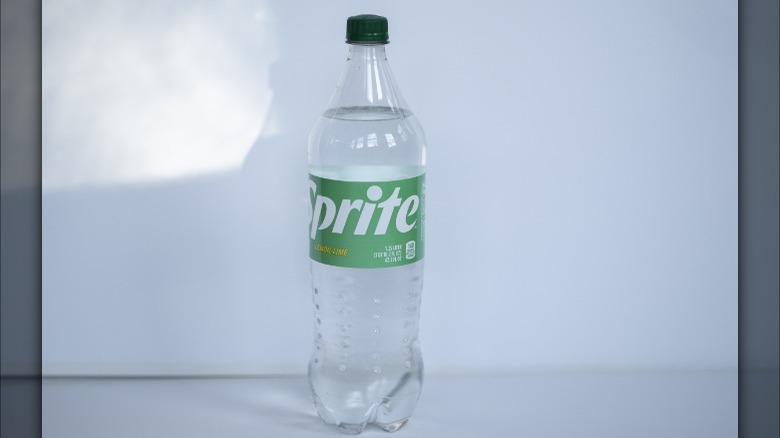 S.G. Howe/Mashed
The clear winner in our blind taste test of over a dozen lemon lime sodas was — drumroll — Sprite. The carbonation of the Sprite was sharp and crisp and immediately noticeable as one of the major lemon lime soda brands. A perfect balance of the lemon and lime flavors shot this one up to the top, too; many of the other brands fell under Sprite because the lime was overpowered by lemon. This is also why Sprite took the lead over its strongest competitor, 7-Up.
Regular Sprite is super sweet. That is no surprise considering that it contains 38 grams of sugar per serving, according to Sprite. This intense sugariness is sort of cut by that sharp carbonation — and since Sprite is more carbonated than 7-Up, it offers more of that satisfyingly crisp refreshment that soda drinkers seek out in a lemon lime soda. If Sprite is already your lemon lime soda of choice, you clearly have great taste!