The Tangy Ingredient That Makes Turkish Eggs Different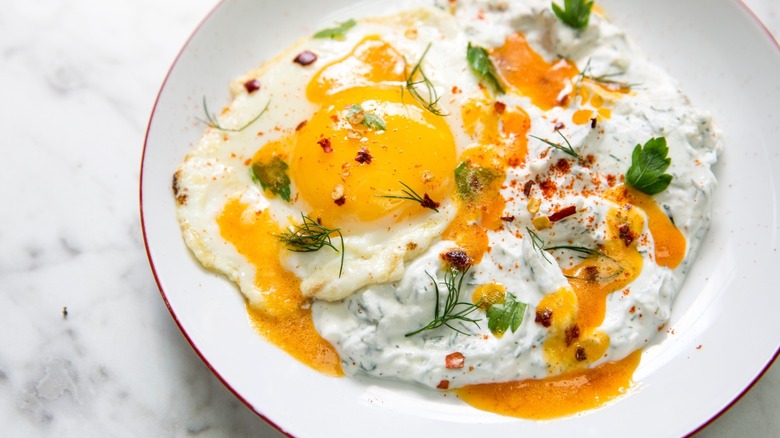 Teresa Sabga/Shutterstock
Turkish poached eggs, çilbir, are a breakfast staple in Turkey that's been having somewhat of a moment in the spotlight lately. A quick search will pull up dozens and dozens of recipes, and a video of Nigella Lawson's version of the dish has racked up more than 4 million views on Youtube. Once you realize how delicious, and easy, they are to make, you'll quickly figure out why the dish has gotten so popular. And while there are plenty of breakfast dishes around the world that use poached eggs, there's one tangy ingredient that makes Turkish eggs different.
The key ingredient in çilbir, aside from the eggs themselves, is yogurt. The yogurt serves as the base of the dish, is usually combined with oil or butter, and is often flavored with garlic. The poached eggs are placed atop the yogurt, the whole dish then gets an extra drizzle of olive oil and is usually a sprinkling of some sort of hot pepper.
The entire dish comes together in almost the same amount of time it takes to poach the eggs. Of course, if poaching eggs isn't in your wheelhouse, you can always pan-fry them, like in this Turkish eggs recipe. As long as you've got eggs on top of yogurt, you're headed in the right direction, and one of the fun things about çilbir is how endlessly customizable it is.
How to customize your Turkish Eggs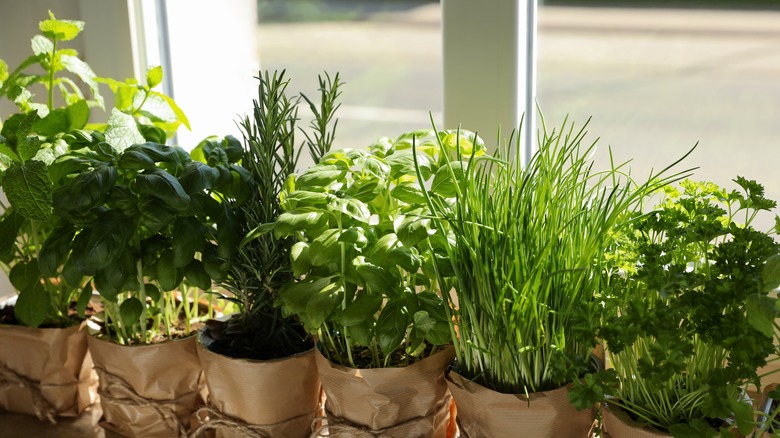 New Africa/Shutterstock
We already mentioned that you can tweak Turkish eggs by substituting fried eggs for the poached, but if poaching eggs makes you nervous, we can turn once again to that doyenne of British home cooking – Nigella Lawson's trick for perfect poached eggs.
The signature yogurt base of Turkish eggs is really where the choose-your-own-adventure begins. While it's traditionally laced through with garlic, you can also add other alliums like chopped scallions or lightly sauteed leeks. Toss in a bunch of chopped dill and parsley for an herby twist, or a few pinches of saffron to take it in a Spanish direction. Instead of hot pepper sprinkled on top, try some smoked paprika. You can even mix some tahini into the yogurt, drizzle some sesame oil over it, and sprinkle it with some toasted sesame seeds.
Once you've perfected your Turkish eggs, why not try your hand at a whole Turkish breakfast? We've got a description of what a typical breakfast looks like in Turkey, and with just a little prep, you could set a table reminiscent of a Turkish cafe.